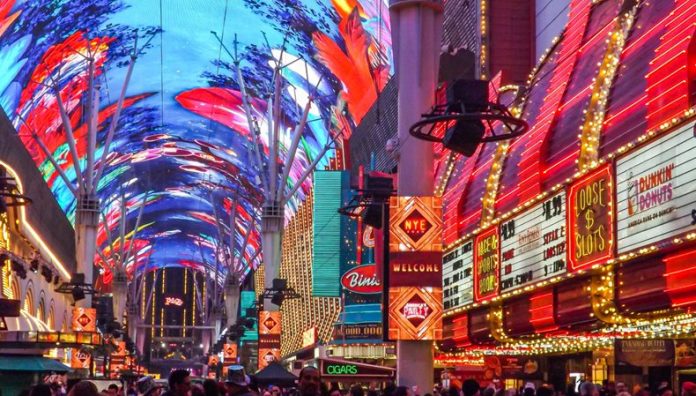 Digital signage has seen huge growth in recent years, with brands and marketers from around the world turning to this technology to help support advertising campaigns.

Though print remains a major and staple part of almost all marketing initiatives, digital signage allows the marketer to go a step further with their effort, with the chance to interact more with consumers.

With this in mind, we pick out some of the most effective and innovative digital signage applications from 2019.
Smashing Guinness World Records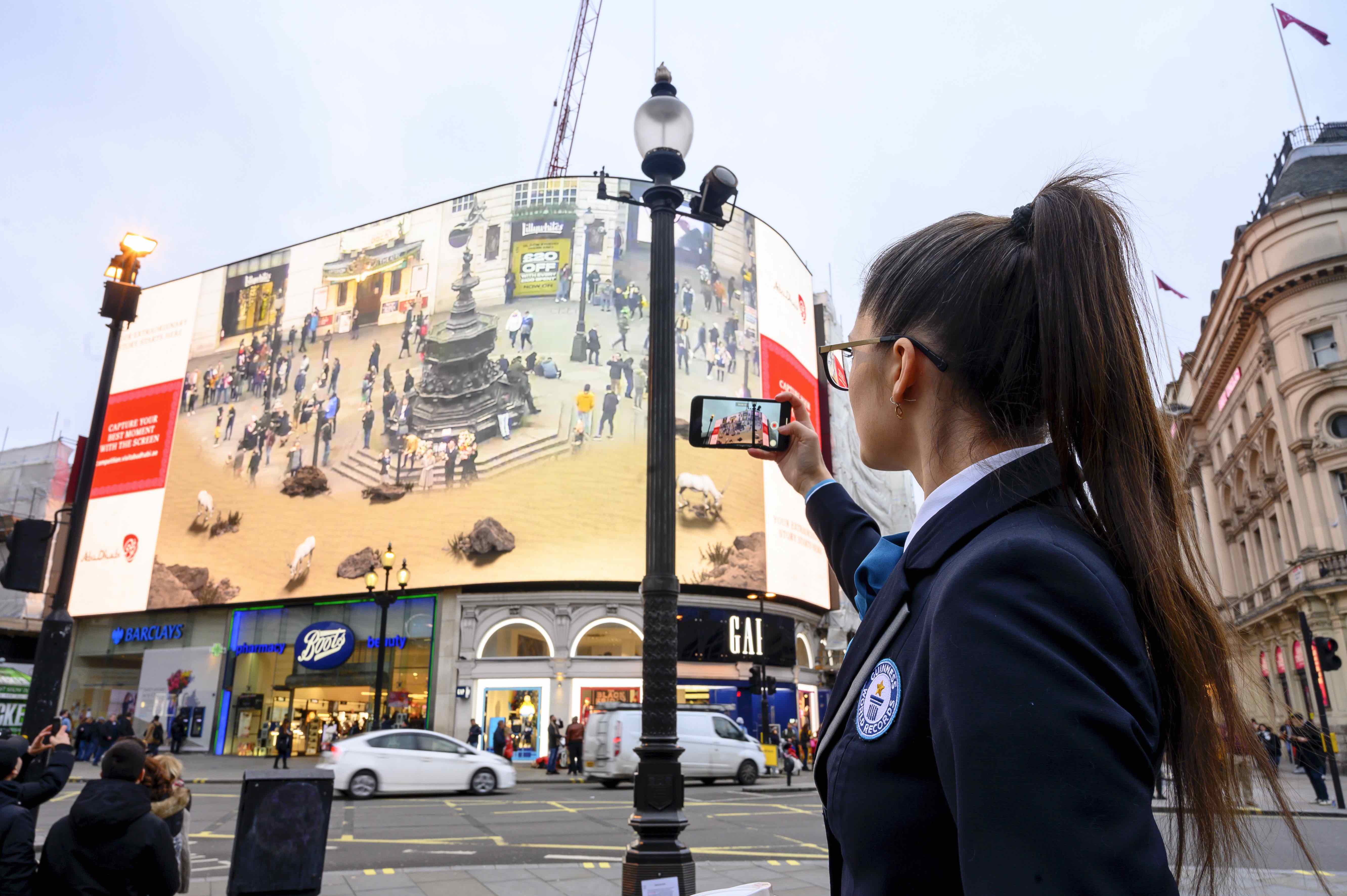 Designer: Ocean Outdoor / Department of Culture and Tourism – Abu Dhabi
Description: Digital signage technology specialist Ocean Outdoor linked up with the Department of Culture and Tourism – Abu Dhabi to set a new Guinness World Record in 2019. They claimed the title for the 'Largest Augmented Reality (AR) Screen', which measured in at 548.47sq m at the Piccadilly Lights location in London.
Making a splash at Fremont Street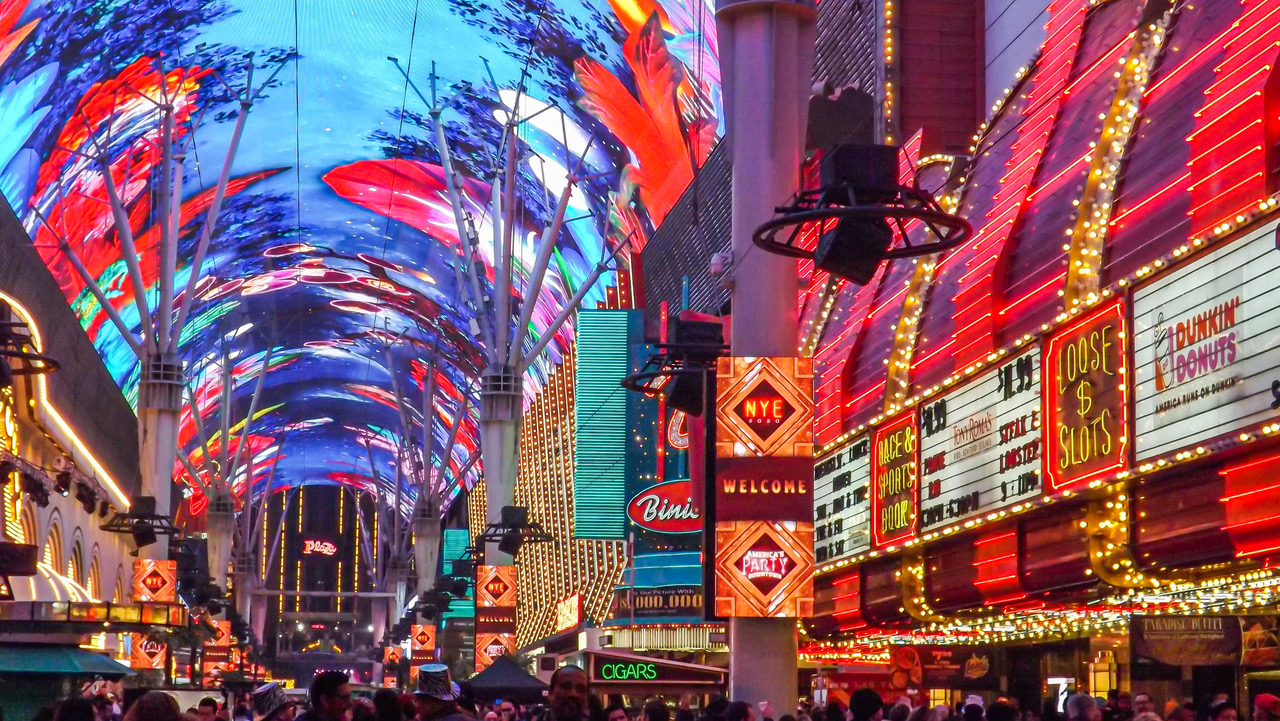 Designer: Watchfire Signs
Description: Last year, Watchfire Signs completed a major renovation project at the world famous Fremont Street in Las Vegas, Nevada. Worth $30m, the project included the manufacture and supply of 130,000sq ft of digital signage, with the canopy made from more than 67,000 modules containing 49m LEDs.
Daktronics scores digital record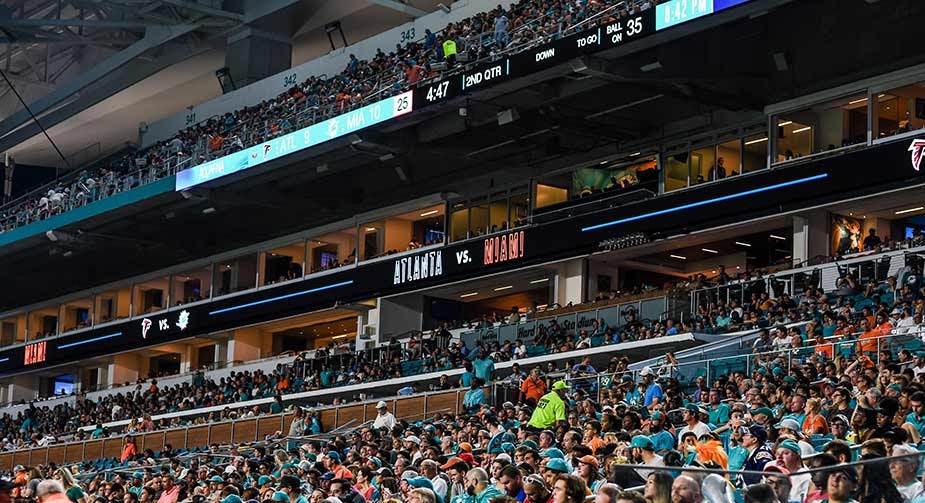 Designer: Daktronics
Description: Daktronics partnered with NFL American football team the Miami Dolphins to design, manufacture and install the longest continuous LED ribbon display in professional sports. Measuring 2,105ft long, the banner was installed at the Dolphins' Hard Rock Stadium in Miami Gardens, Florida, in the US.
Pre-match shopping spree?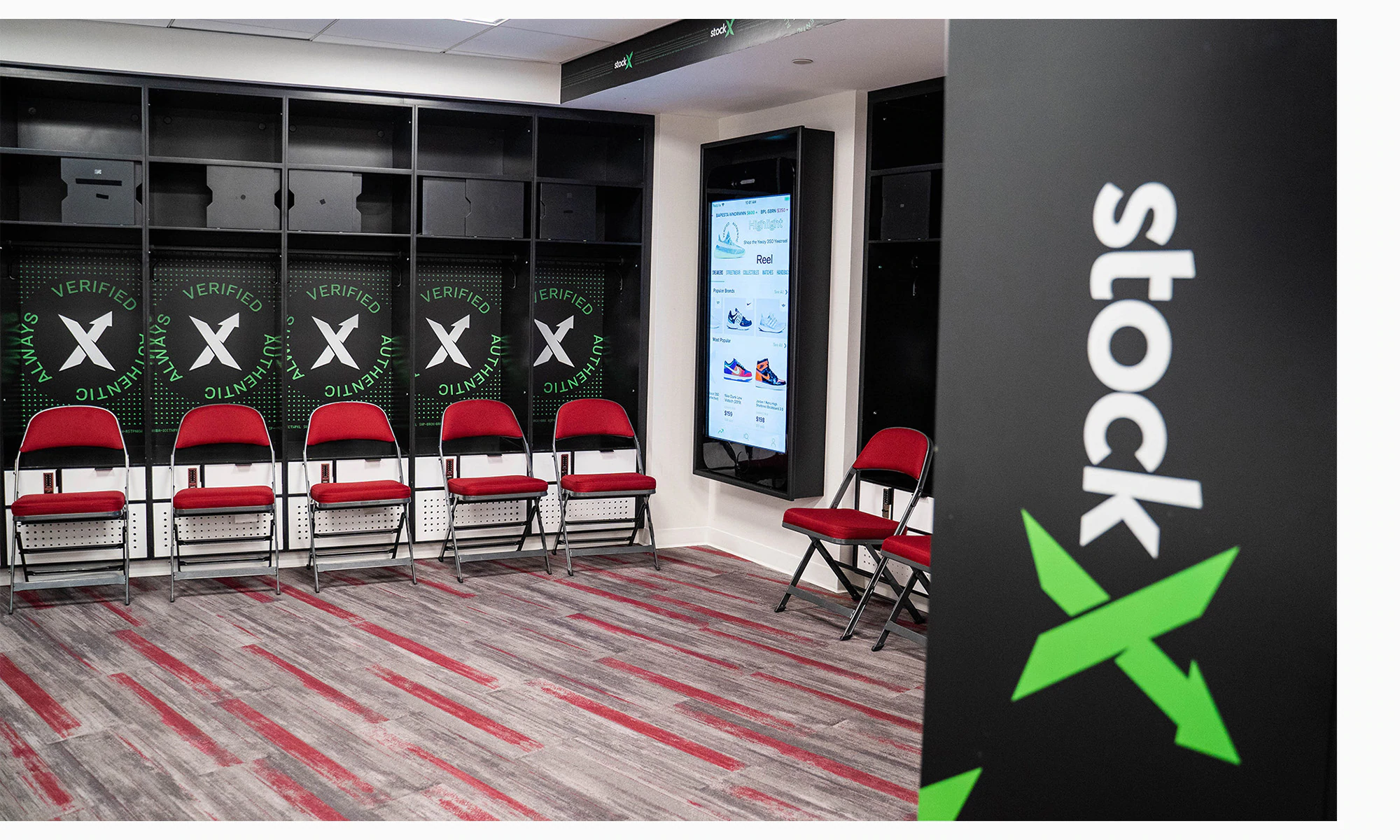 Designer: StockX / Cleveland Cavaliers
Description: NBA basketball team the Cleveland Cavaliers teamed up with StockX on this unusual project, installing a large digital screen inside its dressing rooms so that players and staff can browse online shops. The 55-inch iPhone Padzilla offered access to the StockX app, so users could purchase footwear, streetwear, watches and handbags.
Smile for the sign!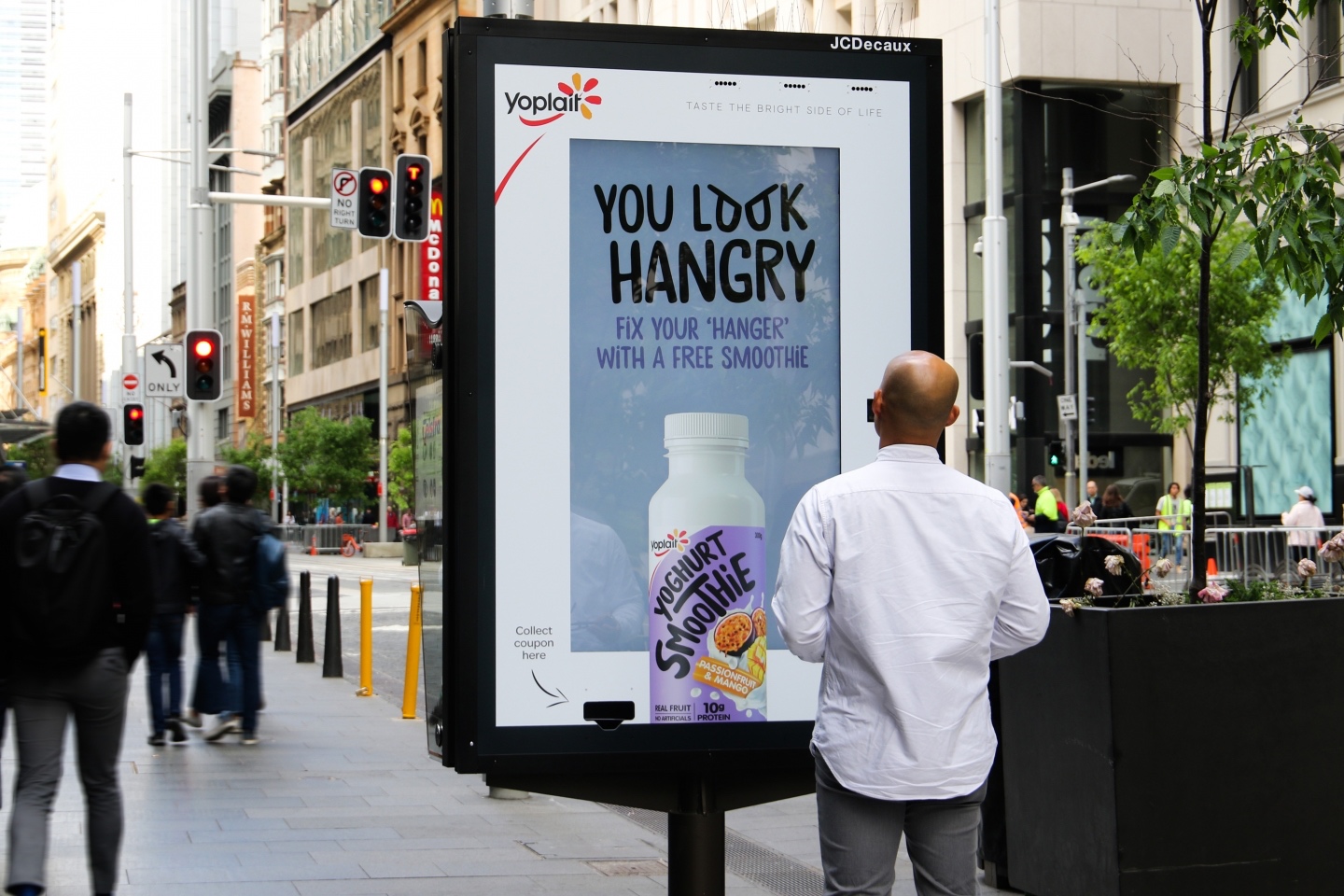 Designer: JCDecaux / Yoplait
Description: Interactive digital signage is becoming increasingly popular part of the modern marketing mix. JCDecaux and Yoplait linked up for this campaign in Australia whereby if passes-by smiled at the sign promoting Yoplait products, the sign would dispense a coupon for a free smoothie.
Caesars a safe bet with art installation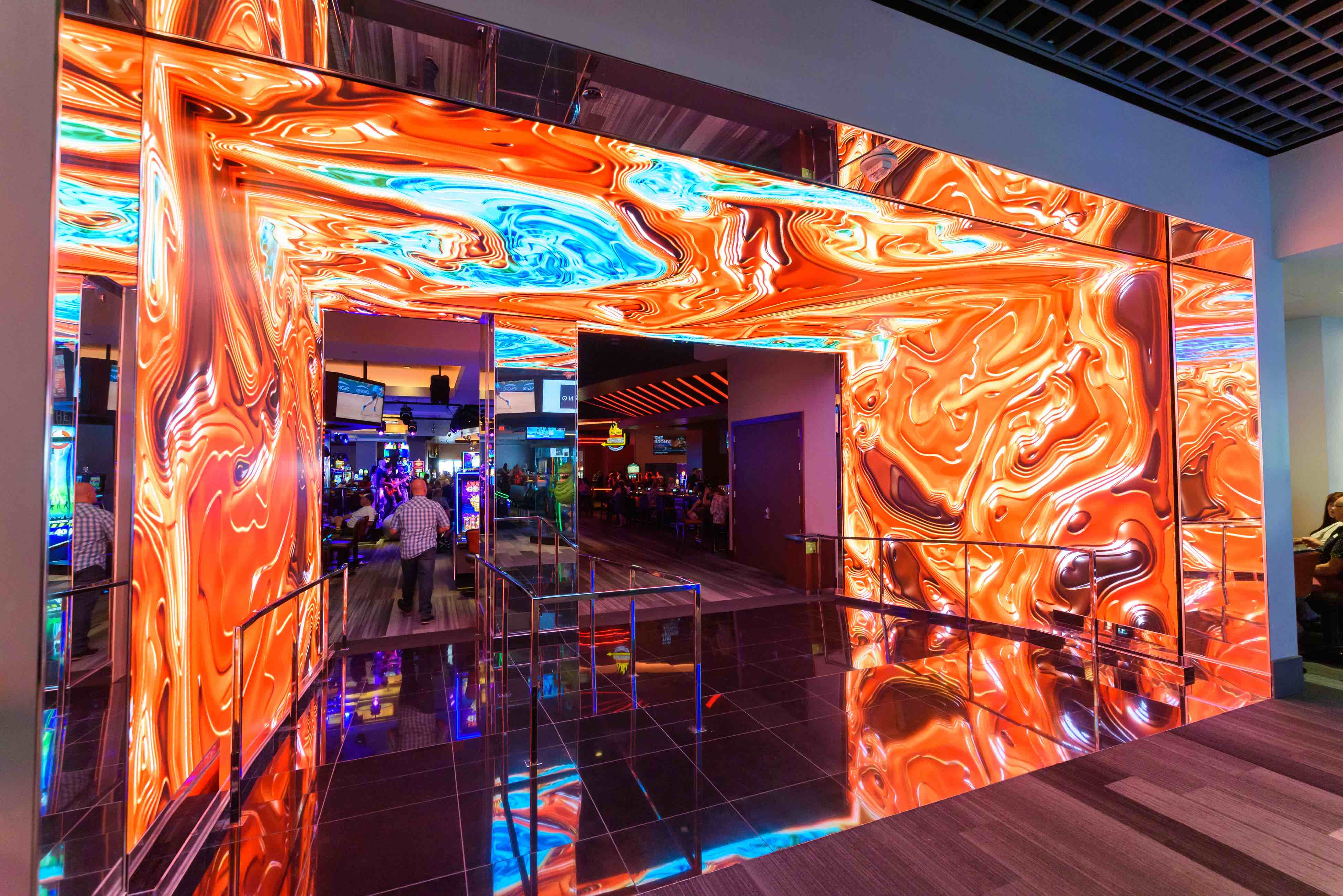 Designer: Refik Anadol
Description: Gambling business Caesars Entertainment unveiled the world's largest digital art installation at its site in Las Vegas. Created by artist Refik Anadol, the installations are displayed on digital canvases throughout the casino, including two main entrances and 3D LED sculptural elements on the ceiling. The installation is reactive and changes as guests enter each of the spaces.
The force is strong with this one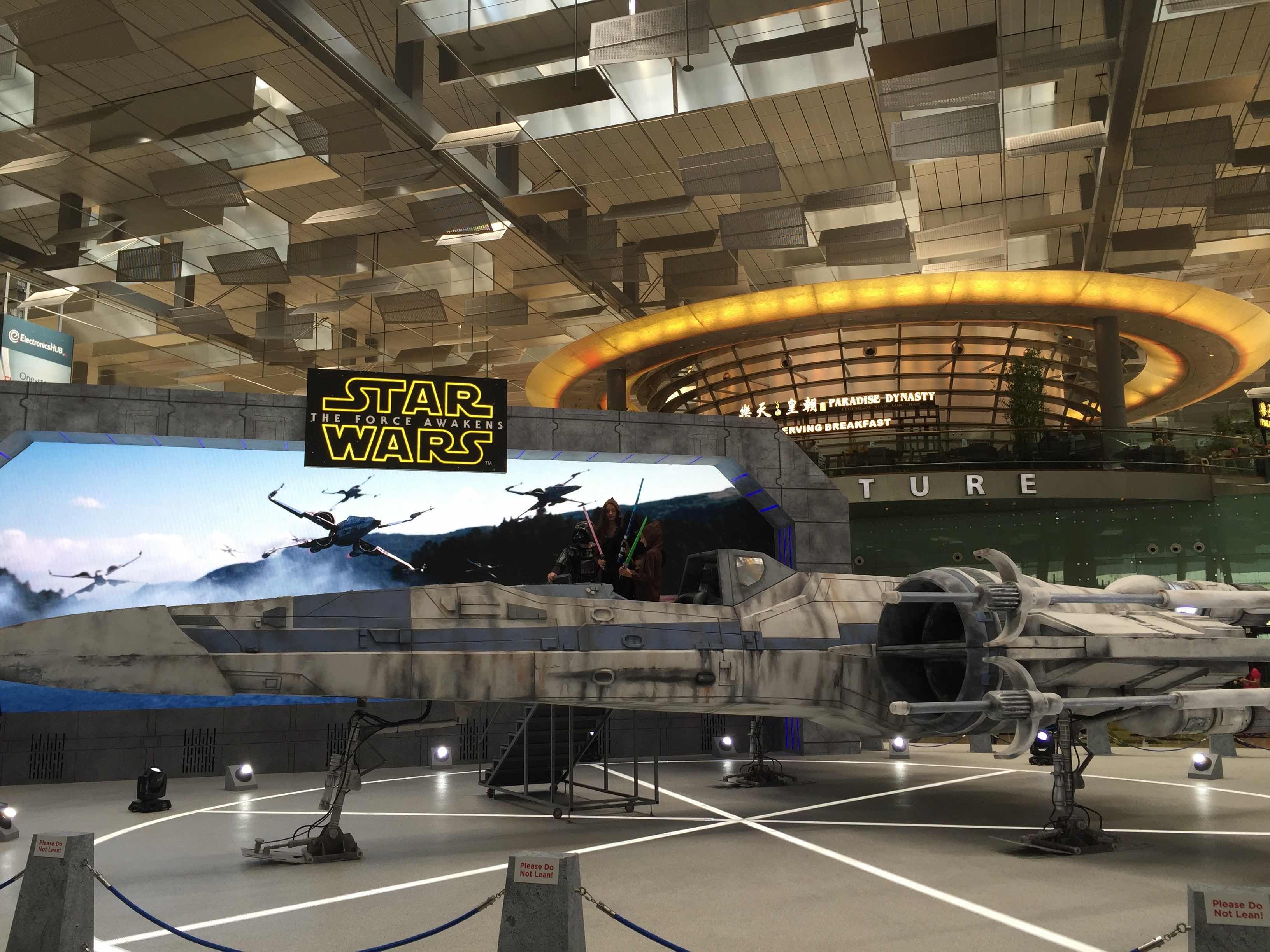 Designer: Walt Disney Imagineering / Panasonic
Description: Panasonic System Solutions Company linked up with Walt Disney Imagineering to create this digital screen for a new Stars Wars attraction at Walt Disney World Resorts in Florida and Disneyland Resort in California. According to Disney, the new attraction is the largest and most technologically advanced project in its history.
Touring Japan with interactive signage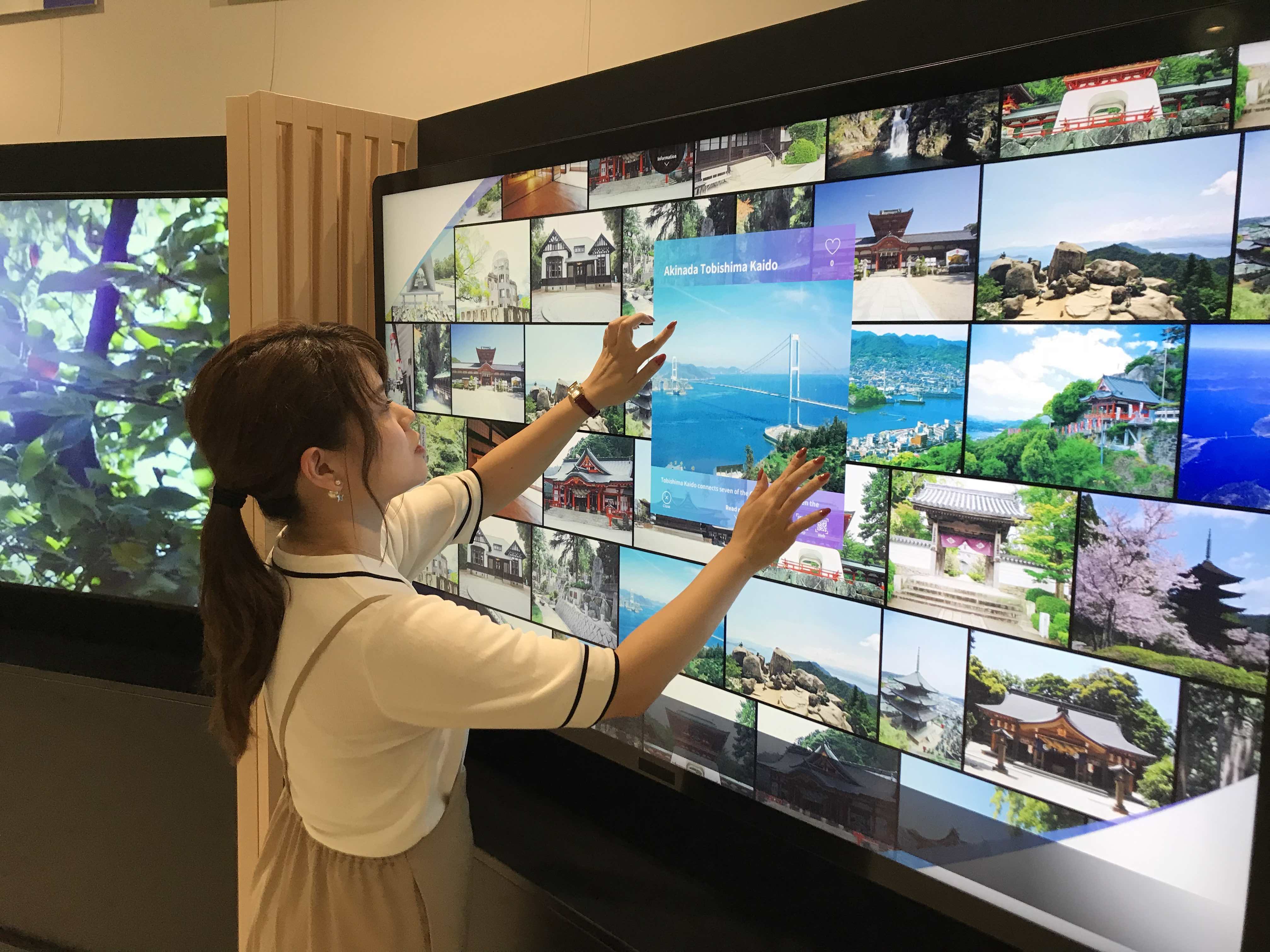 Designer: Toppan Printing
Description: Diversified Japanese business Toppan Printing developed this unique digital sign for use in tourist spots across the country. Consumers are able to find out more about each location by interacting with the digital touch screens.
Saints go marching in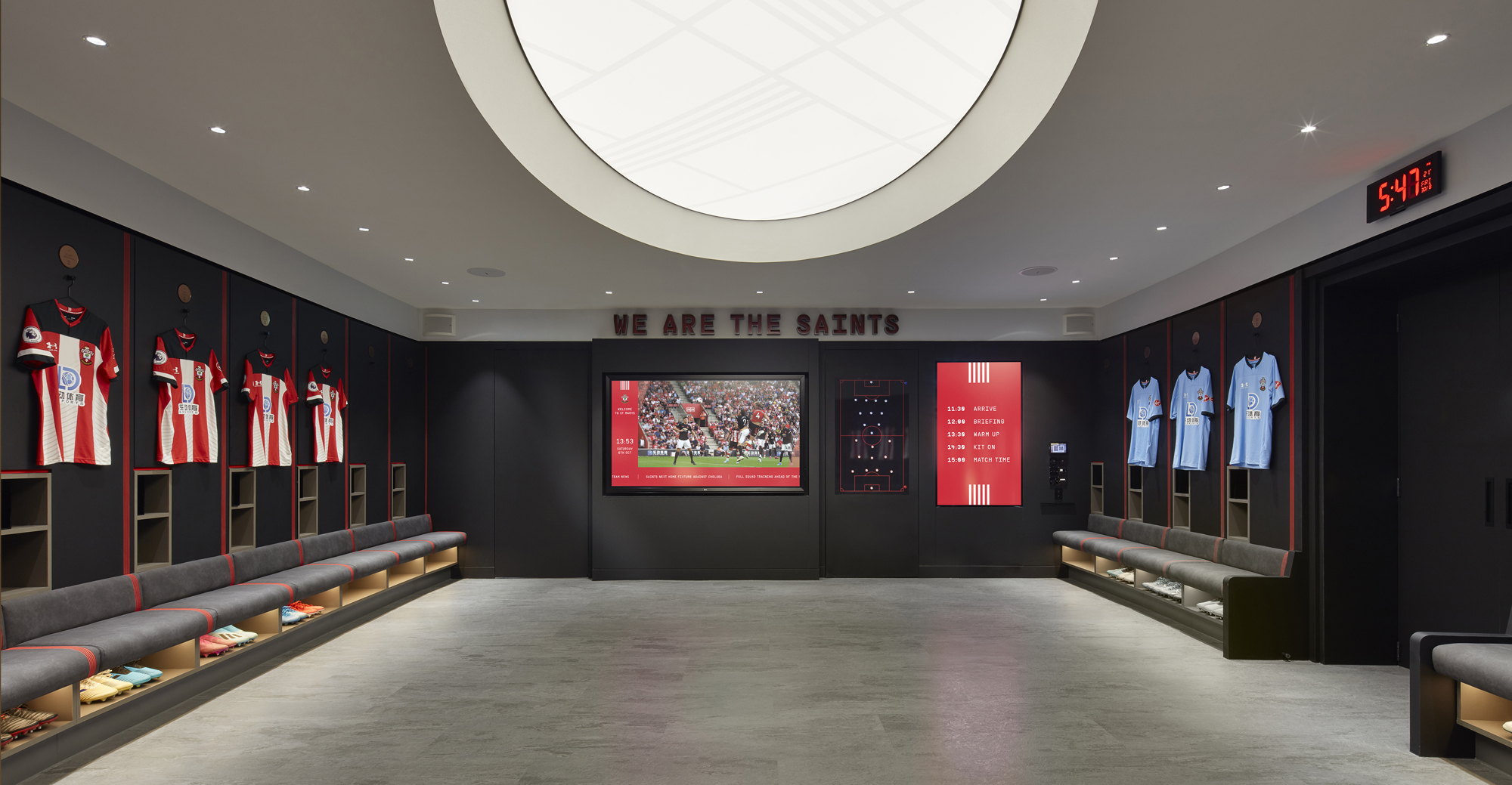 Designer: KSS
Description: English Premier League football club Southampton turned to digital signage to help refurbish its home dressing room. Working with KSS, the project included a large digital screen, which the team's manager can use before, during and after matches.
Daktronics sets sports first at TD Garden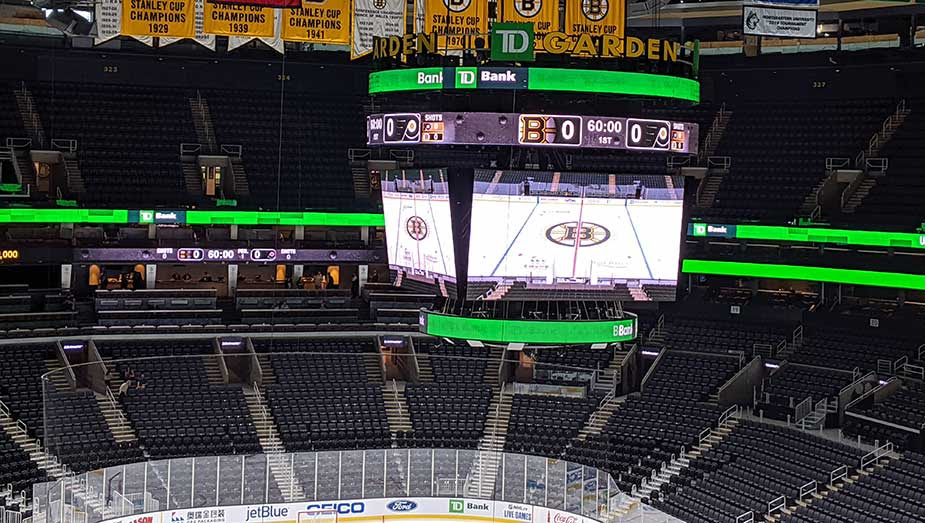 Designer: Daktronics
Description: Boston's TD Garden made history in 2019 by becoming the first sports venue to install 2.5mm centre-hung video screens from Daktronics. Each display features 4.5m pixels and measures 13ft high by 23ft wide.
Lady Liberty stands tall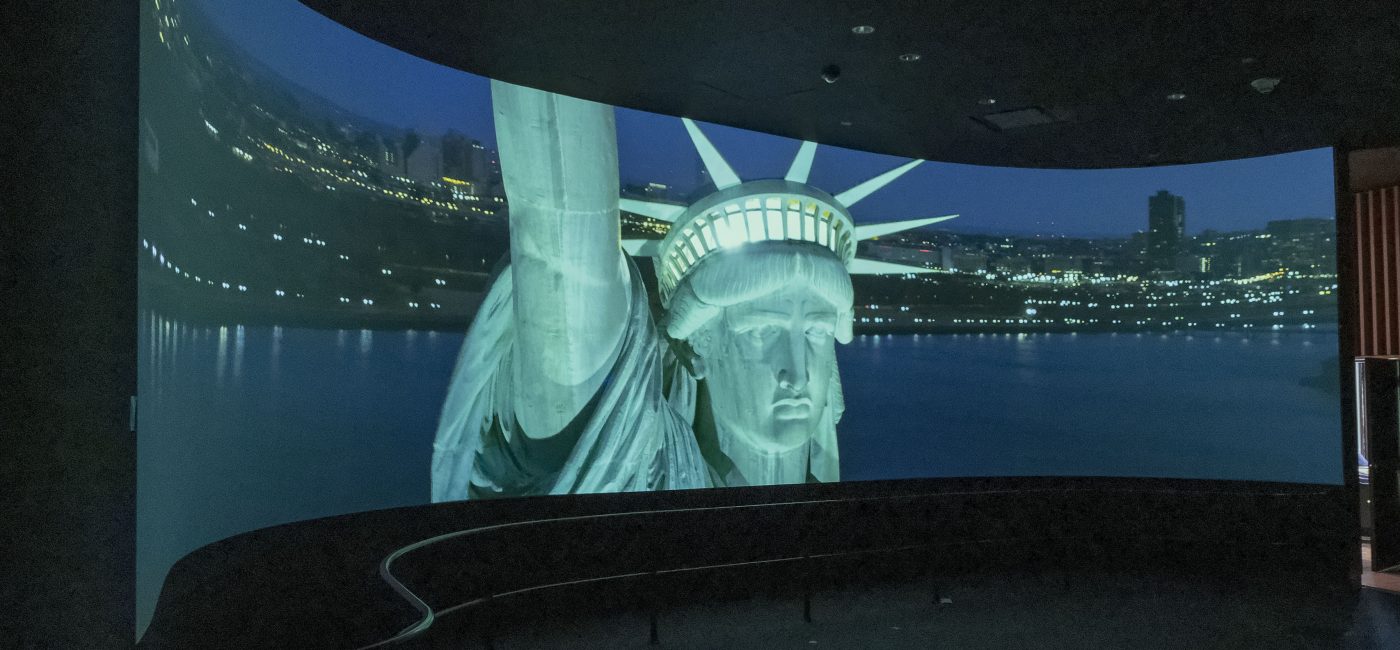 Designer: Diversified
Description: AV integrator firm Diversified helped the team at New York's Statue of Liberty with a $100m beautification project for the world famous landmark. The project included installation of multiple digital screens, the largest of which measured in at 18ft tall and 40ft wide
Celebrating the world's most iconic women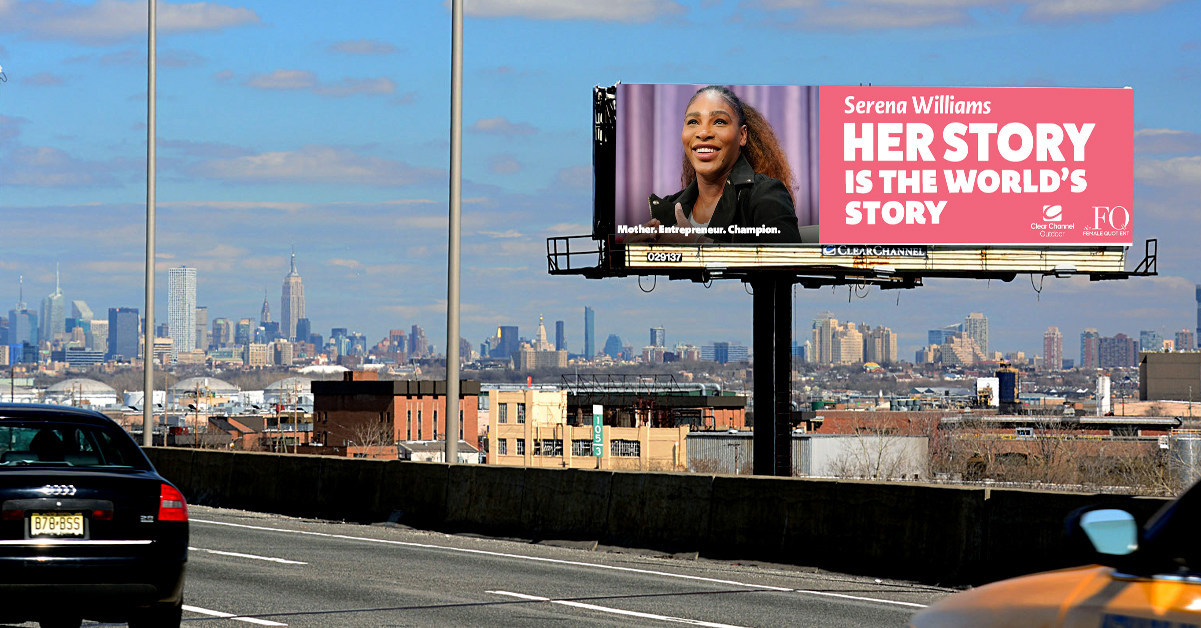 Designer: Clear Channel Outdoor Americas
Description: Clear Channel Outdoor Americas used its network of digital signs in the US to celebrate International Women's Day 2019. The company paid tribute to three iconic women in the campaign: Nobel Prize winner Malala Yousafzai, tennis legend Serena Williams, and writer, political activist and feminist Gloria Steinem.
Spreading festive cheer with Coca-Cola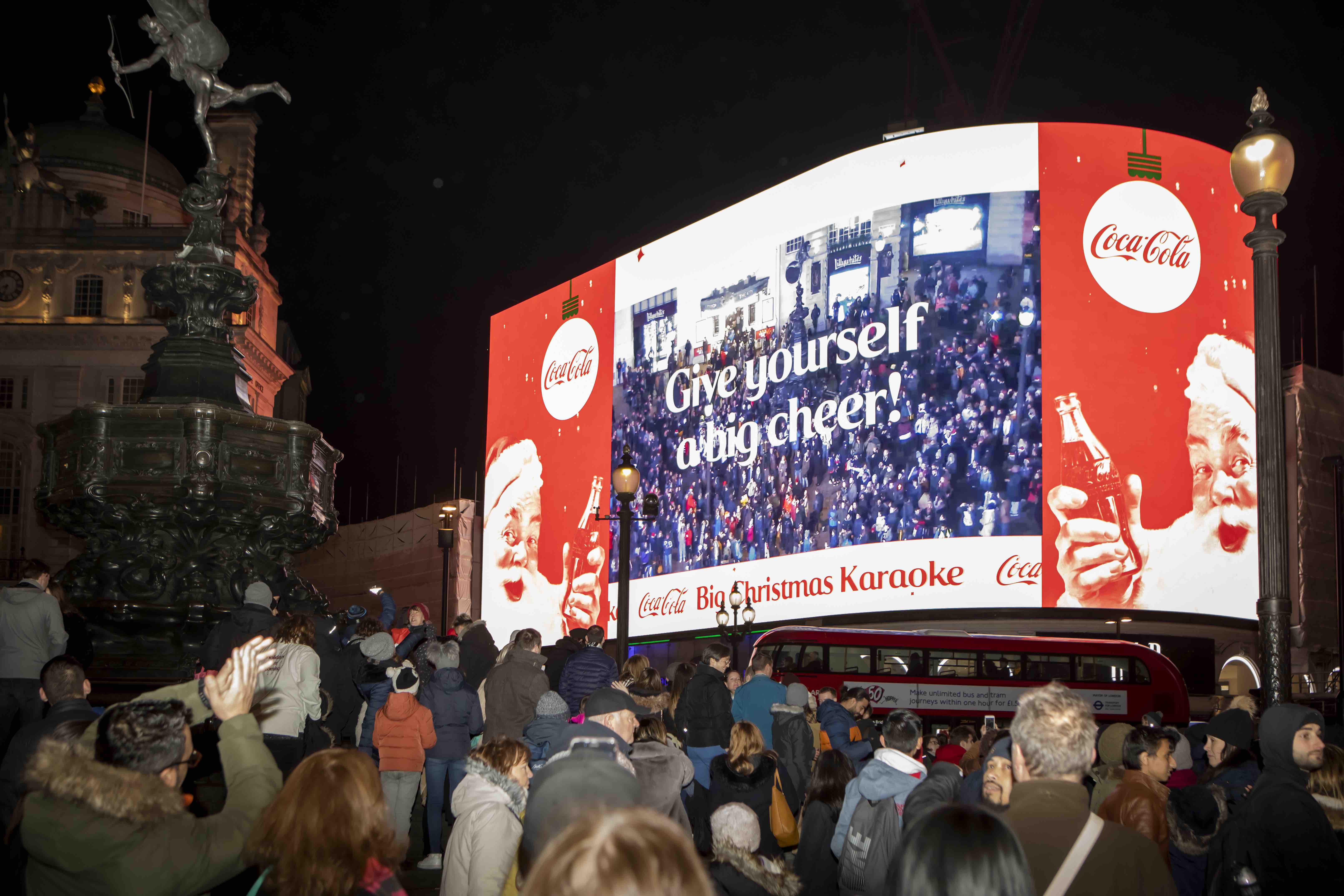 Designer: Ocean Outdoor / Coca-Cola
Description: Ocean Outdoor features for a second time for this festive project it carried out in partnership with Coca-Cola. Again utilising the Piccadilly Lights site, Christmas carols were projected on the screen for an hour, inviting passers-by to join in with the singing. The event was mirror streamed onto the screen, with those taking part able to see themselves on the digital screen and share the moment via social media.
Lighting up Times Square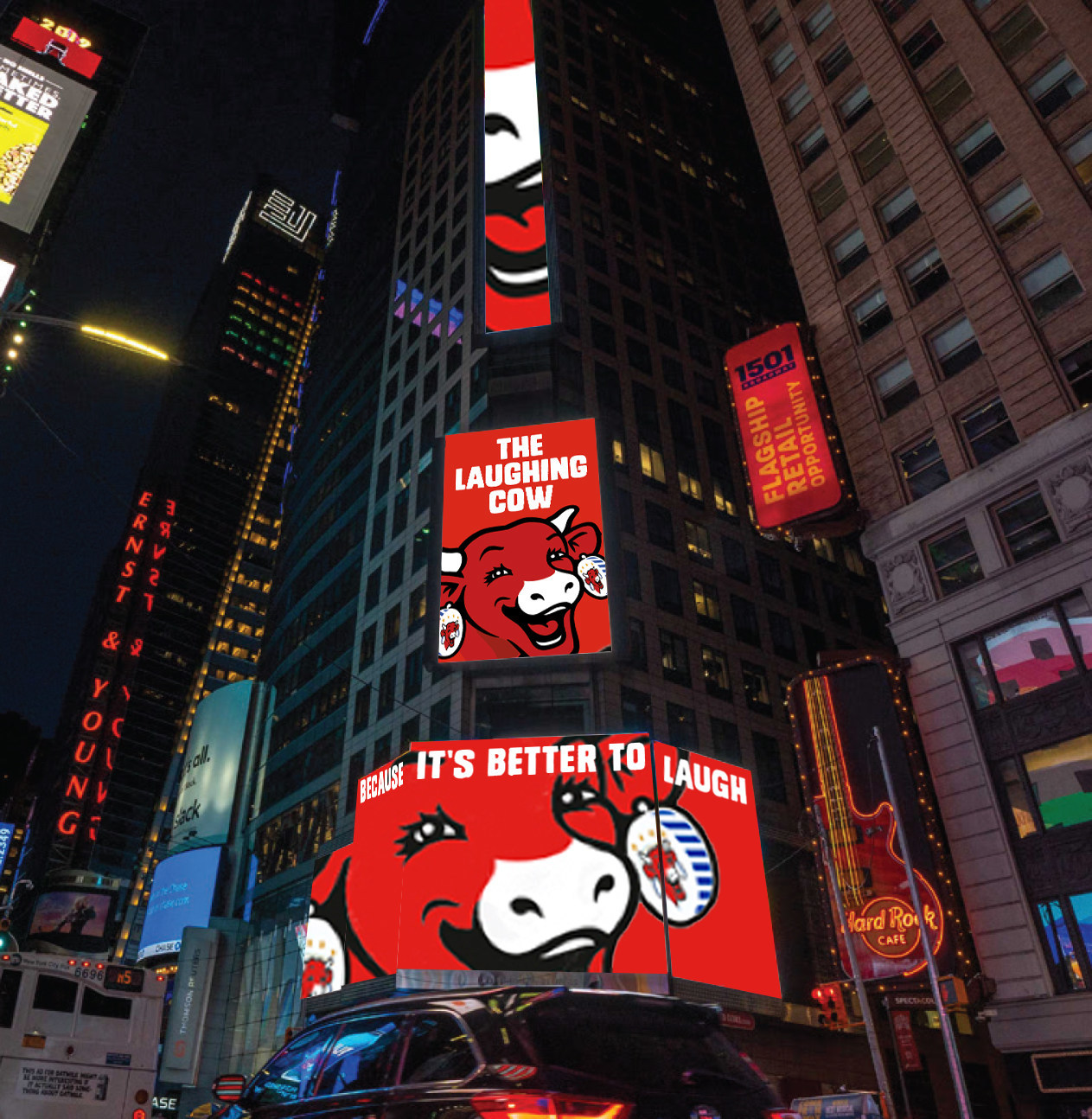 Designer: The Laughing Cow
Description: Global soft cheese brand The Laughing Cow celebrated the launch of its new-look cheese wedges with a campaign that included digital exposure at Times Square. The iconic Laughing Cow logo lit up a number of screens at the famous New York landmark.
Airport goes all digital with Clear Channel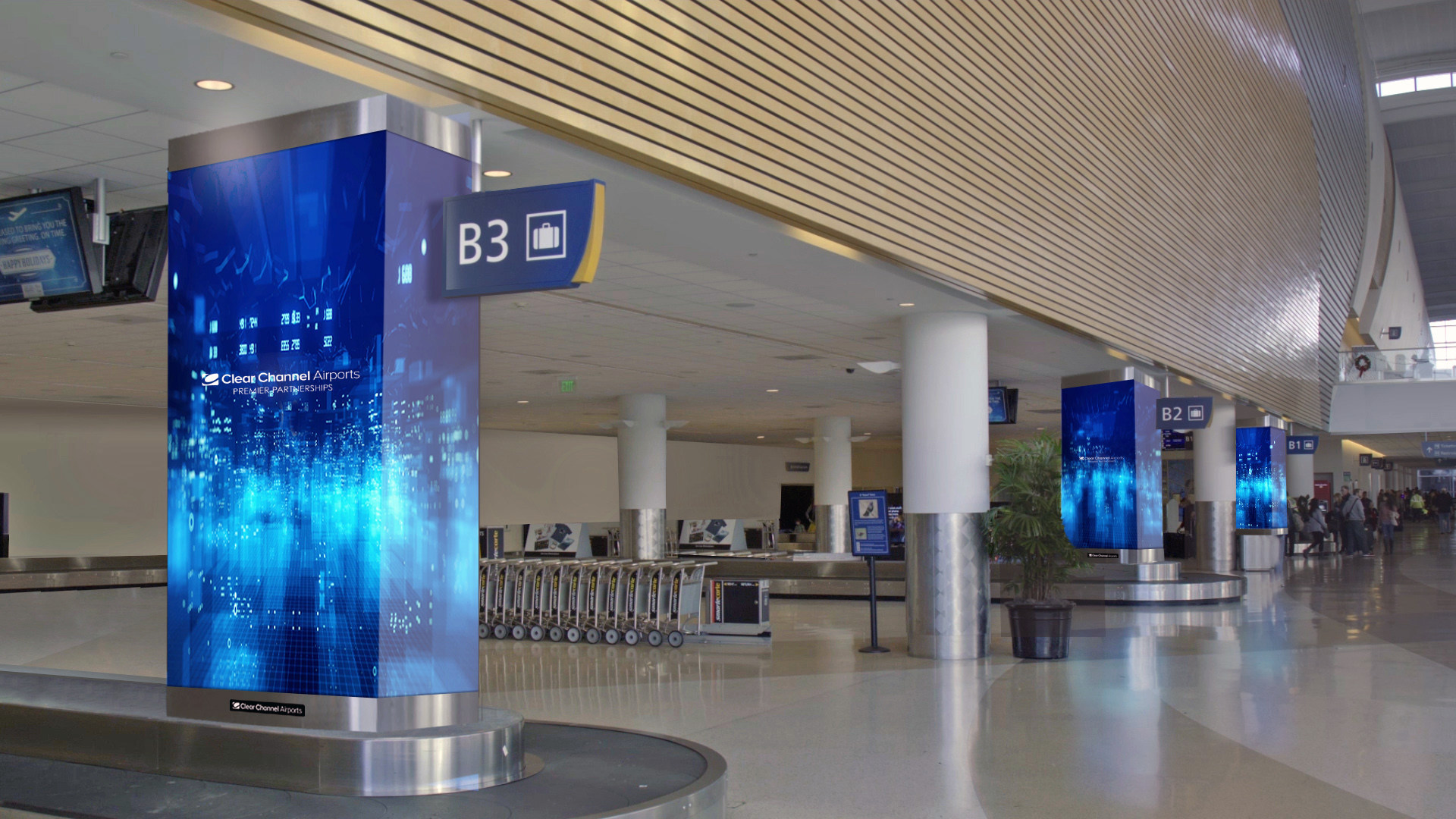 Designer: Clear Channel Airports
Description: Norman Y. Mineta San Jose International Airport, located at the famous Silicon Valley in the US, rolled became the first airport in the country to roll out an all-digital advertising network. Supported by Clear Channel Airports, the network includes a wide range of signage, including these cube signs in the baggage reclaim area.
Gotta catch 'em all!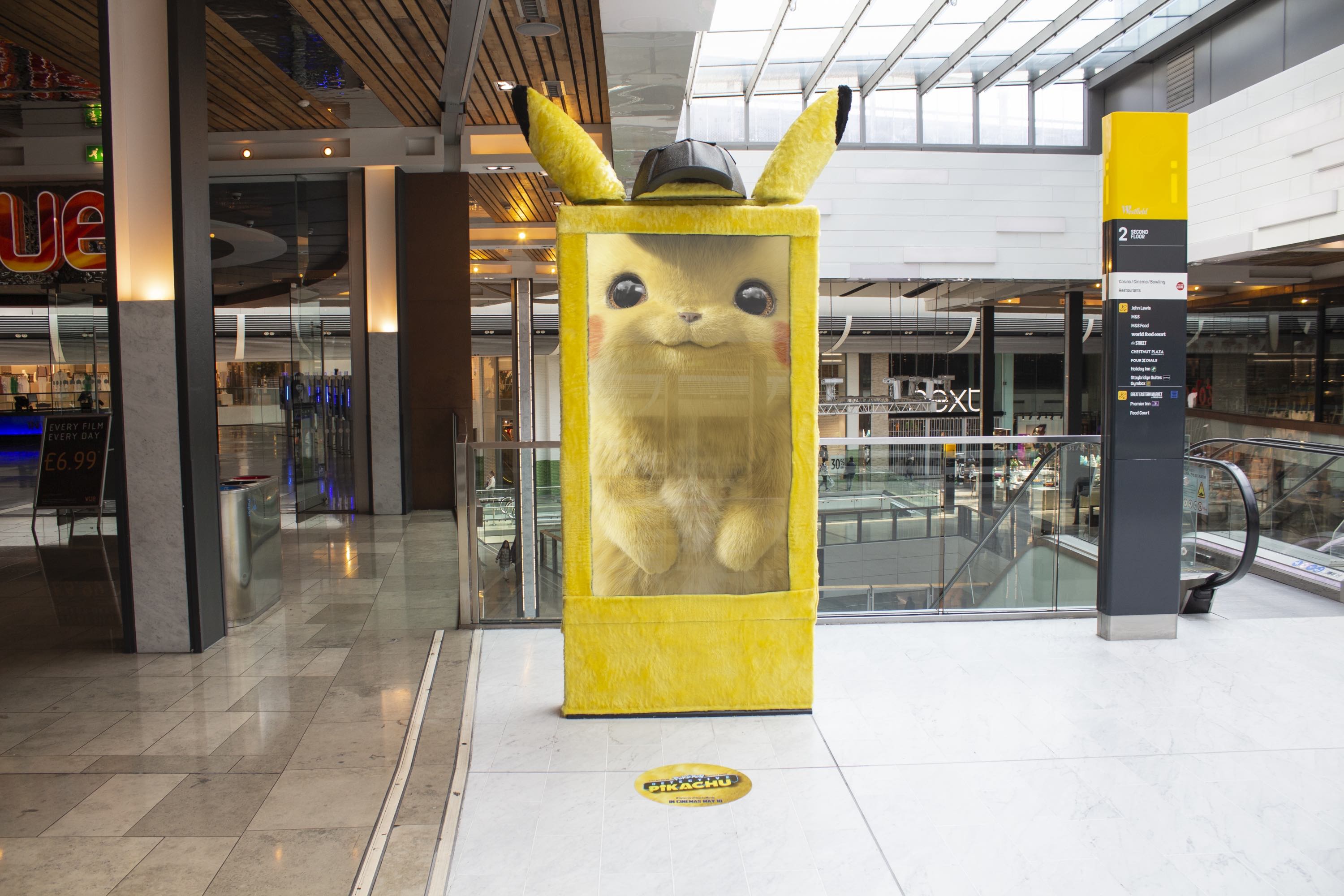 Designer: JCDecaux / Warner Bros.
Description: Film production giant Warner Bros. linked up with JCDecaux on this project to promote new film 'Detective Pikachu'. The famous Pokémon's face was shown on the main digital screen, while the exterior was decorated to imitate the rest of Pikachu's body – included his detective hat!
Viva Las Vegas with Victory Hill Exhibitions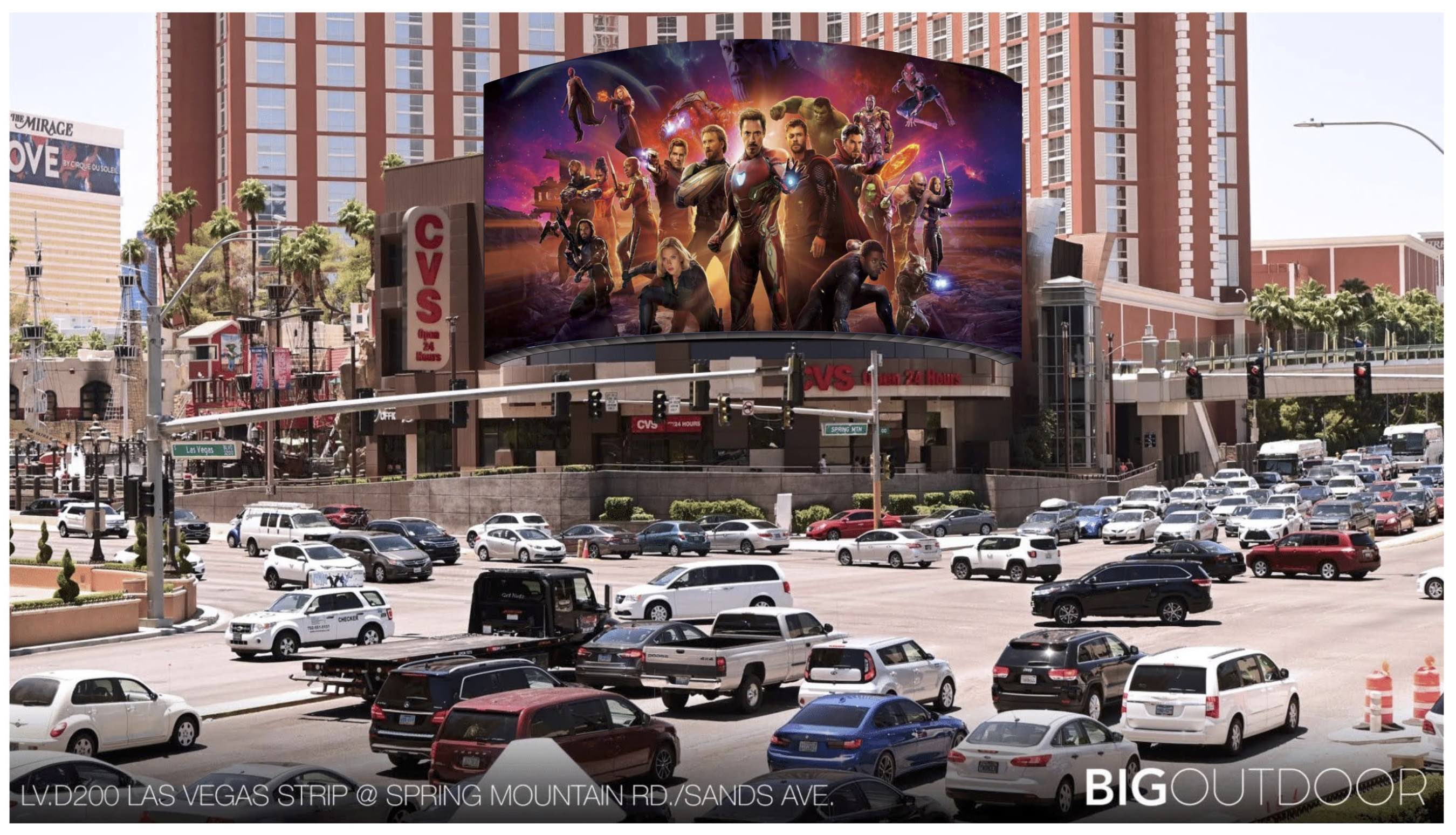 Designer: Victory Hill Exhibitions
Description: Back to Vegas and Victory Hill Exhibitions is catching the attention of millions of pairs of eyes on the famous Las Vegas Strip with this digital sign. The display measures in at 45ft high and 175ft long, making it the second largest digital sign on the Strip.
Rockin' around the digital tree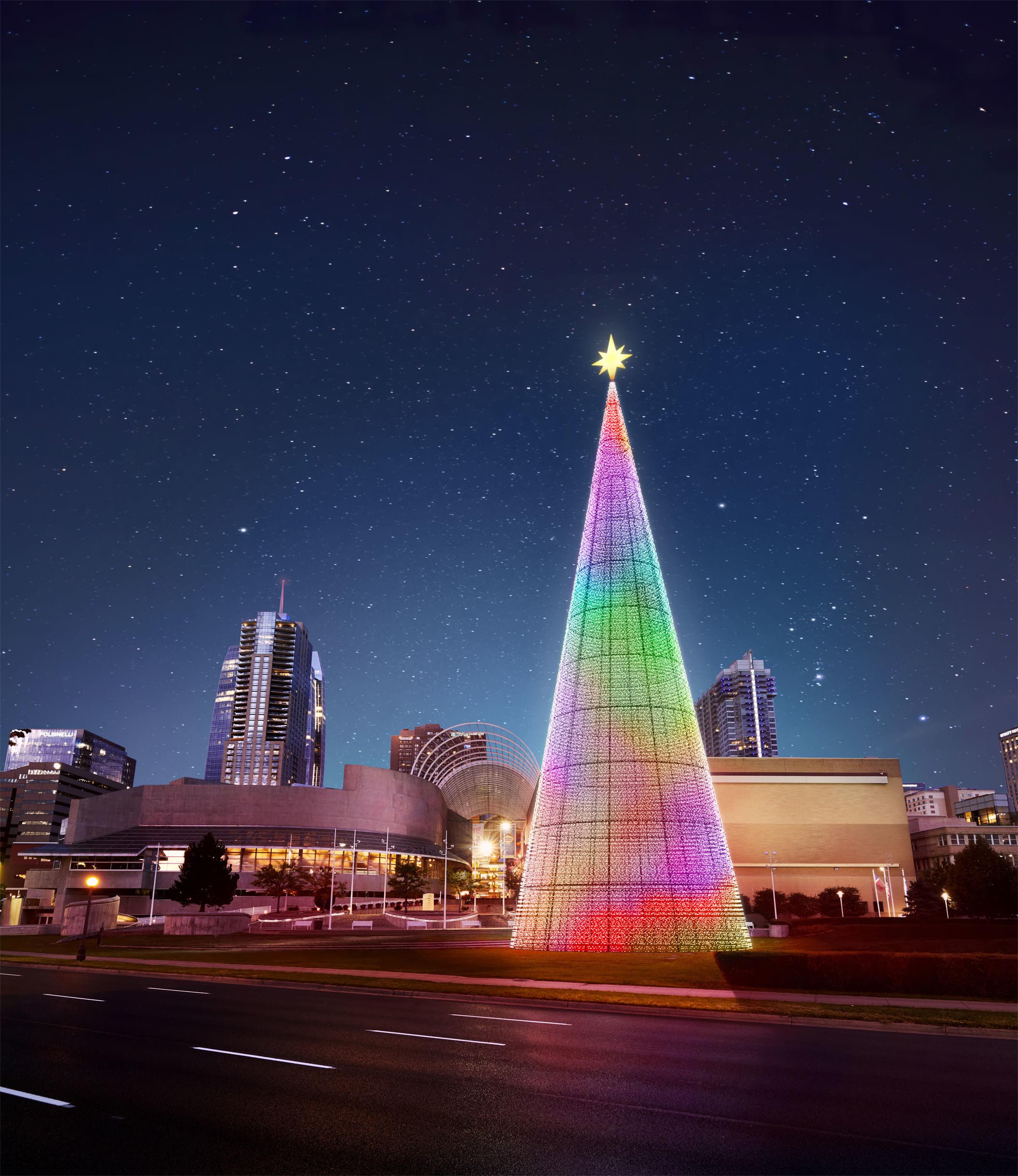 Designer: ILMEX Illumination
Description: Though not technically a signage application, this digital display in Denver, Colorado, in the US helped capture attention during the holiday season. The tree was lit up each night and its LED lighting system was choreographed to Christmas songs. The structure was the tallest digital tree in North America, measuring 39ft tall.
Making art with digital displays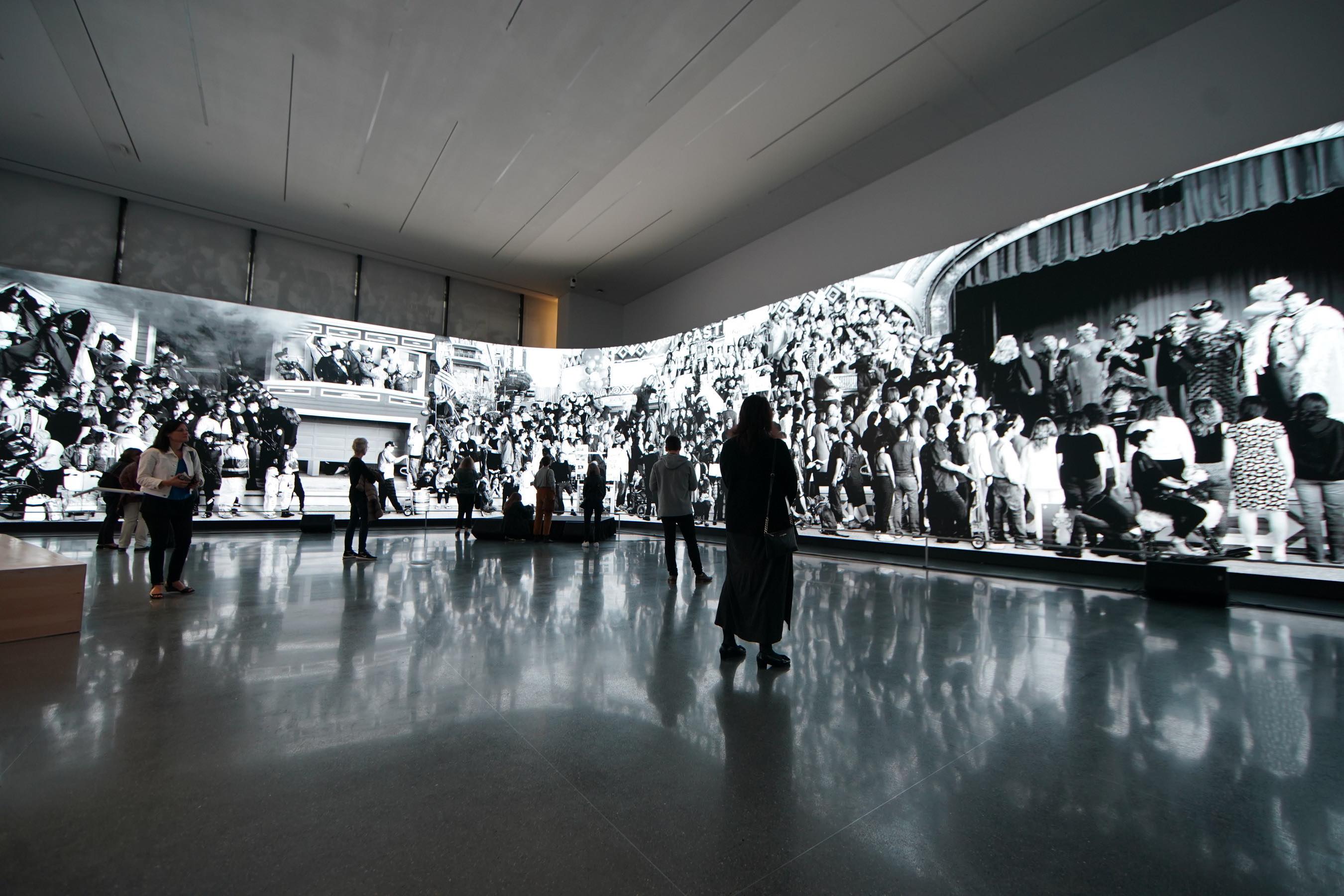 Designer: SNA Displays / Sensory Interactive /JR
Description: SNA Displays and Sensory Interactive helped the San Francisco Museum of Modern Art with a new installation from world famous artist JR. The piece celebrates the city's diverse people on a 107ft-long digital canvas that stretches around the room.
Touch-screen shopping with microPharmacy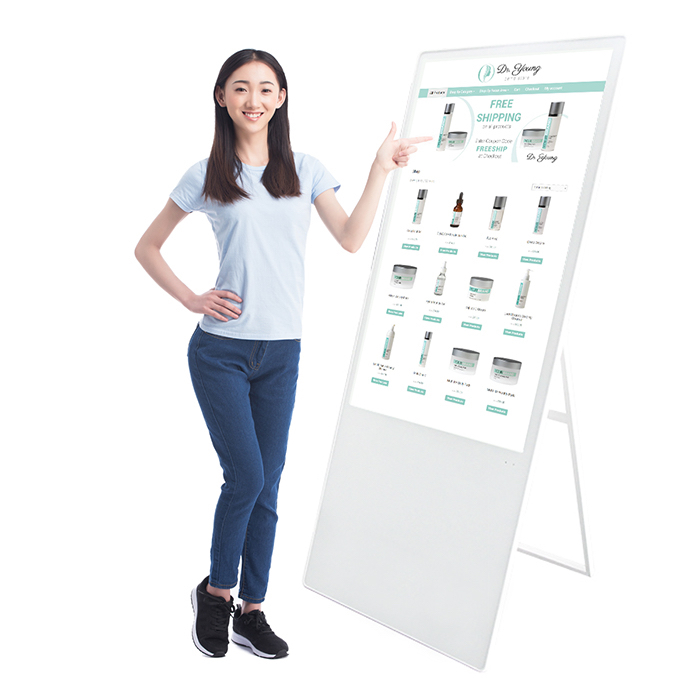 Designer: microPharmacy Corp.
Description: microPharmacy Corp. developed this innovative touch-screen that allows people to purchase products. Billed as the first connected promotional and interactive display, the microPharmacy Touch merges in-office product dispensing with online retailing, educational videos and personalised patient engagement for plastic surgery and dermatology practices.