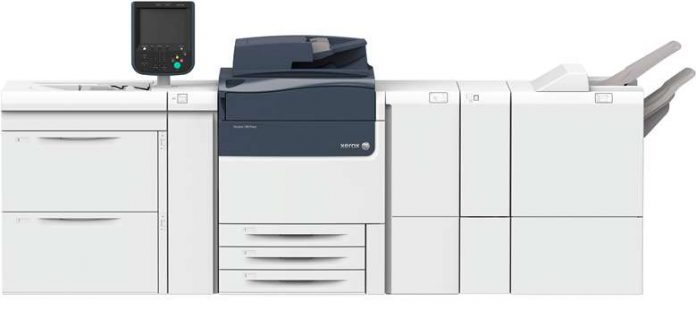 Xerox has expanded its Adaptive CMYK+ technology to offer metallics, white, clear and fluorescents on its light- to mid-production Versant 180 digital press.
The manufacturers's Adaptive CMYK+ Kit comes in two flavours: Vivid, which includes gold, silver, white and clear, and Fluorescent which includes fluorescent cyan, magenta and yellow.
"It opens up CMYK+, where businesses ask themselves: what can we do over and above, what are we doing to go beyond CMYK to find new opportunities, add value, add revenue, add margin and win new customers with a different story," said Kevin O'Donnell, head of marketing for Xerox UK graphic communications and production systems.
It works by the user simply swapping out the CMYK toner cartridge on the 80ppm Versant and replacing it with the cartridge from either a Vivid or Fluorescent kit.
"It takes around 10-minutes or so to change over and then you're up and running with no need to clean the machine out, you're just slotting in a new set of imaging units," said O'Donnell.
If users want to run a job with CMYK and Vivid or Fluorescent, or even both for 11 colours, they simply print one pass CMYK, install the appropriate kit and run the sheets through again for each additional colourset.
Single colours cannot be changed, only the full colourset.
The technology has been available for a number of years, initially on the Xerox Color C60/C70 series and latterly the high-end inplant/light production Primelink C9000 series.
"It's a technology we're very familiar with and it works very well," said O'Donnell.
"It's 'Adaptive' so the user adapts the engines, as opposed to 'Additive' like the Igen and the Iridesse, where the [CMYK+] process is inline."
The kits are only compatible with Versant 180s running EFI Fiery digital front-ends and are not compatible with the Versant 80.
According to Xerox, a Keypoint Intelligence/Infotrends report states the digital enhanced print is a projected to be a $25bn market, but access is usually restricted to high-end devices with multi-colour abilities, whereas the Adaptive CMYK+ kit opens the same opportunity up to the circa £30,000 Versant 180.
Available now, the Versant 180 Adaptive CMYK+ Kit has already been through beta at a large number of worldwide locations, including Hobs Repro in Abingdon.