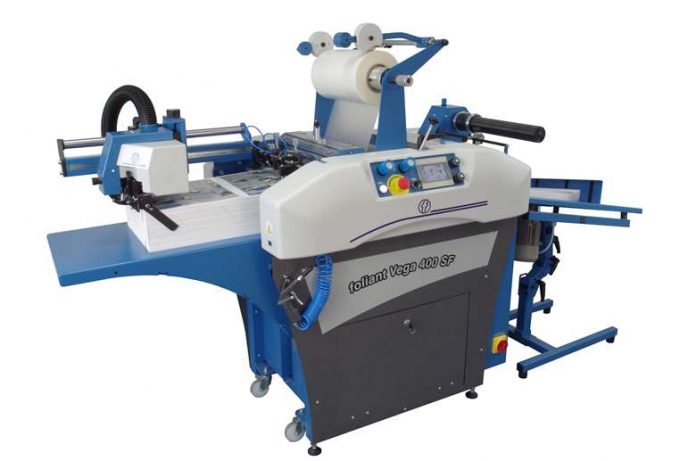 Foliant has expanded its range of laminators with two circa £30,000 mid-range production machines designed for short runs and fast makereadies.
The B3 Foliant Vega 400SF and B2-format Foliant Vega 530SF were originally slated for Drupa debuts and bridge the gap between the belt-fed, entry-level Vegas in the IFS range and the higher spec'd Mercury, Pollux and Taurus industrial machines.
Both of the new 20m/min single-sided Czech machines can laminate sheets of 115-500gsm with films down to 24mic. They also feature eight-minute warms-ups, variable temperature control, pneumatic high-speed bump separators, adjustable dual decurl bar and overlaps, and a touchscreen GUI.
"They are designed to support the need for busy post-press departments to manage a higher number of short-run fast-turnaround jobs," said Eric Keane, IFS managing director.
"Their easy-to-use features and the ability to intelligently interrupt jobs enables a highly flexible workflow that can respond rapidly to changing demands – perfect for today's print production environment."
The 2,300 B3 sph 400SF and 1,720 B2 sph 530SF can process digital and litho sheets from A4 up to 380x660mm or 530x750mm respectively.
Deep-pile section feeders, capable of handling pile-heights of up to 280mm, and a "intelligent interruption" feature are fitted as standard.
Retrofittable options include an XXL table extension for feeding sheets up to 1,300mm long, Foliant Foiler unit for embellishments, Air Shaft roller holder for faster film changeovers and jogger delivery.
Prices for base models start from around £29,000 for the Vega 400SF and £31,500 for the larger Vega 530SF.