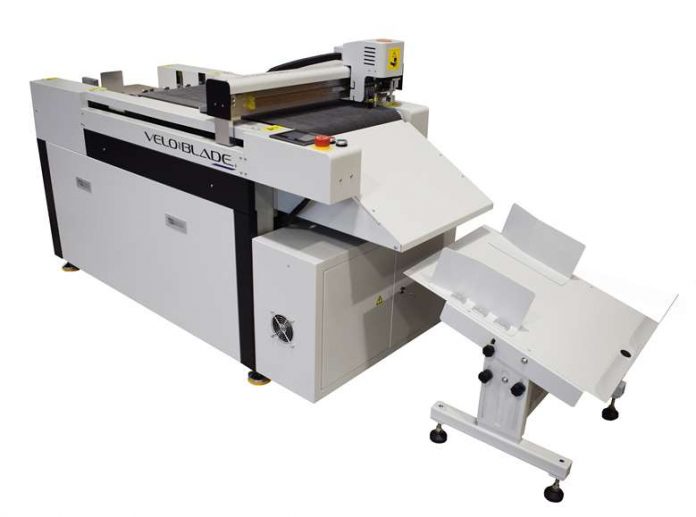 A flatbed-format device for automated cutting, creasing and perforating in a single pass targeted at businesses looking to offer cost-effective custom dieless finishing services.
What does the machine do?
The VeloBlade 64 is a digital die-cutter introduced by Vivid Laminating Technologies designed to make in-house custom cutting affordable and feasible. It is suitable for a wide range of applications and job types and is intended to give printers a platform to extend the services they offer, create unique and intricate products as well as remove the need for and cost of outsourcing. Vivid says new users cite packaging, POS, labels as well as unique business cards and invites as just a few of the projects they're now able to take on.
The machine combines cutting, creasing and perforating in a single pass with auto-feed, conveyor belt and collection tray to enable unattended production, freeing up vital time to work on more projects.
When was it launched and what market is it aimed at?
Vivid began previews of the machine in September last year, with the official launch at The Print Show 2019. The company says the VeloBlade was an instant hit with printers seeking to be more diverse, bring more functions in-house and offer a truly one-stop shop from printing through to finishing. "The VeloBlade empowers printers and print finishers to do things they were never able to before unless they outsourced. So, realistically the VeloBlade is aimed at those businesses seeking to grow their company, expand into new markets and wanting to stand out from the crowd. Having a system that allows you to offer truly bespoke finishes can only benefit the business as well as its customers," says Vivid Laminating Technologies marketing manager Jack Ryder.
How does it work?
A user-friendly software program comes as part of the VeloBlade package. "Simply upload your artwork, outline your cutting pattern, using different colours to specify the type of cut, crease or perf you need and the VeloBlade will process exactly what you tell it to do.
"Also, a highly intuitive touchscreen control centre located on the system itself makes it incredibly easy to adjust cutting depth, crease depth, feed technique and much more, to suit stocks up to 1,200gsm," says Ryder.
How does it differ from previous models?
VeloBlade is a new range of systems. However, the company says "it fits perfectly within Vivid's already impressive print finishing range" and complement's the company's other systems. "The highly acclaimed Matrix laminating, digital foiling, special effects and embellishment systems are the perfect partners for the VeloBlade. The versatility of these systems, working alongside each other makes it easy for a business to produce a personalised, bespoke print in a cost and time-effective way," says Ryder.
How fast is it?
The speed setting can be adjusted to suit the simplicity or complexity of the cuts the user needs to produce. The spec sheet says the VeloBlade 64 has a max cutting speed of 800m/s and Vivid says this equates to 12-45 seconds to finish an SRA3 sheet on average, but this will vary depending on the intricacy of the job that's being undertaken.
The VeloBlade 64 has a bigger brother, the 68, which can handle a bigger sheet size, 800x600mm, and runs slightly faster at 1,200m/s.
What is the machine's USP?
Ryder states: "Being able to load 100mm of up to 1.5mm or 1,200gsm stock and leaving the VeloBlade to do its thing. The intuitive system can either use a QR barcode reader, that identifies the artwork on the bed and will cut accordingly or, alternatively, the user can create a workflow that includes as many different jobs as they need, meaning they don't need to return to the VeloBlade to stack and start a new job."
Considering the features, functionality and level of automation, which can free up staff to work on other jobs, it's likely to be a pretty cost-effective installation for users that have the workload to put through it.
Gantry mounted vacuum clamps operate alongside air separation jets, feeding stock into production. From here, an Industrial CCD registration camera picks out registration marks to align the cutting head. Then, the accurate and durable tungsten steel blade carries out the cutting process, while the high-quality vacuum-grip conveyor belt holds stock securely in place. Once all cutting, creasing and perforating is complete, the stock is automatically stacked in the collection tray.
How easy is it to use?
Vivid says the VeloBlade 64 is an "incredibly intuitive" system, with minimal experience required to reap the rewards. The company offer customers full installation and training, so users will be able to start churning out profitable work from the moment the Vivid engineer has left the premises. And engineers are always on hand should the customer need further assistance.
The system is compatible with output from Adobe Illustrator, Adobe InDesign, AutoCAD and Corel Draw. Exporting or saving as a DXF file ensures artwork is compatible with the VeloBlade system.
Any modern PC will be able to run the software, although Vivid offers an optional PC package, comprising PC, monitor and pre-installed software, which means users are fully configured immediately. All jobs are stored and initiated from the user's PC, "meaning, that you can store job information and presets until your PC is out of memory! This is a great time and efficiency saver, for both businesses and their customers as it eradicates the need to repeatedly create new files and manually change the system to suit the job in hand."
How much does it cost?
"Less than £100 per week lease purchase, meaning just one job per week returns a profit!" claims Vivid.
What is the sales target?
Since its launch, 32 units have been installed, which works out at six or seven per month. The company expects this take-up and rate of purchase to continue and says it has many installs scheduled for the coming months.
What is the machine's closest competitor?
Vivid says that in terms of features and functionality, the VeloBlade is out on its own compared to the competition. It says there are cheaper alternatives on the market, but insists they do not provide the same quality of finish nor the functionality of the VeloBlade. It also says high-quality parts ensure the VeloBlade running costs after purchase are kept to a minimum.
---
SPECIFICATIONS
Cutting speed 15-45 seconds/sheet (SRA3)
Min media size 210x297mm
Max media size 600x400mm
Max stacking capacity 100mm
Max media thickness 1.5mm
Media types Plastic board, PVC board, PU, cardboard, fibrous board, rubber sheets, marking film, etc
Registration CCD camera
Footprint 2,250x800mm
Price Lease: from under £100/week
Contact Vivid Laminating Technologies 0808 506 5787 www.vivid-online.com
---
ALTERNATIVES
Intec Printing Solutions ColorCut FB8000Pro
This is a modular system that consists of the FB8000 flatbed cutter with an ASF8000 automated sheet feeder for higher productivity and unattended operation. Shape cutting speed of an SRA3 sheet is similar to the VeloBlade and takes around 15-45 seconds, however it doesn't have the same capabilities with heavier boards as the Vivid machine. Although it was first launched at Fespa 2019, Intec launched a new version of the device in January with a refined feeder system and improved cutting speed. It has a list price of just under £13,000.
Cutting speed (SRA3) 15-45 seconds/sheet
Min media size 197x285mm
Max media size Auto feed: 500x335mm; manual placement: 700x500mm
Registration CCD camera
Footprint 1×1.6m
Price £12,999
Contact Intec Printing Solutions 01202 845960 www.intecprinters.com
Graphtec GB F-Mark Plus
The Graphtec F-Mark Plus is designed to automatically feed, cut and crease sheet sizes of up to 700x520mm without the need for operator intervention. It can die-cut, kiss-cut and perforate, and the latest and larger version it is also able to crease. It is a 'table-top' machine that can handle up to 200 sheets (35mm max stacked media height) of material in a continuous cycle, but has the ability to accept further sheets without interrupting the cutting process. Average cutting speed is 30-40 seconds for each sheet.
Cutting speed 30-40 seconds/sheet
Min media size 297x450mm
Max media size 700x520mm
Max media weight 400gsm
Registration CCD camera
Footprint For feeder, cutting plotter and exit tray 1,515x900mm
Price £8,745
Contact Graphtec GB 01978 666700 www.graphtecgb.co.uk
---
USER REVIEW
"The VeloBlade by Vivid was exactly what we needed to bring die-cutting in-house and reduce costs on short runs and speed up production times. As soon as we saw it in action in Vivid's demo suite we knew we had to have it. We've produced loads of different jobs to date, from beautiful Christmas cards to packaging products, kiss-cut stickers, hanging tags, you name it, we've done it" Thomas Stevenson Manging director, Digitronix