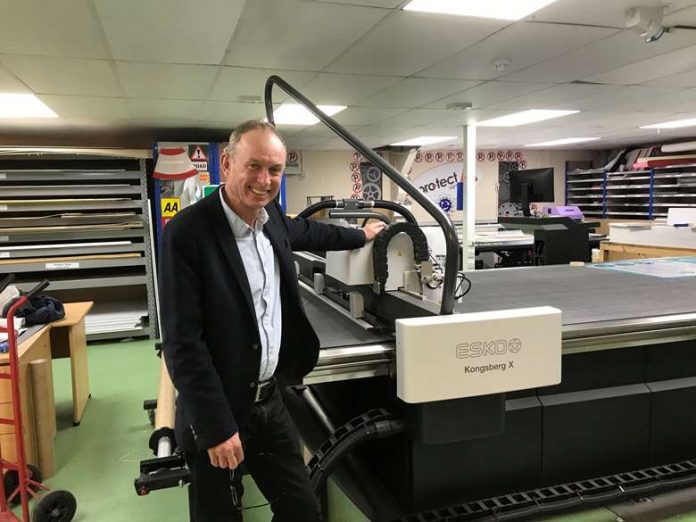 Protect Signs has installed a Mimaki JFX200-2513 EX flatbed printer and an Esko Kongsberg X24 digital cutting table to improve its safety signs services and move into commercial territory.

Both machines were installed and commissioned at the Weston-super-Mare outfit in February, embellishing a broad range of equipment for metal fabrication, CNC routing and high-frequency plastic welding.
The digital print and cutting versatility of the two new devices will continue to help Protect Signs develop its specialist services for the manufacture of portable, temporary, traffic safety and signing products.
Owner and managing director David Lundy said: "We're moving towards the more commercial sector. Investing in new technologies ensures we stay ahead of the game; it helps in the development of new products and production techniques whilst bringing with it the benefits of lean manufacturing and increased productivity.
"With the introduction of the new Mimaki and Esko, we are well placed to expand our services into the private and commercial sectors. Improved manufacturing broadens the products and services we offer to new and existing customers.
"No one knows what the future holds but one thing is certain, in this fast-moving digital world, business must embrace and invest in new technology ensuring it maintains the best possible service and delivery to all clients large and small."
Both machines were supplied by CMYUK, with the Mimaki printing on media up to 2.5×1.3m at speeds up to 35sqm/hr and the Esko spanning media up to 1.6×3.2m at speeds to 50m/min.
Protect Signs is a revival of Lundy's father's business Space Saver, which was established in the 1960s and under which the original roll-up police sign was invented. Protect has been running independently since 1998 and now employs 28 members of staff.