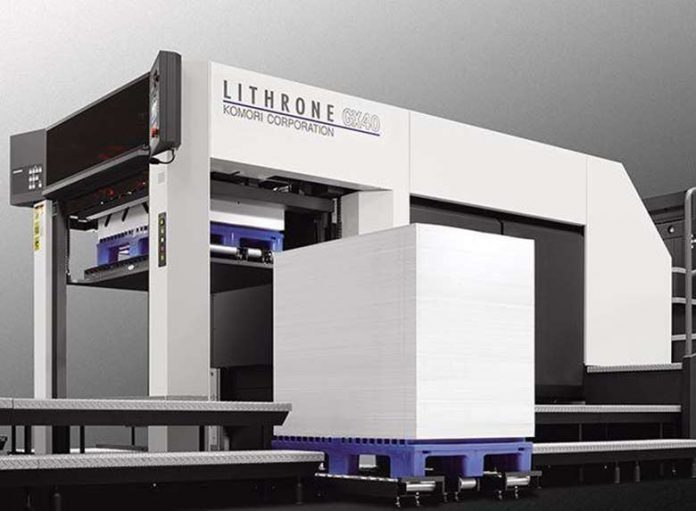 Komori has posted a massive impairment loss due to the fallout from the Covid-19 pandemic and has revised its expected results for the financial year just ended – with top management taking pay cuts of up to 30%.

The Japanese press manufacturer has just completed the acquisition of German folder machine specialist MBO, with the share transfer finalised on 1 May.
Komori said that in the second-half of its financial year ending 31 March 2020, demand in Europe and the US had "remained sluggish", while its business in China – the world's largest market for printing machines – had been "weak" due to ongoing trade tensions between China and the US.
Expected sales in Q4 were then stymied by the effects of the coronavirus pandemic.
The virus crisis caused delays in the delivery and installation of printing machinery "in China, Europe and the United States," Komori said.
Komori is highly dependent on overseas markets, with more than 60% of sales coming from outside its home market.
It had also been poised to bring the Impremia NS40 – its version of Landa's B1 Nanographic sheetfed inkjet press – to market.
Komori said that it expected to post "significant losses", and the overall impact of the novel coronavirus pandemic on its business activities was likely to remain "largely unclear" for some time.
It has posted a huge impairment loss of ¥17.7bn (£134.5m) as a result, after detailed examination of the "future recoverability of its business assets".
Forecasted results for the year ending 31 March have been revised as follows: Net sales forecast reduced by 4.8% from ¥81.5bn to ¥77.6bn, with operating losses likely to increase by ¥1.7bn to ¥3.3bn.
It has also cut its dividend, and expects to reverse around ¥4.1bn in deferred tax assets "as part of income tax adjustments".
In a statement, Komori said: "The impact of the global pandemic caused by the novel coronavirus has made it difficult to formulate a future outlook for the company's business activities.
"However, Komori is determined to improve profitability and, to this end, has shifted its priority from the implementation of its medium-term management plan to the execution of emergency measures aimed at reinforcing the business revenue structure."
With the new financial year underway, Komori also said it would shelve its latest medium-term management plan, which was announced in November 2019.
Instead, the firm said it would "shift its priority to the execution of emergency measures aimed at reinforcing its business revenue structure".
It said it was unable to make any forecasts for the current financial year due to the uncertainty caused by the Covid-19 pandemic.
Komori has also decided to reduce the pay of its directors and senior operating officers "in order to clarify management's responsibility for operating results".
Compensation to be paid to these individuals will be cut by 10%-30%, depending on their positions and duties, with the reduction expected to remain in place until 31 March 2021.
Last month, Reuters reported that research by Tokyo Shoko Research had found that Japanese listed firms expected nearly $17bn in sales to be wiped out because of the pandemic.