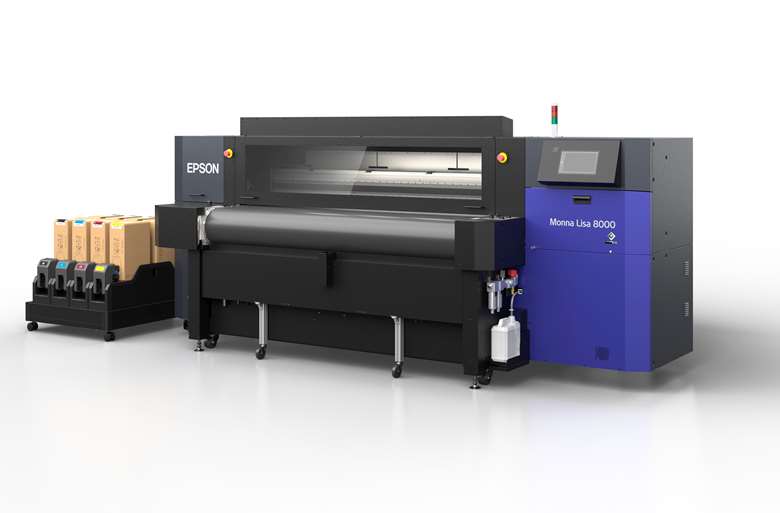 Epson has expanded its Monna Lisa range of high-end textile printers with a new sub-€200,000 entry-level model developed for short runs and reshored fast fashion.
Built in Japan, the Monna Lisa 8000 is a joint development that features technology from Epson and its two Italian textile specialist subsidiaries: kit manufacturer Robustelli and ink manufacturer For.Tex.
Guy Martin, sales development specialist at Epson UK, said: "Epson have had a team of specialists working at Robustelli in Italy for the last four years to help enable the collaboration that has led to the development of the ML-8000."
The eight-colour 1.8m-wide 8000 is capable of 250sqm/hr in single pass 300x600dpi or 155sqm/hr at two pass 600dpi.
It features Epson PrecisionCore heads running the Genesta inkset, which was developed by Epson subsidiary For.Tex and is available as acid, reactive, disperse and pigment to enable direct-to-fabric (DTF) printing on a wide range of textiles.
It is configured with Epson's Microweave and lookup table technologies to reduce banding and graininess, and advanced Multi-Layer Halftone Technology (MLHT), which randomises dot placement to reduces image degradation.
Other attributes include automated cleaning and adjustments and Nozzle Verification Vechnology (NVT) to monitor and compensate for clogging.
The Monna Lisa 1800 is targeted at textile businesses looking to bring printing in-house or established players looking to move to into digital.
"Digital printing has become increasingly popular with fashion and textile designers across Western Europe as they strive meet the increased demands for short runs and fast fashion while under pressure from public criticism to ease environmental burdens," said Martin.
"The capability to conduct digital designs for digital print for demand enables businesses to offer their customers a faster turnaround of designs, when they need it, without having to rely on mass shipments of stock crossing continents, much of which will have incurred higher waste streams due to analogue printing."
The Monna Lisa 8000 will be available in the UK from January next year, pricing is being finalised but Martin said it should be below €200,000 (£181,000).
The 1800 joins a range headed by the Monna Lisa Evo Tre family of printers, which is capable of up to 704sqm/hr in single-pass mode.
Earlier this summer, Epson announced that it was merging 40-staff Robustelli and 25-staff For.Tex, which are both based in the Lake Como area of northern Italy. The merger is set to complete by the end of the year.