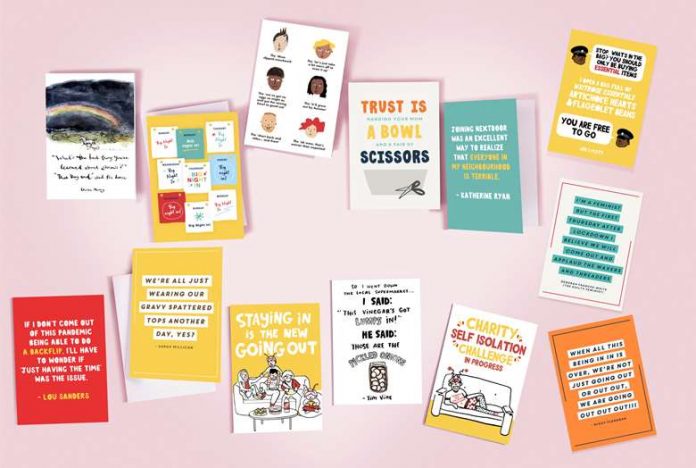 Moonpig has launched a range of celebrity eCards to support last night's BBC The Big Night In Appeal and has spoken about how its print operation is rising to the coronavirus challenge.
The online greetings specialist has launched 13 exclusive eCard designs as part of its pledge to donate at least £200,000 to the Comic Relief and BBC Children in Need joint coronavirus fundraising event, which was televised last night on BBC One and raised £27m.
The cards feature lockdown quips from comedians including Micky Flanagan, Sarah Millican and Tim Vine.
Moonpig's standard eCard range is also part of the initiative, and the company will donate all proceeds of eCard sales between 15 and 30 April.
Moonpig Group CEO Nickyl Raithatha said: "We want to do everything we can to provide essential support to local charities, projects and programmes across the UK to help those most in need during the current Covid-19 crisis."
Speaking about how the Moonpig production hub in Guernsey is coping under the lockdown, a spokesperson told Printweek: "Our first and foremost priority will always be the health and safety of our employees and customers.
"We're following the government recommended guidelines and have significantly reduced the number of staff members who can be inside our printing facility at any given time to allow for social distancing. We have also implemented enhanced cleaning and sanitation processes to keep hygiene exceptionally high."
Under normal circumstances Moonpig prints more than 16m cards per year.
Over the past few weeks the business has briefly suspended online ordering of greeting's cards on occasions to flatten production peaks to enable it to keep up with demand.
"These [social distancing] precautions mean our production process can be a little slower and more limited at certain times, but we're doing everything in our power to keep things moving, to keep customers connected, and to keep helping them send a little bit of love to the people who mean the most to them," added the spokesperson.
"At Moonpig, we believe that greeting cards can create a sense of togetherness, even when we're apart. And in these extraordinary times, when many of us are unable to see our closest friends and family, it's more important than ever to stay connected and celebrate heartfelt moments with our loved ones.
"That's why we're doing absolutely everything we can to make sure we can continue to serve customers, with extra care and caution."