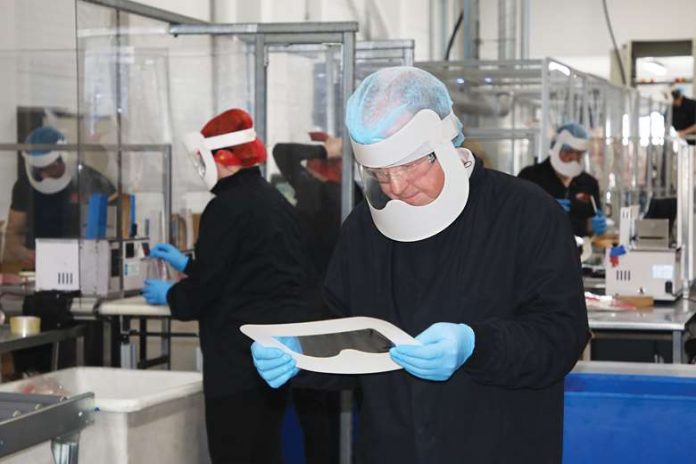 More and more industry firms are mobilising to produce much-needed protective products, including Rapid Action Packaging which has repurposed its food packaging know-how to produce disposable face shields and has capacity to produce an astonishing ten million units a week.

Rapid Action Packaging (RAP) has a UK operation in Wimbledon and a manufacturing site in Ireland. It makes high-grade protective and hygiene food packaging for products such as sandwiches, hot products, chilled meats and ready meals.
Customers include Tesco, Sainsburys, Waitrose, Morrisons, Asda, M&S, Pret a Manger and Leon.
The firm's design and technical teams swung into action to come up with a face shield design using cardboard and a type of protective film usually used to protect food against harmful pathogens such as bacteria and viruses.
The resulting RAP Face Shield is described as a "lightweight, disposable and unique" PPE solution, which confirms with Category 1 PPE EU Regulation 2016:425.
RAP said it was economical and intended for use by health support workers, cleaners, teaching staff, retail operatives and "any other public-facing role where PPE of this type is typically unavailable".
The firm has already produced 1m face shields, with 65,000 earmarked for free distribution to care homes across the UK and Eire.
"With an established supply chain and industry accredited manufacturing facilities, RAP is able to reach full scale production immediately in order to deliver between seven and ten million face shields a week," the firm said.
Chief executive Graham Williams said the business had always been proud of its simple and clever packaging products.
"But we are even prouder of our innovative and intuitive team who have worked so hard over the last couple of weeks to develop this face shield," he said.
"As award-winning designers and manufacturers we felt, like many others, that it was absolutely critical for us to step up and join the national effort to help deliver the Government's PPE plan.
"With the difficult challenges being faced by the care sector, we also felt it only fitting that we started our PPE journey with a donation of face shields to the industry.
Separately, printing and finishing company Media Ace in Thame has also moved quickly to make face shields.
"We came up with the thought that we could produce PPE face shields on the 31 March and by the end of the following day had delivered three prototypes to the infection control team of the local large NHS trust, whist talking to their procurement team regarding the requirements for numbers. The approval from infection control came through on Friday 3 April," said partner Mark Brant.
"Since that day we have reorganised our shift patterns to ensure we can produce the face shield for 16 hours a day, whilst maintaining social distancing guidelines, and have so far produced almost 90,000 units. Within that time we have also gained Class 1 CE certification for the product delivered to 13 NHS trusts and two care groups, we have also donated to both Thames Valley and Hertfordshire Police, and are working hard to fulfil all the requirements with new enquiries coming in every day."
Brant said the firm had had a good experience making contact with government procurement officials.
"The government have been in touch with us for the last week regarding the face shield, and how we can push production to 50,000 units per week. We are registered with their procurement division and we have also received great support from the NHS procurement teams from the local trusts, and the East of England Hub, and their sharing of information between trusts that has helped us reach out across the country," he stated.
In Scotland, Cimpress trade printing subsidiary Tradeprint has set up an appeal on Just Giving to raise funds to cover the costs of production and distribution of face shields to people in need.
"We have a robust and scalable operation which we have mobilised to produce as many face shields as we can. While these are not official PPE products we have received many calls for assistance from frontline caregivers who are desperate for our help and we have already sent this equipment to those who have asked for help and they are already in use," said sales and customer success director Anthony Rowell.
And Grafenia subsidiary Nettl has set up a new operation – AniMasks – to produce funky fabric face masks in a variety of animal designs. The washable masks are intended to catch droplets and slow the rate of spread of the disease following the 'face gaiter' principles, Nettl said. They are available in sizes for adults and children.
Custom designs are also available, with all proceeds going to the NHS. The firm is looking for volunteers with sewing know-how to help it meet demand.