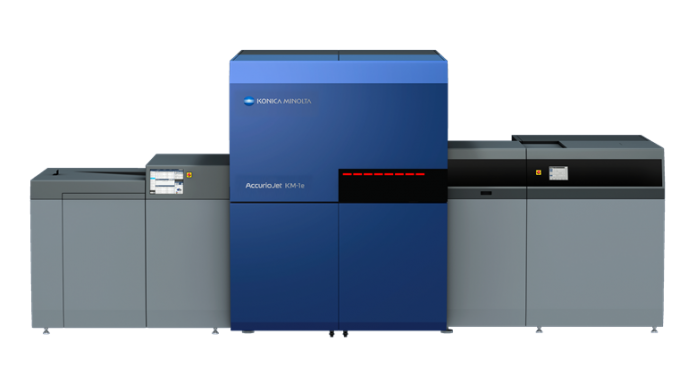 Konica Minolta has unveiled a new version of its AccurioJet KM-1 UV inkjet, the KM-1e, which has been fine-tuned to take on HP Indigo in the commercial and high-end B2 digital market.

"The AccurioJet KM-1 was one of the driving forces to change the analogue market to a digital market," said Nuno Sacadura, Konica Minolta Business Solutions Europe inkjet business development manager.
"We [have] bought with this new machine superb quality printing, high productivity with the capability for new, enhanced media support, and that will be very attractive to the market."
Headline statistics remain unchanged from its predecessor, such as the 3,000sph simplex, equivalent to 200 A4ppm, and 1,500sph duplex top speed. Instead, Konica Minolta focused on a broader media range, increased uptime and reduced service requirements as well as a number of productivity enhancements including an automatic tape inserter and the ability "to link with every workflow on the market".
According to Sacadura, the KM-1e is targeted squarely at general commercial printers looking to offer litho quality but who want to embrace increasingly shorter run lengths and faster turnarounds, as well as high-end users looking to offer high-quality images on a wide range of media.
"We see the KM-1e as a bridge between offset and digital. It's a digital machine that can handle not just variable data printing, but minimum set up times, which is very important for productivity, reduce service time, because downtimes can create less productivity and more stop times for our customers, and the support of auto-duplexing, which is very important for the market we have."
The new machine offers the same 1,200dpi image quality and LED UV drying system as the first machine, which has notched up more than 100 installations since its commercial launch at Drupa 2016, but will run new inkjet heads, new versions of the firm's KM 1800i heads, and a tuned UV inkset. It also has new media sensors to help it support a wider range of substrates.
Sacadura said the machine's goal was to "improve customers profitability and return, once again, to the golden age of the printing market."
"We can do this without compromise on substrates… and colour consistency and registration and the biggest format on B2-sized digital machines and the possibility of finishing without drying times."
"These are musts for this new era, this new market."
The 585x750mm oversized B2 format press can handle the same stock thicknesses as the original KM-1, 0.06-0.6mm, but Konica Minolta's engineers have worked to improve the handling of the thinnest stocks.
According to Sacadura, like its sibling the new UV machine can handle "almost all offset stocks, and with most we don't need any pre-coating", but it can now also print on a significantly wider range of substrates, including clear plastics, films, metallic papers and coloured media, although it does not yet have a white printing capability and is still CMYK only.
Existing KM-1s will be field upgradable to KM-1e specifications.
Sacadura said the first European KM-1e was installed during lockdown at an unnamed German printer. Colourfast was the first UK printer to install a KM-1 last May.
Speaking at yesterday's virtual press conference, Hidetoshi Omo, Konica Minolta Business Solutions Europe head of centre of competence KM-1, said there were no updates on the KM-C, the B1 UV inkjet digital press that was shown as a prototype at Drupa 2016.