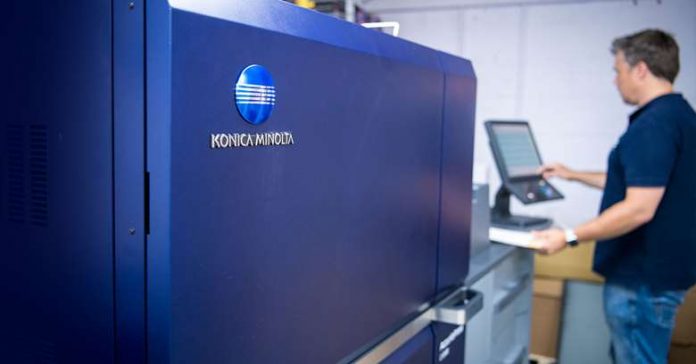 The Print Centre has installed the UK's first Konica Minolta AccurioPress C12000 as it looks to ramp up its B2B online offering and bridge the gap between digital and litho.

The Print Centre (TPC) managing director Ben Nixon said the firm had committed to the new high-end toner machine just before lockdown, and while he said they could have pushed it back they decided to go for it.
"We just thought there's no point, we're a forward-looking company and we felt it was a gamechanger for us," he added.
"We've partnered with Konica for a quite a while and the C12000 just fits with what we want to do, the speed and the long sheet."
The 120ppm C12000, along with its 140ppm sibling the C14000, was launched last October.
It can handle substrates from 52gsm up to 450gsm has a long sheet functionality for sheets up to 1,300mm long simplex, 900mm duplex.
The C12000 has a guide price of around £150,000 depending on specification.
Paul Franklin, Head of UK Production Print Graphic Arts Business Unit, Konica Minolta Business Solutions (UK) said that the C12000 and its sister machine were garnering significant interest.
"We are getting a great deal of interest in the AccurioPress C12000 and C14000. This is because it provides our customers like TPC the ability to produce higher volumes, have access to complete automation, full media flexibility, and preventative maintenance support."
Nixon said image quality and consistency had been another key draw of the C12000, which replaced the firm's Bizhub Press Pro C6000L and joined a C1085.
The new 3,600×2,400dpi machine is configured with Konica Minolta's IQ-501 Intelligent Quality Care system for automated registration, colour management and quality adjustment.
The 15-plus staff commercial print business offers digital, litho and wide-format from its main facility in Berkhamsted, Herts and also has a small sales office in Iver Heath, near Slough. The firm launched its automated web-to-print offering a while ago, with a number of clients running branded sites.
Nixon said the C12000's ability to closely match the output of its five-colour Heidelberg Speedmaster CD 74 was critical to the business as it looks to grow.
"The quality has been pretty amazing really, and as a B2 printer the long sheet was pretty interesting too. The quality is on par with litho, we run a coater and people struggle to tell the difference – especially on silk."
Like most businesses, TPC has furloughed a number of staff, but Nixon said business had started to pick up towards the end of July.