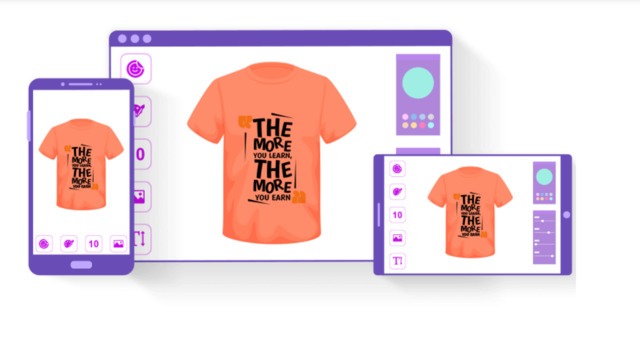 Of late, a number of startups and aspiring ecommerce stores are flooding the market. Amid this ever-growing competition, it can be difficult to decide which niche to start with and what to sell.

While every niche has its own set of customers, the fashion industry is an evergreen niche that never goes out of 'fashion'. Customers always keep looking for something new from this industry.
With personalization growing popular, custom t-shirts have emerged as the new popular attire. You won't believe it but the global custom t-shirt printing market is forecast to reach $3.1 billion by 2025.
So, if you are a fashion lover and want to make it big, it is time you started your online custom t-shirt selling business. All you need to do is launch an e-commerce store, integrate a t-shirt design software to enable your customers to create custom t-shirts bearing the design, logo, colors, text or quotes of their choice.
However, If you are a brick and mortar store owner and can't make up your mind whether to sell custom t-shirts online or not, read on the reasons why you must go for it.
Reasons T-shirt Printing Business is Trending
T-shirts Matter – A Lot
A T-shirt is one of the best mediums of expression. Whether you are a nerd, caffeine lover, a game addict, or a foodie; you can get others to know it – with T-shirts.
Custom t-shirts help people bring out your unspoken feelings that you otherwise wouldn't express openly. You must have come across several online movements online or offline where people wear t-shirts with certain quotes to get their point across effectively. Besides, a t-shirt is often an epitome of comfort and fashion that people can put on easily and walk out just like that.
A Means of Advertisement
People hold corporate functions, funding events or parties to support a cause. You must have come across one thing common in all people attending such parties or events. Their t-shirts.
A custom t-shirts with a message is a go-to means to advertise on behalf of a company easily. If you own a t-shirt store, you can offer support for customization of t-shirts with t-shirt design software.
You can help corporates stand out and advertise effectively through custom t-shirts they create and order from your store. The more the customization options you offer, the higher are the chances of people visiting your online store and making purchases. A custom t-shirt can be a great means of advertising:
Popular TV series
NGOs that stand up for a noble cause like saving animals, promoting children education, etc.
An upcoming sports event or series
A fundraising campaign
and all such things like them.
Less Investment, Big Earnings
In the initial phase, you can keep prices of your t-shirts a little lower to engage customers. When people notice the prices of your t-shirts are nominal, they would show more interest in placing bulk orders. And if they find your t-shirts really good, they are sure to turn into your long-lasting customers.
However, selling t-shirts at nominal prices doesn't mean that you sell t-shirts at too cheap rates or throw-away prices. This is because this too will backfire as customers would form a wrong impression of the quality of your t-shirts.
You should rather analyze the market prices of the same t-shirts that established players and startups like yours charge. Only after a detailed comparison, decide on the final prices you are going to charge.
Remember, you need to maintain and upgrade your t-shirt design software also from time to time and would need a certain amount of investment for that.
So, consider this investment also in mind while deciding final prices to ensure you have enough capital in reserve and avoid a deficit for such investments.
Brand Loyalty
People look forward to personalization in everything they purchase today. The same is the case with t-shirts. If you sell routine t-shirts with fixed patterns and designs, your customers may not show that much excitement.
On the contrary, offering them an option to unleash their creativity and give that 'personal' touch to t-shirts through t-shirt design software, chances are that it whets their interest. And they start visiting your store frequently to create and order unique t-shirts with self-made patterns close to their heart!! Voila, your sales can go up in no time.
Besides, customers can help retain your customers better. This in turn will help increase your brand loyalty as well.
In a Nutshell
Personalization is the need of the hour. As everyone is looking for personalization, it's time to rise to the occasion. If you are a genuine fashion lover and passionate enough to hit gold in this field, your time has come.
Just launching your online fashion store, pick the right t-shirt design software, apply a judicious combo of promotional and marketing strategies, and start minting money right away.