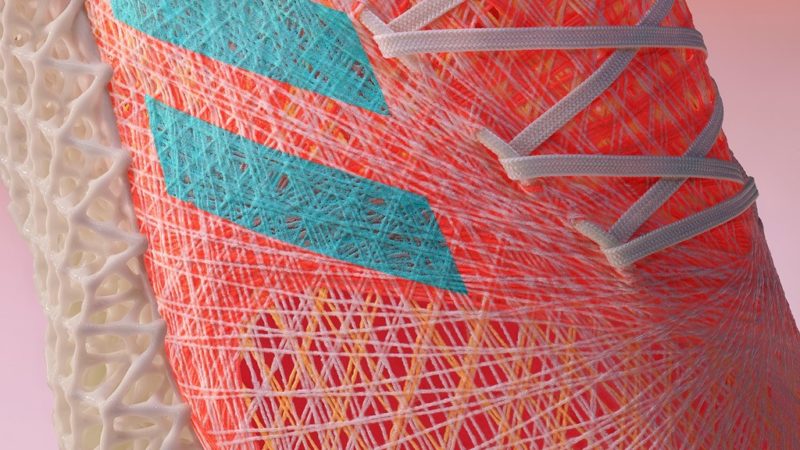 New developments and ongoing collaborations result in the most advanced running shoes from the 3D printer to date. The new technology and the use of the special textile upper material not only promises many advantages for the athletes but also shows how a successful cooperation between creatives and manufacturers can be realized.
Adidas has already introduced 3D printing techniques in shoe manufacturing by collaborating with the software developer Materialise and 3D printer manufacturer Carbon. Now the latest ideas as well as the subsequent prototypes of their joint development reached a whole new level of technological innovation.
Integrating 3D printing, athlete data and robotics
To improve the performance of footwear adidas recently announced its latest technology, STRUNG. It is the first time in industry for such a textile printing innovation. The new data-driven approach combines software and robotics to precisely place each thread so that the shoes can be precisely reproduced to the contours of an individual runner's foot. Thus, STRUNG is an outcome of a successful integration of 3D printing, athlete data and robotics for their new edition of the so called Futurecraft sneaker collection.
Paul Gaudio, Creative Director at Adidas explains: "Futurecraft is our sandbox. It is how we challenge ourselves every day to explore the boundaries of our craft. Driving material and process innovation, bringing the familiar into the future. Marrying the qualities of handcrafting and prototyping with the limitless potential of new manufacturing technologies. Futurecraft is stripped back – fast, raw and real – it is our approach to design."
according to the input to create a light, seamless shoe that allows natural foot movement. This technology allows for more precise areas that provide more breathability, flexibility and support. Following this the concept shoe is first of its kind and was created especially for short-distance training runs at 5m/s or faster.
Close Cooperation for the Production of a Personalized Shoe
Adidas has worked with both Carbon and Materialise in its Futurecraft project to develop running shoes that can provide the best possible running experience for each individual athlete. The sneakers are equipped with the insoles produced by the 3D printer manufacturer Carbon. The 3D software developer Materialise offered an advanced 3D foot scanning technology to get an exact measurement of a runner's foot. This partnership was praised by adidas as a landmark project between creatives and manufacturers.
This collaboration has brought up 3D printing technologies for several years now, trying to find new ways to make shoes. Now the Futurecraft department has made a further big step towards the goal of shaping the future of sport through innovations with a 3D printed grid-like sole. The first adidas Futurecraft STRUNG shoe is expected to be available in late 2021 or early 2022. Until then the cooperative development will have brought up one of the most refined products for sprinters.