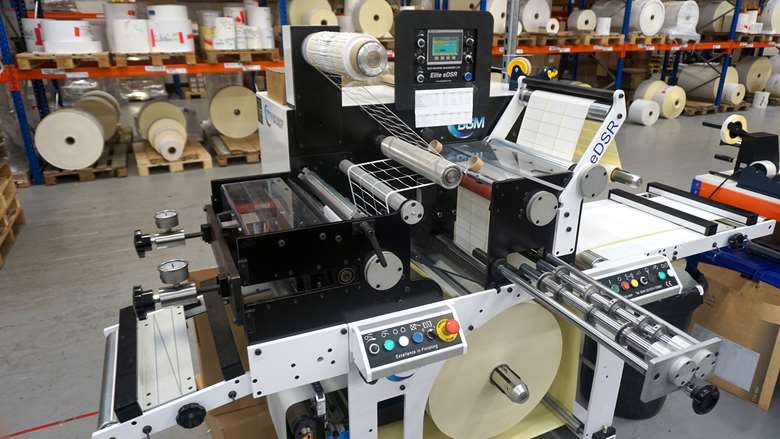 Aztec Label has invested in new die-cutting technology from Bar Graphic Machinery (BGM) to help minimise energy consumption while increasing productivity.
The BGM Elite eDSR die-cut slitter-rewinder was installed at the Kidderminster company at a cost of £34,500.
The Elite eDSR is described as a fast, compact, and robust free-standing label die-cutting machine offering rotary die-cutting speeds of up to 250m/minute, which BGM said makes it the fastest machine in its class on the market.
The device uses independently driven waste and product rewind systems, incorporating independent variable tension control, which help eliminate the tension problems often found in the mechanical clutch systems used in traditional machines, according to the BGM. It runs on 230V mains power.
Aztec managing director Colin Le Gresley said: "This latest technology from BGM means we can further minimise our energy use to support our sustainability strategy, while again enhancing our productivity.
"We're actually returning power to the grid from our solar power investment last year, which is an amazing turnaround from where we were. Now investing in these types of technology that simply plug in like a basic tool, we can save cost while boosting our quality and efficiency."
The investment follows on from the decision last month to acquire the next-door unit, with the total project, including a full refurb of the 370sqm unit, likely to cost around £400,000.
"Aztec needed complete flexibility to maximise the finishing department's capabilities," explained BGM sales manager Daniel Carr.
"The BGM Elite eDSR can be used as a die-cutter and/or a conventional slitter rewinder. Importantly, it incorporates a range of high-specification features more commonly found on more expensive machines as standard, including automatic unwind braking with adjustable roll end, reversible rewind and machine diagnostics."
Le Gresley added: "The machine flexibility was important to us, but we also found it fast and easy to load. It enables our operators to load the dies into the machine without fuss, as the weight of the die is supported by a bottom guide rail. It has also therefore improved the operator setup time, optimised handling and minimised damage from incorrect loading, which has also boosted our productivity and minimised any waste.
"All in all, this investment has enhanced our quality and efficiency and we're delighted with the result!"
The eDSR joins another BGM device at the self-adhesive label and tag specialist, an Elite 410iSR inspection slitter rewinder installed around 12 months ago.