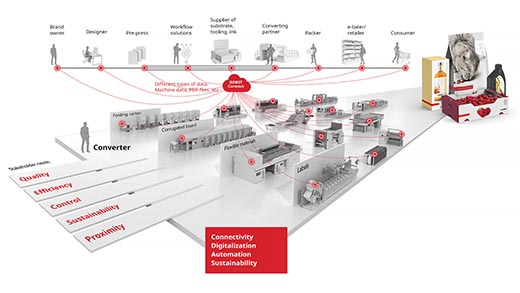 The BOBST vision is shaping a new reality where connectivity, digitalization, automation and sustainability are the cornerstones of packaging production. BOBST continues to deliver best-in-class machines, and is now adding intelligence, software capability.
Brand Owners, small or large, are under pressure from local and global competitors and changing market expectations. They face many challenges, like shorter time-to-market, smaller lot sizes and the need to build consistency between physical and online sales. The current packaging value chain remains very fragmented where every phase in the process is isolated into silos. The new requirements require all key players to have an "end to end" view. Printers and converters want to remove waste factors and errors from their operations.
Across the whole production workflow, more fact-based and timely decisions will be made. At BOBST we have a vision for the future where the entire packaging production line will be connected. Brand Owners, converters, toolmakers, packers, and retailers will all be part of a seamless supply chain, accessing data across the entire workflow. All the machines and tooling will "talk" to each other, seamlessly transmitting data through a cloud-based platform orchestrating the entire production process with quality control systems.
At the heart of this vision is BOBST Connect, an open architecture cloud-based platform delivering solutions for pre-press, production, process optimization, maintenance and market access. It ensures an efficient dataflow between digital and physical worlds. It will orchestrate the entire production process from the client's PDF to the finished product.
"The digitalization of printing processes is the most visible element of progress in the packaging industry," commented Jean-Pascal Bobst, CEO Bobst Group. "The coming years will likely see a major acceleration of digital printing and converting. While the solutions are becoming available, the biggest challenge for printers and converters is not the individual printing machines, but rather the entire workflow, encompassing converting."
The reveal included the very latest generation of laminators, flexo presses, die-cutters, folder-gluers and other innovations, reflecting the company's drive to transform the industry.
"The new products and BOBST Connect are part of our vision for the future for packaging production, which is anchored in data access and control across the entire workflow, helping packaging manufacturers and converters to become more flexible and agile," said Jean-Pascal Bobst, CEO Bobst Group. "It is vital to provide brand owners, converters and consumers with quality, efficiency, control, proximity and sustainability. It is our responsibility to deliver innovations that fully answer these needs."
BOBST has set out to shape the future of packaging by actively driving the industry transformation towards a digital world, and from machines to process solutions along the entire workflow. This new vision and the corresponding solutions will benefit all the industries served by BOBST.
The newly announced equipment included:
For the folding carton industry

MASTERCUT 106 PER
MASTERCUT 106 has always been the most highly automated and ergonomic die-cutter on the market. With the latest generation of the machine, the levels of automation and productivity have gone up a level.
The new MASTERCUT 106 PER has the highest degree of automatic operations available on any die-cutter. In addition to the existing automation functions, BOBST has implemented new features which allow a fully automatic setting of the machine from "feeder to delivery" with minimum operator intervention. The new automation features enable a major setup time reduction of 15 minutes. For example, stripping and blanking tools, as well as the nonstop rack in the delivery section are automatically set. With its high level of automation, the new MASTERCUT 106 PER becomes the most productive equipment for short as well as long runs, meaning packaging manufacturers can accept all types of jobs, irrespective of run length.
TooLink Connected Tooling for die-cutters
Meanwhile, BOBST announced a new digital recipe management tool for die-cutters. In combination with automated functions, it can save up to 15 minutes per job changeover and simplifies the interaction between converters and die-makers. With TooLink Connected Tooling, chip-equipped tools are automatically detected by the machine and the production-ready recipe is recognized, leading to savings in time and waste, with major sustainability benefits.
New ACCUCHECK
The new ACCUCHECK is the most advanced inline quality control system. It guarantees complete quality consistency and ensures that brand owners' requirements are being met. Fully integrated into a folding-gluing line, it carefully checks every package and non-standard boxes are ejected at full production speed, ensuring zero-fault packaging. On the new ACCUCHECK, the inspection can be set according to various criteria, covering all customer needs. It also inspects varnished, metalized and embossed blanks. The system has many other options, such as PDF proofing, providing inspection report and smart text identification using machine learning, which is a world premiere on the market.
MASTERSTAR
The new MASTERSTAR sheet-to-sheet laminator simply has no equivalent in the market. Highly configurable design and unique options enable a custom-made configuration. It has an unmatched performance of 10,000 sheets per hour, aided by its progressive sheet alignment system – Power Aligner S and SL – which eliminates the need to stop the sheet and makes it possible to significantly reduce the base weight of the printed sheet. It matches printed sheet and substrate sheet with an accuracy never seen before on a sheet-to-sheet laminator. It comes with the option to add a fully automatic single face sheet feeder system and a fully automatic delivery system.
For the flexible packaging industry

MASTER CI
The new MASTER CI flexo press impresses with the most innovative technologies in CI flexo printing. The combination of exclusive smart technologies, including smartGPS GEN II, and advanced automation, makes all press operations easy and fast, optimizing usability and maximizing press uptime. Productivity is exceptional; up to 7,000 jobs per year or 22 million stand-up pouches in 24 hours with one operator, helped by the smartDROID robotic system that does the entire press setup without human intervention. It features the Job Recipe Management (JRM) System for a digitalized production workflow from file to finished product with creation of a digital twin of the produced reels. The level of automation and connectivity enables dramatic reductions in waste and makes the output 100% consistent in color and quality.
NOVA D 800 LAMINATOR
The new multi-technology NOVA D 800 LAMINATOR offers best-in-class technical and process performance with all run lengths, types of substrates, adhesives and web combinations. Automation makes job changes simple, fast and without tools for higher machine uptime and fast time-to-market. Features of this compact laminator include the availability of BOBST flexo trolley for high speed coating of solvent-based adhesives with high solid content, along with unique cost saving performance. The optical and functional qualities of the laminated structures are excellent with all the technologies available: water-based, solvent-based, solventless adhesive lamination, and in-register cold seal, lacquering and additional color applications.
MASTER M6 equipped with IoD/DigiColor
The MASTER M6 inline flexo press has been delivering exceptional flexibility to produce high quality short-to-mid-size runs of labels and packaging production. The machine can now also integrate the breakthrough innovations Ink-on-Demand (IoD) and DigiColor inking and color control. Both systems work on all substrates and are suitable for all run lengths. The MASTER M6 is fully automated with BOBST's exclusive DigiFlexo automation, and is oneECG technology ready, delivering non-stop production through a centralized, digitalized press operation, and full color consistency with the master reference. The press also features unique technologies for traceability of food packaging applications.
For all industries

oneECG
oneECG is BOBST's Extended Color Gamut technology deployed across analogue and digital printing for label, flexible packaging, folding carton and corrugated board. ECG refers to a set of inks – typically 6 or 7 – to achieve a color gamut larger than the traditional CMYK, ensuring color repeatability irrespective of the operator's skill. The technology delivers exceptional color brilliance, repeatability and consistency worldwide, faster time-to-market, saving of substrate and consumables, and high profitability with all run lengths. Its adoption also means huge savings in set-up time, with no more time wasted on changes of inks, washing of print decks, ink mixing and so on.
For web-fed CI and inline flexo printing, oneECG offers end-to-end solutions developed in collaboration with leading industry partners from pre-press to the printed and converted reels. These solutions are tailored to the specific process requirements of the flexo type technology.
Digital Inspection Table
The new large format version of the Digital Inspection Table (DIT) is a novel technology designed to drive productivity and virtually remove print production errors. It incorporates digital projection for the proofing of printed sheets and die-cut blanks, whilst providing real-time visual representations to match product with digital proofs. It uses HD projectors to illuminate the product sample with quality control imaging, enabling the operator to easily see if quality standards are matched or compromised.
"In the current situation, automation and connectivity are more important than ever, and greater digitalization is helping to drive these," said Jean-Pascal Bobst. "Meanwhile, achieving greater sustainability is arguably the single most important current goal in all manufacturing. By uniting all of these elements in our products and solutions, we are shaping the future of the packaging world."