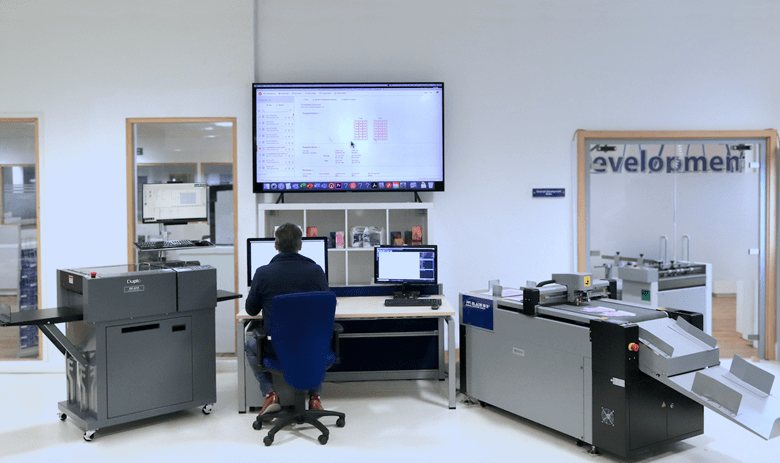 Duplo International and Ultimate TechnoGraphics have launched a new end-to-end software platform that is said to bring post-press automation into pre-press.
Impostrip Pro enables any member of a printer's team to take an order, drop a single PDF onto a hotfolder, and print and finish within a few clicks of the mouse, Duplo said.
The person who creates the job ticket can then easily and instantly handle job imposition as well as adding the barcode and registration marks for post-press automation, thus removing pre-press and post-press bottlenecks.
Duplo said benefits for a commercial or digital printer included freeing up resources to allow staff to be more productive throughout the business, delivering consistent high quality, improving production efficiencies and providing a faster turnaround time, and preventing errors, which in turn reduces waste.
The company estimated that reducing manual touchpoints, a streamlined production process and fewer errors can save a printer at least £29,000 per year.
"Given the changing market conditions, workflow automation is critical if a customer wants to remain competitive," said Duplo International product specialist manager Andy Cuff.
"Our software solution enables digital printers to get the most automation out of their investment, allowing them to handle short-run jobs and print on demand cost-effectively and quickly, even with entry-level finishing solutions such as our DC-618."
He added: "Because the automated process holds all your configured requirements, it also reduces the need of specialist operators on your finishing device; you can therefore deploy your staff based on your requirements throughout your operations and enhancing your adaptability.
"You can even get the imposition done and finishing barcode added remotely, whilst your staff on site simply loads the printed sheet into your Duplo finishing device, and let our automated solutions do the rest."
Impostrip Pro was introduced on Duplo's multi-finisher product range last month and on its bookletmakers this month. It will be rolled out across the company's digital packaging and print embellishment machinery by the end of 2020.
Duplo UK regional sales manager Rob Thurston told Printweek early adopters of the software have been "very impressed".
"The people we're putting this into at the moment are small businesses of two, three or four people. Where they haven't currently got any automation or workflow it's saving them a lot of manual labour just doing the imposition work, which is at least an hour a day."
Thurston added the initial one-off cost for the software is £1,800 and then from year two users would pay a smaller, additional annual cost for a software upgrade contract to get updates, patch releases and support from Duplo.