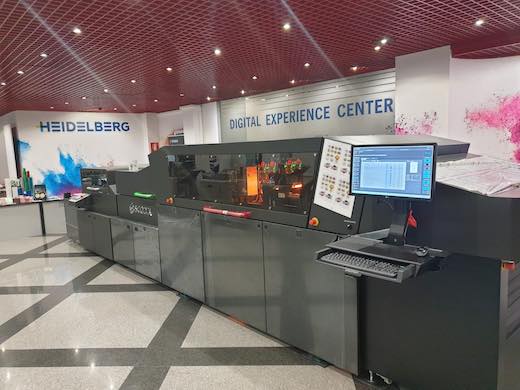 Scodix announces today the world's first installation from its Ultra 1000's Series of digital enhancement presses at the Heidelberg Italy Digital Experience Center. The inauguration of the Scodix Ultra 2000 press was celebrated with an exclusive Heidelberg Italy VIP Open House Event in late October.
"We are thrilled to be the first to install the newly launched Scodix Ultra 2000 press and to have had the opportunity to show off the outstanding capabilities of the press at our Discover The Unexpected Event. Guests simply could not get enough of watching the press produce such a variety of quality applications on one press," states Rinaldo Mattera, Heidelberg Italia Digital Business Manager.
The Scodix Ultra 2000 Digital Enhancement Press fuses new levels of flexibility, quality and productivity, generating unprecedented value for commercial PSPs, publishers, tag producers, trade finishers and other specialty printing providers. Offering all Scodix enhancement applications on one platform, and including automatic polymer switching for superior productivity, the Ultra 2000 press provides the largest array of enhancement capabilities in the print industry today. Producing unmatched quality – on time and on budget – in a single platform replaces the need for a multitude of separate systems on the production floor.
Mauro Luini, Scodix South Europe & MEA Sales Manager states, "It was wonderful to see the Scodix Ultra 2000 press in action and visitors lining up to see. Especially during this time of the pandemic, it was a welcome break to have a live event that was productive but also safely managed for all attendees."
The Scodix Ultra 1000's Series consists of six digital enhancement presses, each targeting a specific market requirement including commercial printing, packaging printing, Web2Print and Web2Pack.
The series also gives users the freedom to enhance the largest variety of substrates, with over 100 qualified substrates including offset papers, digital papers, laminated/non-laminated, coated/uncoated, plastics, PVC and carton, with no need for additional, complex set-up. Enhancing material weights from 135-675 gsm / 6-30 points and material thickness up to 0.7 mm / 700 microns, each press is also compatible with various CMYK print processes including: offset, HP Indigo Electroink, inkjet and toner, up to B1 format.
Products enriched by Scodix enhancements include business/greeting cards, folders, book covers, brochures, labels, retail tags, packaging and more.