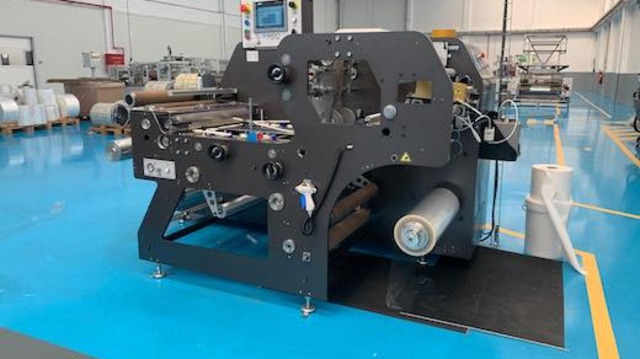 Leading Spanish converting equipment manufacturer, Enprom Solutions, has recently installed one of its innovative sleeve seaming solutions at Portuguese flexible packaging business, Multisac.
The machine, a model eRS60, features Enprom's new patented Smart Wheel motorized roller solvent application system, which is proven to increase productivity, reduce costs and improve sleeve seaming quality. The eRS60 has been installed at Multisac's main production site in Vozuela.
Operating mainly in the domestic market, but also exporting products to EU countries (France and Spain) and to Portuguese-speaking African countries, Multisac has specialized in the production of flexible packaging solutions for over 20 years. Concentrating its activities in the food, chemical and pharmaceutical industries, Multisac uses flexo and digital print, solvent-less and solvent-based laminating, rewinding, bag machines, bag-in-box and sleeves as its main technologies.
With a focus on reducing its environmental impact, combined with their R&D commitments, Multisac maximizes opportunities to boost competitiveness and market penetration, through a strategy of investing in technologically advanced equipment.
"We are delighted that Multisac has invested in the eRS60," said Matt Burton, ABG's global sales director. "And by adding Smart Wheel innovation to their equipment portfolio, Multisac will be able to create value, improve productivity and increase efficiency in production. They will also benefit from a reduction in operating costs and waste by more than 15%."
Pierina López, sales specialist and marketing manager at Enprom, commented: "Thanks to their intimate knowledge of the flexible packaging industry, it has been a pleasure working with Multisac – I very much look forward to developing a long and fruitful relationship in the future."
Enprom Solutions, jointly acquired by A B Graphic and Kocher + Beck, was founded in 2012 and is based in Girona, near Barcelona Spain. Its product range includes equipment for shrink sleeve converting, slitting and rewinding, label finishing, coating and lamination, and hybrid converting.