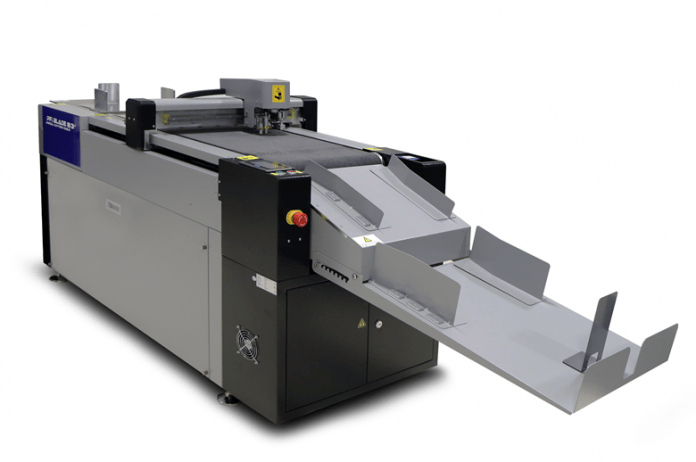 BCA Group has installed the UK's first PFi Blade B3+ digital cutting table from Duplo as it looks to reshape the business.
The Enfield family firm's new machine was installed at the end of September.
Managing director Mark Cottee said he started looking at diversifying the business into consumer markets at the start of the year and attended the Packaging Innovations show in February for inspiration. It was there he came across the PFi Blade, which had its UK launch on the Duplo stand at the show.
"The main theme I came away with was 'embellishment'," he said. "And I thought wow, this is the direction we need to go in because in today's climate you need to operate in niche areas because otherwise you end up competing against the whole world and going out of business."
As a result, he looked at the short-run digital print specialist's embellishment offering, which has included foiling for the past three years following the installation of a Vivid Matrix laminator.
"Then all of a sudden we got hit by Covid, so after the past few months we've had time to think about what we need to do, where we need to go and really do our research," said Cottee.
"We had time because our customers stopped purchasing [during lockdown], up to that point we had had the best start to a year in five years."
While the firm was initially looking at consumer markets such as weddings and social events, in light of the restrictions on gatherings Cottee also looked at short-run packaging and has secured an informal partnership with a local packaging printer.
"I've also been sending out little WhatsApp movies to clients to show what we can do on the machine, and they're already coming back with ideas of things that they could do.
"We can now produce things that weren't previously viable for us, because we would have to produce a die every time, and that should create new markets for us."
The PFi Blade B3+ die-less digital cutter can handle sheets from 210x279mm to 400x600mm and has a maximum cutting depth of 1.3mm. Its top cutting speed of 800mm per second equates to around 30-45 seconds per B3 sheet, depending on complexity, according to Duplo.
The belt-driven circa £20,000 cutter features a CCD camera registration system and comes with four knives for conventional and kiss cuts and a scoring wheel as standard, with the Blade's tool head capable of holding three tools.
Its vacuum feeder features a 100mm capacity and is supplied with PFi Connect software, which processes Vector files from mainstream packages from the likes of Adobe and Corel and can be configured with a QR code module for higher productivity.
Cottee said firm had already dabbled in digital cutting, albeit in a very small way, with a Hobbycraft Cricut consumer machine it bought for a specific job.
"So, we were already a little in the groove when the Duplo arrived and we hit the ground running."
Cottee added that he was looking to revamp the company's website in the new year in time for when social events and weddings might start to come back.
The two-staff digital printer, which was started by Cottee's father Brian, celebrates its 40th anniversary this year. It runs a raft of finishing kit, which is fed by its Xerox Versant 80.
"The business started in 1980, in the middle of recession, as a print farmer, then type setting and then digital print; we've been morphing and changing since we started, so this is just a continuation of that," said Cottee.
"We thoroughly tested it, and the [Duplo] demonstrator, Andy Cuff, was brilliant in showing us what it could do. We just want to push it forward now and go for it.
"Things are tough, but we've had interest from all sorts of different people and I know we've made the right decision [to invest]. But we've got to be creative and let everyone know what we can do now."