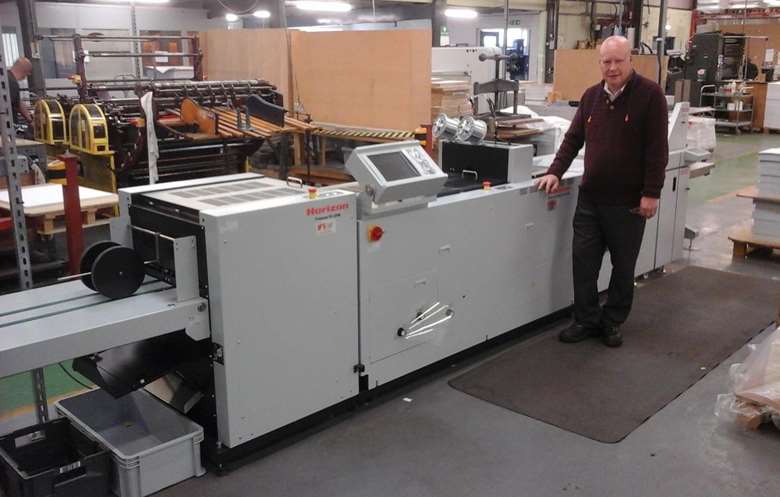 Stationery and arts and crafts consumables manufacturer and wholesaler ExaClair has updated its binding offering with a new Horizon bookletmaker.
The circa-£70,000 Horizon SPF-200L was installed in May by IFS and joined a range of finishing kit at the King's Lynn business's in-house manufacturing facility.
The site's production manager David Swallow said the investment, the business's first Horizon, was driven by a need to automate the manufacture of soft-cover books.
"The SPF-200L was the best replacement we found within our price range that could cover all our existing folding and stitching requirements. It has already helped us win new additional work from our customers and we expect is will pay for itself within two years," he said.
The bookletmaker was ordered at the start of the year, but installation was pushed back as a result of lockdown, although Swallow said this didn't result in the delay of any customer orders.
The business specialises the supply of stationery, office supplies, art materials, craft products, educational activities, stickers, luggage, leatherware and wrapping paper to wholesale and retail outlets nationwide.
It is a UK subsidiary of pan-European paper and stationery manufacturer Exacompta Clairefontaine Group.
The firm's new 4,500bph SPF-200L bookletmaker features a landscape feeder and can handle sheets from 120x180mm to 356x610mm and produce trimmed booklets from 120x85mm to 356x305mm. The automated line is controlled by a 10.4in colour touchsceen GUI that has a 200-job memory.
"We did look at other systems from a number of manufacturers but what stood out for us was its layout and modular approach. We liked the fact we can add additional modules at a later date," said Swallow.