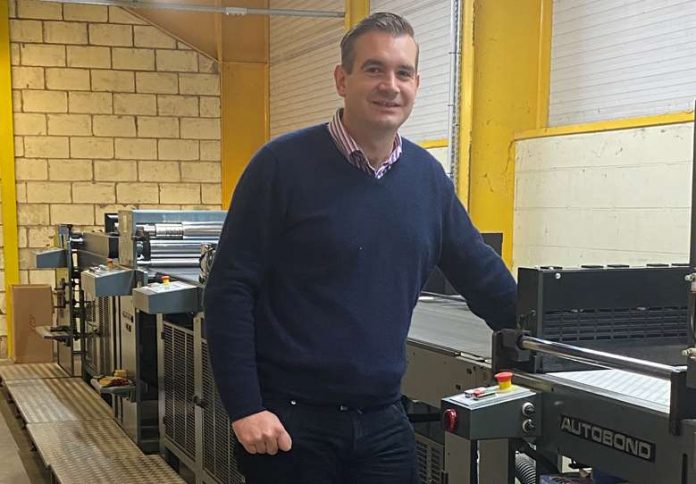 Micropress has invested around £250,000 to bring the lion's share of its spot UV work in-house with a UK digital embellishment first following the closure of a local supplier.
The Suffolk firm installed the Autobond Mini 53 TH-SUV-F-S laminator with high-build inkjet spot UV and foiling in August.
The landscape B2 showroom machine had been due to make its debut at Drupa, but after the show was pushed back to next year it became available at the perfect time for Micropress, which was looking to bring B2 spot UV in-house after local supplier Coatings Direct closed.
Micropress director Rob Cross said that the two businesses had had a "really good working relationship".
"[But] sadly, they closed their doors after losing a major contract from another client. Whilst we use other suppliers for spot UV who we have a strong relationship with, it does make a difference using someone close by with the short lead times we work to."
Cross added that Micropress runs a number of Autobond machines, so was familiar with the business and their build quality which enabled it to close the deal quickly, although for a higher specc'd machine than it otherwise might have bought as it had been configured to be one of the star attractions on Autobond's Drupa strand.
"We were not necessarily looking to put foiling in-house but it made sense as the machine was already fitted with it, we have a need for it and the deal was right," said Cross.
"Apart from the odd process such as case binding, we are now pretty much doing everything in-house ensuring quality is excellent, we can keep our prices low and turnaround is quick. This is what our customers want."
He added that the B2 format caters for most of its spot UV needs for its digital and litho output, but that it will still work with partners for B1.
The latest investment follows the circa 150-staff business rounding off a multimillion-pound 12-month spend over the summer with a new Sitma W1005 paper-wrapping line.
"It's ironic really, we have experienced one of the most challenging years in the company's history but we have put in more investment than ever. Part of that is just the way things have fallen but part of it is that we are building for the future," said Cross.
"We believe there is a good time ahead for us."
The circa-£250,000 investment in the new Autobond, which also included some internal modifications to the to create a dust-free environment, was part funded through the Business Resilience and Recovery Grant Scheme, from the New Anglia Local Enterprise Partnership. While the grant scheme is designed to support businesses during the pandemic, it's separate from the government-backed CBILs schemes.
According to Cross the business has been fortunate through the pandemic in that it has a diverse client base and product mix and has secured some new business wins. It's currently running at around 75% of its pre-Covid lockdown levels and only has a handful of staff currently on furlough.
"The focus at the moment is continuing to build our sales back up," he said.