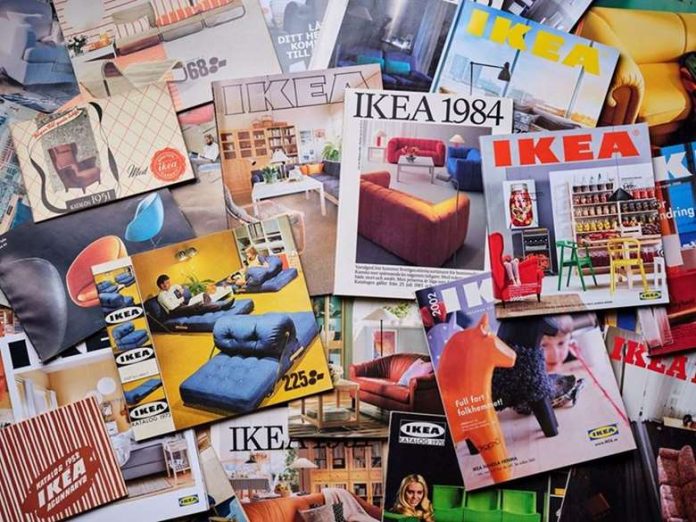 Ikea has become the latest retailer to can its big book annual catalogue – but that doesn't mean print will be absent from its future promotional plans.
Yesterday the Swedish home furnishings group announced that the 2020 catalogue would the last to be produced in the current style, after nearly 70 years.
Konrad Grüss, managing director of Inter Ikea Systems, said the catalogue had brought "emotions, memories and joy" since Ikea founder Ingvar Kamprad put together the first catalogue himself back in 1951, with 285,000 copies of the 68pp catalogue distributed in the south of Sweden.
"For both customers and co-workers, the Ikea catalogue is a publication that brings a lot of emotions, memories and joy. For 70 years it has been one of our most unique and iconic products, which has inspired billions of people across the world," Grüss said, and described the decision as "emotional but rational".
At its peak in 2016 the catalogue was the biggest print job in the world, with 200m copies printed gravure in 32 languages and with 69 different versions.
In recent years the print run has reduced considerably, as online sales have grown and the relevance of producing an annual product catalogue has diminished.
Last year Ikea's online retail sales jumped by 45% worldwide, and its website had more than 4bn visits.
However, Ikea appears unlikely to turn its back on print altogether.
A spokesperson told Printweek: "Over the last few years, we have been transforming many aspects of how to reach and interact with our customers, and the work continues to find new ways to amplify the unique Ikea home furnishing knowledge, products and solutions in the best possible way – to inspire the many people through new ways, channels and formats.
"We are now intensifying our work to identify what will be the optimal and most relevant way to reach and interact with our customers with home furnishing inspiration. We would be happy to say more about exactly what this will be in the near future."
Liverpool gravure and web offset printer Prinovis has been involved with the catalogue production for a number of years.
Commercial director Mark Pfeiffer commented: "What's happening with all of these 'big book' customers is they are looking at a more tactical use of print, such as a range of intermediate catalogues. They are producing titles that are more suited to complementing their digital offering, driving people to websites is where print has its validity going forward.
"On the one hand Covid has accelerated these moves, on the other it has made sending print into people's homes more attractive. It's print adjusting to its new place – how do you get people to engage alongside digital."
Ikea is also planning to publish a special book next year, to "pay tribute the final catalogue's rich 70 year history".
The layout and content is still being finalised. It will combine Ikea's "current view on life at home and its inspiring home furnishing solutions".
Printweek understands that Hubert Burda Media Group's print wing produced most of the Ikea catalogues for continental markets.