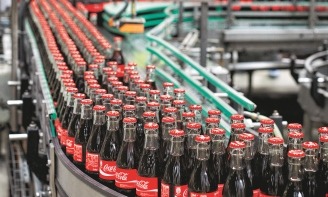 Coca-Cola European Partners (CCEP) has announced a series of targets to accelerate 'the decarbonisation' of its business by reducing absolute greenhouse gas (GHG) emissions across its value chain.
The steps include scope 1, 2 and 3 emissions – by 30% by 2030 (vs 2019) and setting a path to become a Net Zero business by 2040, in alignment with a 1.5˚C pathway and the Paris Climate Agreement.
CCEP will reduce GHG emissions across all five areas of its value chain – ingredients, packaging, operations, transportation and refrigeration.
There is a significant focus on reducing scope 3 emissions via a commitment to support strategic suppliers to set their own science-based carbon reduction targets and use 100% renewable electricity.
The company's plan is supported by a three-year €250m investment which will provide targeted financial support, featuring sustainable packaging initiatives such as the progression of its 100% rPET roadmap and investing in the scaling of depolymerisation technology, which will help accelerate the delivery of its longer-term net-zero objectives.
Damian Gammell, chief executive of CCEP, said: "We have a responsibility to the communities we serve to keep taking this action on climate. We know it will be a long and challenging journey – there are no quick fixes or silver bullets – but we are determined to drive this change as fast as we can and to play our part in helping and influencing others."
Stephen Moorhouse, general manager, CCEP in GB, told Packaging News the GB operations had already reduced carbon emissions by more than a third over the last decade and was using 100% renewable energy.
"Our This is Forward sustainability strategy which covers our impact in relation to packaging, supply chain, climate and society will continue to guide our ongoing efforts over the next three years – and well into the future.
"We recognise that we need to go further, faster, which is why we have committed to becoming a Net Zero business by 2040 and will reduce our greenhouse gas emissions across our value chain by 30% by 2030."
Joe Franses, vice-president, sustainability at Coca-Cola European Partners, added: "We're taking action now to reduce greenhouse gas emissions across our entire value chain, from the ingredients we source, packaging we use, to the drinks we sell. As we move through our first three-year plan, we will continue to adapt and solve key challenges to help set new milestones to achieve our longer-term reduction vision."