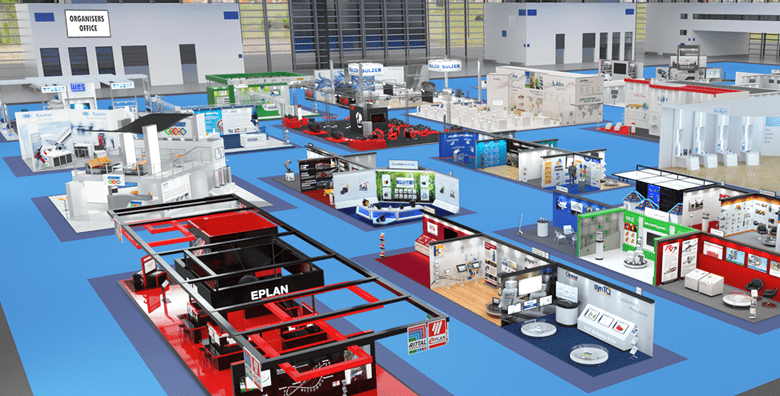 Online trade show Printing Expo has signed up Muller Martini as a Premier Partner, with a huge virtual showroom in the works.
Printing Expo was launched in April, with the aim of providing an alternative to the industry shows cancelled or postponed because of the virus crisis.
It is building a 2,000sqm showroom for the Switzerland-headquartered post-press specialist.
Once completed, it will also be incorporated into Muller Martini's digital marketing activity worldwide.
Vice president of global sales Georg Riva said that the Printing Expo presence would "offer our customers a safe environment to engage with us".
"The new virtual showroom will enable customers to view all our systems in full 3D, watch educational videos, download brochures and attend seminars from anywhere in the world," he said.
Printing Expo event director Wayne Beckett said he was delighted to gain Muller Martini's support. "We are so pleased to have a brand as big as Muller Martini at the show," he said.
"They really understand the concept of digital marketing and have asked us to create an amazing showroom that will give their customers a virtual environment to really understand the full range of products and solutions that they offer."
Beckett said that the time needed to 'build' the virtual exhibition booths depended on the level of complexity involved.
"We can produce a 3mx3m in a day. The Muller Martini showroom is just over 2,000sqm with an auditorium and a mezzanine floor containing a coffee shop (chat room), eight full production lines of 3D hi-res renders, with hundreds of hotspots and downloads. We're hoping to get it done in a month or so."
Printing Expo uses the V-Ex virtual exhibitions platform.
During lockdown Muller Martini has already secured a sale using Skype for Business. Following a three-hour live video demo it sold a KM 610.A perfect binding line to Zhi Sheng Bookbinding in Taiwan.