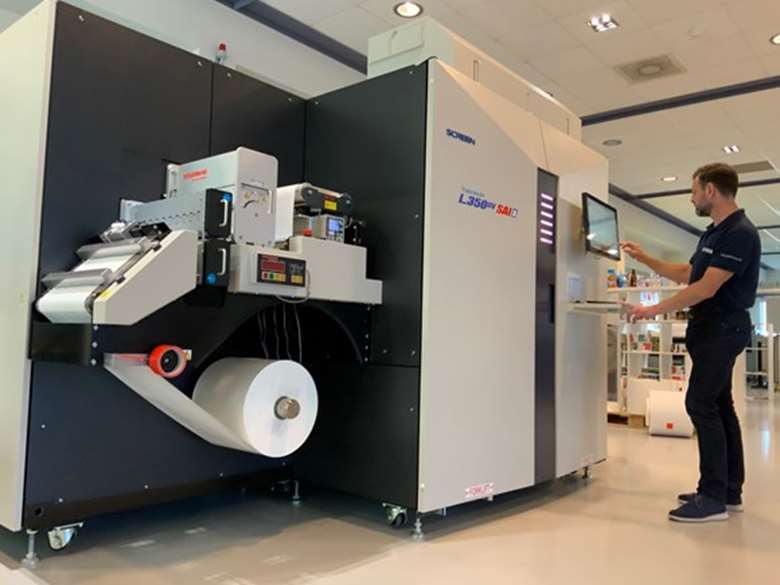 Screen has started offering remote demonstrations of its recently launched Truepress Jet L350UV SAI label printer.
The latest model in the manufacturer's L350UV series, the L350UV SAI is said to provide improved colour accuracy and vibrancy over the L350UV and L350UV+ series printers, adding orange and unique blue colours to the standard CMYK configuration.
Business development director Carlo Sammarco said remote demonstrations of the device from Screen's Technology Centre in Amstelveen, The Netherlands, would enable new and prospective customers to see the machine print labels according to their specifications, watch it run from different angles and get detailed explanations from its operator.
"They can then inspect the print result in close-up images on their computers at home or office. Screen sends hard copies of test runs via courier, allowing 'real life' inspection of test runs within 24 hours."
Sammarco said the remote testing offering was both a solution to travel restrictions due to the pandemic and "a tremendous cost and time-saver" for Screen's customers, who are spread across Europe, the Middle East and Africa.
"We think these sophisticated remote demonstrations will very likely continue to be relevant after the Covid-19 pandemic," he added.
Screen said it has invested significantly in the equipment needed to provide these online demonstrations while the company's applications team "has honed its presentation skills to make them engaging and compelling in a virtual environment".
The Amstelveen site will also remain open as usual for those still able to travel for in-person demonstrations.