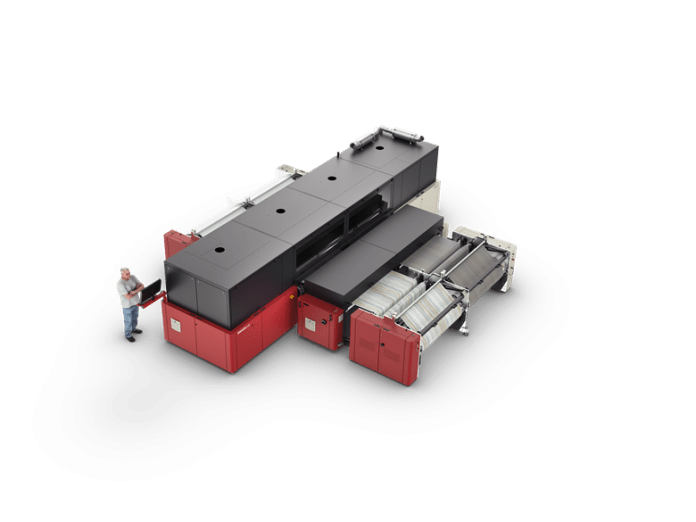 Agfa has introduced a multi-pass, water-based inkjet system for printing on decor paper used for interior decoration, such as laminate floors and furniture.
Commercially available direct from Agfa with immediate effect, the InterioJet 3300 is built on the same inkjet printing platform as the Belgian manufacturer's Jeti Tauro LED UV press for sign and display applications but uses printheads, inks and a drying system tuned to water-based pigment inks.
Incorporating Agfa's thin ink layer technology, the printer is said to have low ink consumption. It uses dedicated eco-friendly water-based pigment inks that have been specially developed by Agfa. These are said to be light- and waterfast and use specific pigments that deliver a high colour coverage.
Due to the thin dried layer, the inks can be used to print wood and natural stone designs, such as marble, without surface relief. Agfa said they are also suitable for standard lamination production processes.
"The InterioJet 3300 will accelerate the transformation from analogue (gravure) to digital printing in the laminated surface market. It is the ideal cost-efficient solution for medium and short production runs," said Agfa director of industrial inkjet Tom Cloots.
"Its limited start-up time and high flexibility will enable suppliers of laminated surfaces to gain new business by responding to evolving market demands, including printing on demand and just-in-time delivery.
"The system allows interior decoration designers to let their creativity run free and create customised designs for every order."
Driven by Agfa's Asanti workflow software, the InterioJet 3300 can print on two rolls at a time, each with a width of up to 1.55m and a weight of up to 600kg. The machine's maximum speed is 340sqm/hr.