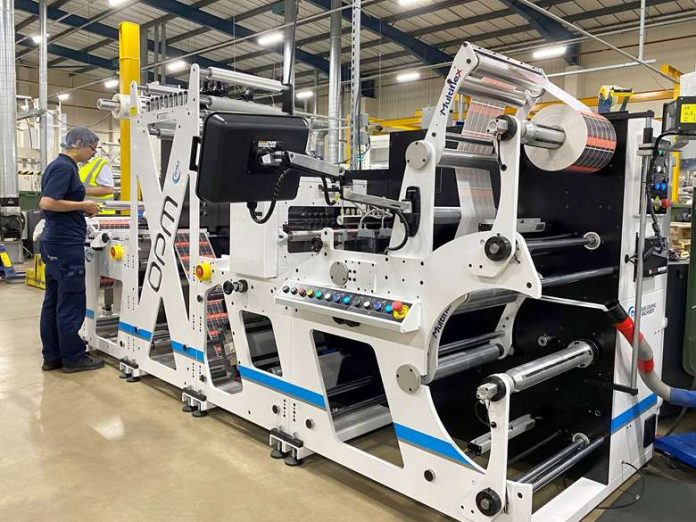 OPM Group has bolstered its fleet of finishing machines from Bar Graphic Machinery (BGM) after investing in a seventh device from the manufacturer.
The Leeds-based company's new Generation 2 BGM Elite Multiflex, a multiple substrate inspection/slitter/rewinder, was installed this month and has joined six existing BGM machines and Nilpeter mid-web servo-driven presses.
The Elite Multiflex is capable of finishing a wide variety of supported and unsupported films, plastics, foils, papers, self-adhesive papers and light carton substrates.
The new device is a higher spec than OPM's existing BGM machines and joint managing director Susan Ellison told Printweek further investment to upgrade other machines will follow.
"OPM's new investment in this finishing innovation will provide an edge, boosting our operational efficiency and growth whilst reducing waste."
She added the decision to invest in another BGM device followed a review of various other alternatives on the market.
"We chose BGM due to their history of customer service and maintenance we have already had on our existing machines, and their willing spirit to adapt the needs of our materials and products.
"BGM worked with our finishing team to train on the new software and advances in technology the new equipment will give. The team have already operated BGM equipment over the last eight years so the transition was seamless."
The Elite Multiflex is fitted with a 1m capacity unwind, is 100% servo-controlled, and has a 100% roll-scheduling inspection module with slow-down festoon, precise error placement and a waste rewind take-up unit.
The device also features automated slitting technology, with automated web slitting scanning function and job barcode scanning facility, and duplex rewinds with BGM's own intelligent taper tension control.
It will be used by the company for applications including booklets, tickets, tags, wrap and colour chip labels.
Serving customers in the home and personal care, healthcare and pharma, beauty and cosmetic, food and beverage, automotive, horticulture, and pet and veterinary care sectors, OPM employs 83 staff and has sales of just over £20m.