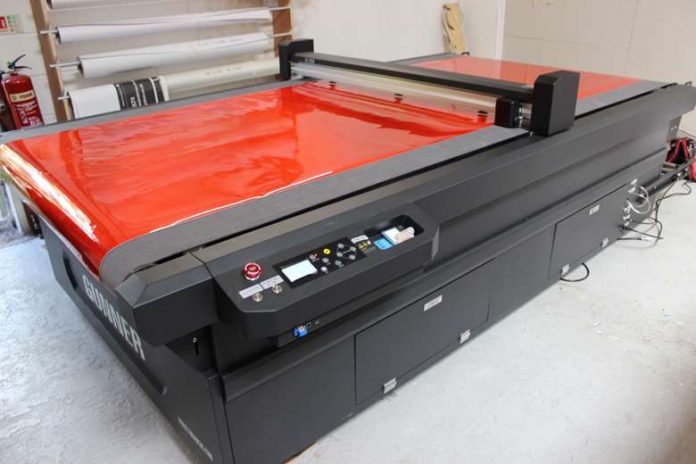 A seasoned used equipment specialist has launched a venture supplying a new range of Chinese-built wide-format digital cutters to the UK and has already secured the first installation.
David Coleman secured the exclusive UK and European distribution rights for the Gunner range of roll-to-roll and flatbed digital cutters from manufacturer Shanghai Chiyan CNC Technology Co around three months ago.
According to Coleman, who has worked in print equipment sales for more than 50 years, starting with Gestetner in the 1960s and most recently specialising in appraising and selling used equipment, the Gunner kit represents "impressive performance at a reasonable price".
While the Gunner brand has been established for a number of years in China, the deal represents Shanghai Chiyan CNC Technology Co's first foray into the UK market.
"One of their strengths is that they're a relatively small, young company and that makes them very easy to deal with," said Coleman.
According to the manufacturer's overseas sales manager Daniel Shang, the company purely focuses on high end machines and in its home market last year it installed more than 300 devices.
The full Gunner range of vinyl plotter cutters consists of 840mm, 1.4m and 1.8m-wide machines, as well as a 1.4m machine configured especially for reflective materials such as those used on road signs.
The manufacturer's full range of flatbed cutters includes the 1.5×1.2m GR1612K, the 1.3×1.2m GR1312K and its flagship flatbed the 1.3×2.5m GR1325F.
However, Coleman said the initial focus for the UK and Europe would be the two top end devices, the 1.8m roll-fed GR8000-180 and the GR1325F flatbed, which respectively have sub £5,000 and £12,000 price tags.
Initially the machines were simply listed on Ebay and MachineSeeker by Coleman for European sales, but more recently the manufacturer has established gunnervinylcutter.co.uk.
The GR1325F features a vacuum bed and offers a 600mm/s cutting speed and can handle material up to 1.5mm thick. It comes with CCD camera for image recognition and five piece cutting set as standard.
The GR8000-180 has a maximum cutting width of 1,630mm with 800mm/s maximum cutting speed. Maximum media thickness is 1mm and it features a barcode scanner for cutting file recall.
Both machines run a Windows-based driver which features CADtoPlotPro SignWorkPro plugins for CorelDraw and Adobe Illustrator.
While Coleman leads the sales effort, installation, service and support is taken care of by Dennison Group, which has a nationwide network of engineers, as part of the two-year Gunner warranty.
"They're a very good, very professional outfit, like Gunner, and have an excellent reputation," said Coleman.
"As far as I'm concerned it's crucial that they [Dennisons] are onboard installing and servicing these machines. The back-up is as important as the machine."
While the partnership has only been in place since the start of the summer, the first Gunner installed in the UK was delivered last week.