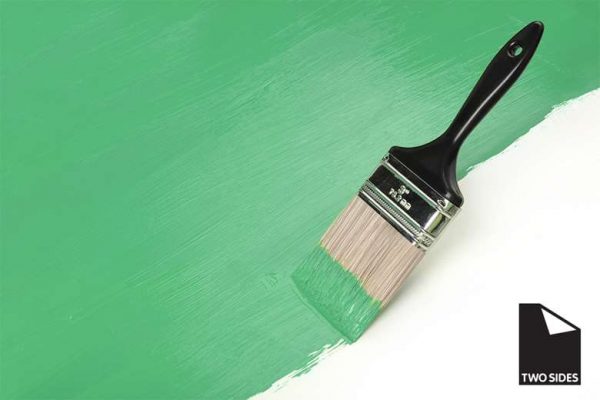 Two Sides' anti-greenwash campaign experienced its busiest year to date in 2019, with 131 companies removing misleading anti-paper statements.
Globally, 388 organisations were found to be using unsubstantiated claims about print and paper's impact on the environment during 2019. These businesses were identified by Two Sides throughout Europe, North and South America, South Africa, Australia and New Zealand.
131 of the organisations engaged with in 2019 have now removed or changed their messaging, bringing the total number of companies that have done so to over 500 since the campaign was launched in 2010.
The campaign's 2019 activity saw 30 organisations in the UK remove or amend their messages about the impact of paper, including Aviva, Adobe, Nationwide Building Society, NatWest and more than a dozen local councils.
Two Sides said that in ongoing efforts to cut costs, many banks, telecom providers, utility companies and governmental organisations are encouraging their customers to switch to digital services by using unfounded environmental claims such as 'go green – go paperless' and 'choose e-billing and help save a tree'.
Two Sides managing director Jonathan Tame said such claims both breach advertising rules and are "hugely damaging" to an industry which has a solid and continually improving environmental record.
"Far from 'saving trees', a healthy market for forest products, such as paper, encourages the long-term growth of forests through sustainable forest management. Many of the organisations we engage are always surprised to learn that European forests have actually been growing by 1,500 football pitches every day.
"Tackling greenwash is an ongoing challenge that requires significant resource to research, monitor and engage so many organisations. Because of the huge reach of some of these organisations, these unsubstantiated claims about paper have a damaging effect on consumer perceptions of paper. For this reason, the anti-greenwash campaign will continue to be a priority of Two Sides."
He added: "It happens across all sectors, but particularly with organisations that have business-to-consumer messaging, where these sorts of claims being made are absolutely rife.
"Usually it's agreed with organisations that they will remove [misleading messaging], there are very few organisations we've not actually been successful with in changing their communications.
"I think most [of the companies that we engage with] are unaware. They will often have a digital agenda to reduce their costs and I think someone within their marketing team comes up with a bright idea to encourage people to go online and that it's better for the environment.
"But that's without any consideration that digital communications have an impact too, particularly from the hardware materials; the servers are made from precious materials and can't be easily recovered or recycled into new materials. There is no consideration about the hardware that's used to communicate digitally or the electricity of use."
Tame asked for any instances of greenwash to be sent to Two Sides at: greenwash@twosides.info.
"We are grateful for the cooperation of the hundreds of organisations we have worked with in recent years," he said.
"We are also thankful for the many industry stakeholders and members of the public who send Two Sides examples of greenwash."