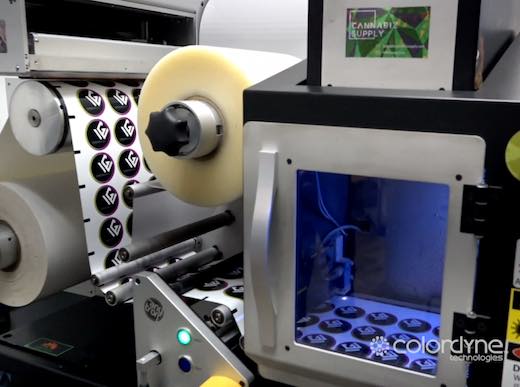 Cannabiz Supply, a packaging company serving a variety of businesses in the cannabis industry, improves its production capabilities with in-house label printing. The Las Vegas-based company added a Colordyne 2800 Mini Laser Pro, powered by Memjet's VersaPass printhead technology, to offer customers more efficient packaging and labeling services.
Cannabiz Supply originally outsourced its label production internationally, which often caused supply chain delays. The company realized it could better serve customers and reduce costs by bringing label production in-house. Working with Arrow Systems, a leading provider of digital printing and finishing equipment, Cannabiz Supply acquired Colordyne's 2800 Series Mini Laser Pro.
"The 2800 Series Mini Laser Pro was a game changer for our company. With this addition, we increased our label production capabilities times five in a short amount of time," said Alex Levitsky, Co-Founder of Cannabiz Supply. "In-house label printing not only gave us more control over our production, but also helped improve our margins."
Cannabiz Supply prints between 25 and 40 thousand labels per day with the 2800 Series Mini Laser Pro. These labels include branded logos and strain-specific labels with variable data such as testing results, harvest dates, best by dates and more. With its large daily production, in-house label printing allows Cannabiz Supply to do more for its customers. Now, the packaging company offers faster turnaround times, affordable versioning and high-quality prototyping while reducing its operation costs.
The 2800 Series Mini Laser Pro, powered by Memjet, is a full color label press with in-line digital inkjet printing, laminating and laser die cutting capabilities. Using water-based dye inkjet to produce high-quality images and text, the digital print module allows users to make packaging and label design changes on-the-fly. This is a significant benefit for the changing regulatory environment in the cannabis industry.
For its next press acquisition and to meet increasing demand, Cannabiz Supply is evaluating the new ArrowJet Aqua 330R featuring an integrated ChromaPlex AP print engine from Colordyne. This new product offers faster print speeds, enhanced durability and greater substrate versatility by using aqueous pigment inkjet technology.
Visit www.colordynetech.com for additional information.