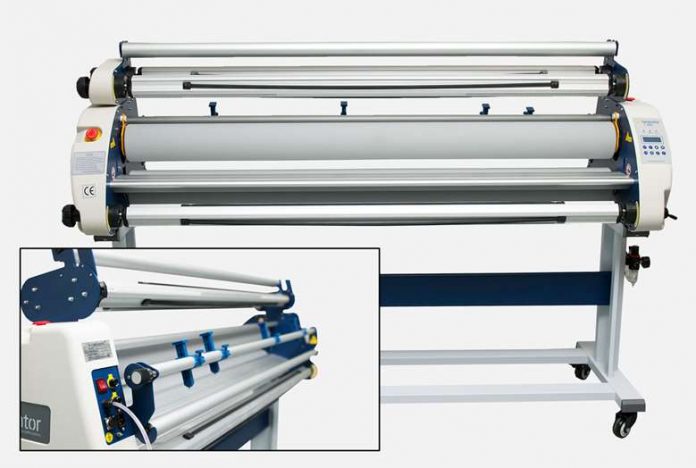 Wide-format finishing specialist Graphtec GB has expanded and diversified its portfolio with new laminators and laser cutters after securing a UK distribution deal with a Portuguese manufacturer.
The UK manufacturer's deal with WID Innovations was signed in April following an initial meeting at last year's Fespa in Munich.
It covers WID's 1.6m wide L300 laminator, which was officially launched last month, and the firm's family of C series laser cutters.
Both laminating and laser cutting are new to Graphtec's portfolio and the machines are available through Graphtec's network of authorised resellers.
The L300 can run thermal and cold laminating film and has a top speed of 3.5 linear m/min. The 1,620mm wide machine features 130mm diameter silicone rollers and can handle products up to 25mm thick. It can run in automatic or manual lamination mode and features variable temperature control up to 60ºC with a warm-up time of 15 minutes.
Other features include a pneumatic roller lifting system, independent tension adjustment, a quick roller fastening system and a laminated media collection roller.
According to Graphtec, pricing for the L300 will set by resellers, but will be around £3,500.
"The USP of the L300 can best be described as representing outstanding quality and performance at arguably the most attractive price currently available, said Graphtec director Phil Kneale.
He added that five L300s had already been sold, with a high level of interest as a result of firms looking to expand their capacity to produce Covid-19 return to work graphics.
As well as the laminator, the deal covers WID's C series lasers.
The range consists of the C500, C700, C900 and C1000 laser cutter/engravers, which have working areas of 700x500mm; 1,000x700mm; 1,300x900mm; 1,600×1,000mm respectively.
While lasers vary depending on model and option, ranging from a 60w to 150w CO2 lasers, all four feature automatic control, smoke extraction, automatic air control, removable blades, autofocus system and height-adjustable honeycomb table up to 150mm.
According to Kneale: "Among the USP's claimed for the C Series is enhanced high speed at 90,000mm/min and the high-resolution capability that enables, for example, etched text as small as one millimetre square."
Pricing for the C series machines range from £7,000 to £18,000 dependent on model and configuration. The first machines are shortly to be installed at reseller demo facilities.
Both the L300 laminator and C series laser cutter engravers are supported by Graphtec's five-strong network of UK engineers.