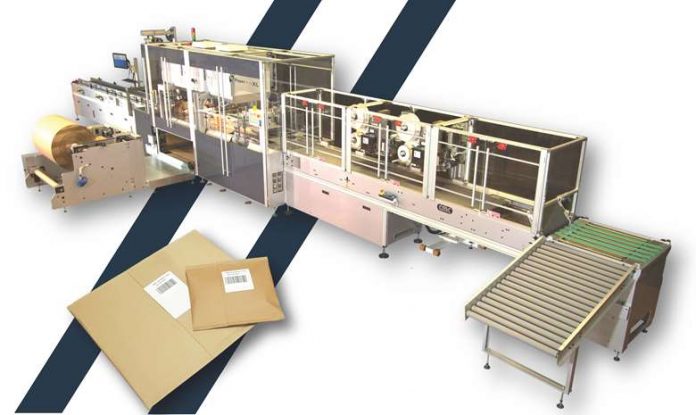 Italian wrapping and inserting kit manufacturer CMC has unveiled its second new packaging line aimed at e-tailers, a paper wrapping line that minimises waste and labour costs and maximises productivity.

The Paper-Pro was unveiled at CMC's Innovation Day (CiD20) virtual event at the end of May, where 900 attendees also saw the new Genesys auto packing line, which uses lasers to create "right-sized packaging", as well as the XL version of its CartonWrap line.
According to CMC a 'human' packing line would typically be capable of fulfilling up to 120/130 bags per hour, the Paper-Pro has a maximum mechanical speed of 2,500 bags per hour.
Paper-Pro is available in standard configuration which can produce bags from 200x200x10mm to 400x300x40mm or XL, which can handle 250x180x50mm to 700x500x150mm.
They can run either kraft board or bubble paper to wrap single or multi product bags. The technology works by scanning the 'package' to enable the line to create a right-sized bag based on each packages dimensions, this is then glued with low impact, hot glue.
Options include integrated despatch note/invoice printing and inserting and the Paper-Pro can also be incorporated with CMC's PackVertizing inkjet module for full colour, personalised bags.
"Retailers have often overlooked the importance of secondary packaging. Today it has become a key marketing tool to improve brand awareness and engage with consumers. First impression counts and sustainable, right-sized packaging that safely protects the order can become a prompt to get consumers order again in the future," said CMC chief executive Francesco Ponti.
The lines can be integrated with e-tailers' warehouse management or control systems.
According to the company, Paper-Pro has already been beta tested, and the first commercial installation will soon take place at an unnamed third-party logistics firm in The Netherlands.