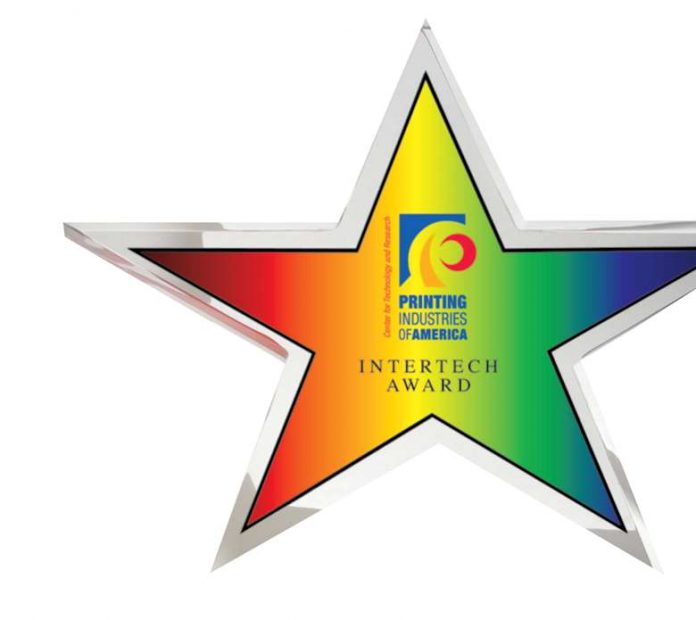 A raft of industry manufacturers and suppliers are celebrating after their products received InterTech Technology Awards.
The awards programme aims to shine a spotlight on "truly innovative technologies" that are less than three years old, and that the judges believe will have a significant impact on the relevant industry segment.
The scheme is organised by the US-based Printing United Alliance.
The eleven 2020 winners included multiple wins for both Kodak and HP.
The winners are:
Aurigma for Customer's Canvas
EFI for the EFI Reggiani Bolt
Esko for Esko Trapper
GMG for GMG ColorCard
HP for the HP Indigo 100K digital press, and the Harris & Bruno ExcelCoat inline with the HP PageWide T240 HD inkjet web press
Kodak, together with Uteco, for the Uteco Sapphire Evo M inkjet press; and Kodak for its Prosper QD packaging inks and film optimiser agent
Komori for the Lithrone GLX40RP perfector
Xerox for the Baltoro HF inkjet press
Xitron for its Navigator digital frontend
"Our goal each year is to spotlight technologies which shape the future," commented James Workman, vice president of the Center for Technology & Research, at the Printing United Alliance. "It is a challenging process to select the recipients since all of the technologies are impressive."
Randy Vandagriff, senior vice president at Kodak, said: "We at Kodak see this double victory as recognition for our long-term experience and expertise in the fields of chemistry, materials and digital printing technologies.
"The two solutions which won the InterTech Technology Awards will help continuous inkjet become firmly established in digital packaging and product decoration production and enable printers to meet the ever-changing needs of these global markets."
GMG also said it was delighted at the win. "In addition to our dedication to colour management science, GMG always looks for new applications where our expertise can make life easier for anyone in the graphics production supply chain. It's what drove us to develop GMG ColorCard," said Rainer Schmitt, GMG head of strategy and product management. "