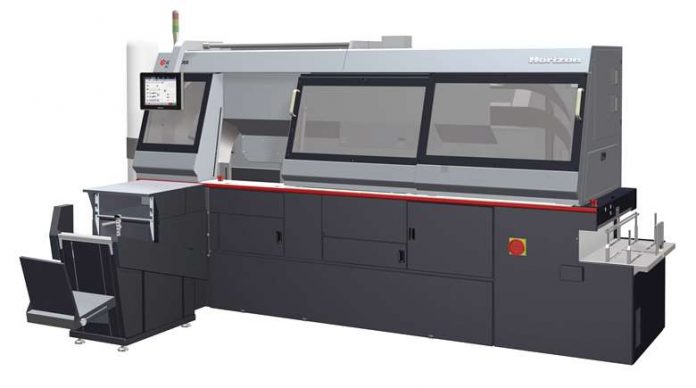 Horizon has expanded its range of digital workflow ready devices with a new flagship highly automated perfect binder.
The new Horizon BQ-500 four clamp binder, which is available immediately from IFS, is the second in a series of new machines to feature Horizon's new cloud-based workflow as standard, following the unveiling of its new HT-300 three-sided trimmer.
The headline specs on the new machine mirror those of the BQ-480: a maximum production speed of 800bph when configured with automatic book block feeding and 21 automated sections from cycle speed through to milling, side-glue and nipper settings amongst others.
It can also features interchangeable EVA and PUR glue tanks and can handle the same book formats, from 145x105mm to 320x320mm in thicknesses from 1-65mm. However, there have been several under the hood enhancements too, such as deeper scoring for a thicker cover, a new gluing mechanism, glue overflow detection, a faster nipping changeover and a switchable exit mechanism for thick book or PUR book production.
Equally, having been developed with iCE LiNK in mind, IFS technical sales director Jason Seaber said it was the most productive and flexible binder in its class for book of one production.
"The new Horizon BQ-500 perfect binder with iCE LiNK can be expanded into a complete smart binding system with roll, sheet and book block input options to provide maximum flexibility for our customers," he said.
The iCE LiNK features open APIs that can be integrated with existing workflows and MIS, and can also be specified as an option with the BQ-480, although not the BQ-470. Both the 480 and the 470 will continue to be available.
According to IFS managing director Eric Keane both the BQ-480 and BQ-500 will also benefit from the new gauze, end sheet and loose sheet book block feeder units that were set to be unveiled earlier this year at Drupa and will become commercially available in early 2021.
The new retrofittable inline units will enable the binders to effectively become full variable-sized book production lines that plug a gap in the market.
"The idea is to meet the demand of mid-range production of on-demand hardback books," said Keane.
"You've got Kolbus at the top and more hand-operated at the other end. What this does is integrate a highly automated four-clamp binder into a full book production process."
Available for order immediately, pricing starts at around £93,500 for a standalone Horizon BQ-500 with EVA glue tank.
The first UK machine will be installed early in the New Year.
According to Keane, there is a high level of UK interest in automation right now, and as a result the business has restarted socially distanced customer visits and live demos, while also continuing virtual demos and meetings.
"There's definitely a pickup in investment activity, despite most printers still being quieter now than pre-Covid," he said.
"We are finding there's a lot in interest in businesses becoming more efficient, it's all efficiency and productivity and this very much plays to the strengths of the BQ-500 and iCE LiNK.
"Workflow often stops at printing and doesn't follow through to finishing, but now it can and printers can reap the benefit because iCE LiNK brings full workflow capabilities into the bindery."