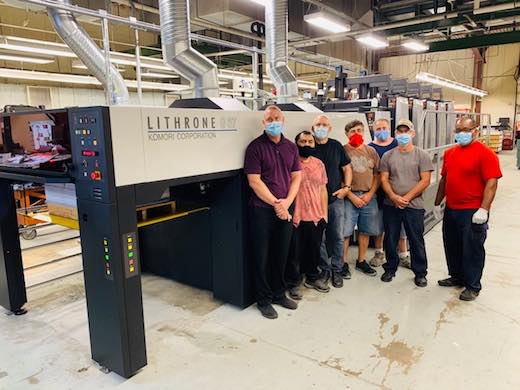 UniPrint, the in-plant printing facility for The Ohio State University located in Columbus, Ohio, has installed a Komori Lithrone G37 five-color offset press (GL537) to replace two older offset presses. As an in-plant shop, UniPrint accepts a wide range of work from University faculty, departments and students, as well as placing and maintaining all the multi-functional devices and desktop printers on campus. Although the shop works strictly for internal customers (who can opt to buy print services from outside vendors), UniPrint has a robust staff of 36 full-time workers and, through the school year, adds 20 to 25 student employees to manage ongoing demand.
"We've always been a full-service printer for the University, so we have offset printing, digital printing, wide format and produce interior wayfinding signage," said Jeff Dible, director, UniPrint, The Ohio State University. "We print anything and everything across the campus, from business cards all the way up through case bound coffee table-type books. We print high-end four-color offset publications like alumni magazines and do a lot of marketing materials for The Ohio State University Wexner Medical Center and its affiliates." UniPrint also produces 250 different educational packages for the University's agricultural extension program, such as kits for 4-H Club students, fulfilling orders and shipping these materials to all 88 counties across the state.
About a year ago, "We were at a crossroads," Dible said. "Even though we are internal to the University, we charge back for our services and that covers our cost of equipment, labor, everything we do to produce the work. In essence, we operate like a commercial print shop. Our digital business has grown over the past years, while our offset business had decreased. We had to evaluate: Should we get completely out of the offset business and go more toward digital?"
Working both internally and with an outside consultant, Dible did a careful analysis of UniPrint's business, noting that while they were doing less offset, there was still significant demand for that type of work. With that in mind, Dible decided to replace the shop's aging 29-inch and 40-inch presses and consolidate all the offset work on one new, fully automated press that could actually expand both UniPrint's offset capacity and capabilities. UniPrint issued a bid and received three responses, finally settling on the Komori GL537 due to its flexible 37-inch format and cutting-edge automation, such as automated plate changing and ink key setting.
Only a month after installation, Dible noted, "The biggest impact the press is going to have is on our throughput and the speed at which we can get things done. We've been running some numbers since the press has been installed, and we'll be able to do everything about 60% faster than what we were doing on both our older presses. Our turnaround time will decrease and the quality will bring us up to today's standards. We already do about 80% of the University's work and this press will help get us the other 20%."
"We are excited to be working with The Ohio State University's very active UniPrint in-plant printing facility," said Mark Milbourn, executive vice president, sales and service, Komori America. "Their choice of the GL537 is perfect as it is a compact press that offers the flexibility they need to deliver the quality and fast turnaround that keeps their internal clients coming back. We are proud to be part of the Buckeyes!"
Visit Komori America at https://www.komori-america.us/.