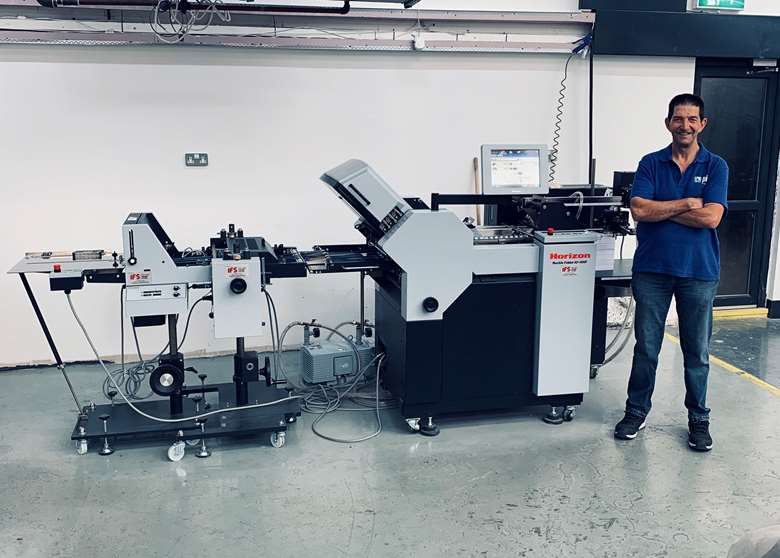 Pipi Print & Packaging has expanded its pharma folding capacity to support an increase in demand by installing a Horizon automatic folder from IFS.
The 40-staff, family-run Leicester packaging and labels specialist installed the Horizon AF-406F six-plus-six buckle-folder last month.
The business looked at a number of folders after deciding to upgrade its Herzog + Heymann semi-automatic folder, which it retained for back-up, to a fully automatic machine with faster makereadies.
Head of sales and marketing Hitesh Parmar said the Horizon "was perfect for our business" due to its ability to handle complex folds, fast makereadies and its ease of use.
"We have become even more efficient, jobs are being produced quicker and orders have become easier to manage thanks to the easy job setup. We expect it to help increase capacity and win new business," he added.
The modular, JDF-ready AF-406F features automatic roller gap setting, buckle plate and perf and score positioning, register guide, and suction head/side air adjustment. All features are controlled from its colour touchscreen.
It can handle sheets from 50x100m up to 400x650mm, from 33 to 157gsm. It has a belt speed of up to 180m/min and the feed unit is capable of up to 30,000 cycles per hour.
According to Parmar, due to a large chuck of the its clients being in the pharma sector, the £4.5m-turnover business, which was founded in 1982 in the garage at the back of a terraced house in Leicester, has remained in full production throughout lockdown.
Including the new folder, it has invested around £250,000 already this financial year, the lion's share spent on revamping its 4,000sqm factory's office and production spaces.
The deal for the £85,000 folder represents the first time the business has worked with IFS.
"The team was very helpful in understanding our needs. They assisted us every step of the way. The installation process went smoothly and the operator training went very well. We were kept up to date about any changes due to the pandemic," said Parmar.