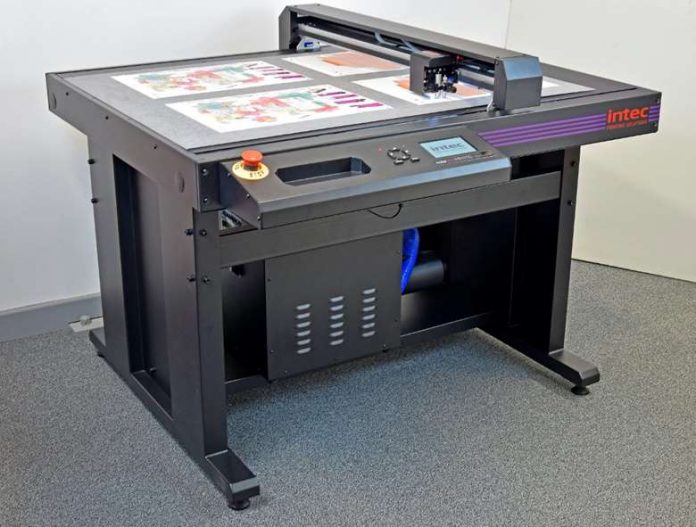 Intec has revamped its range of flatbed digital cutters for promo, label and packaging prototyping applications with three new machines, all of which have faster makereadies and more intuitive controls.
The three new mid-range models join the manufacturer's range of cutters, which is headed by the highly automated ColorCut FB8000Pro, the latest version of which was unveiled earlier this year.
The new models are the ColorCut FB550, FB750 and FB1150, all of which which feature improved touch screen controls. They join the existing FB900 A1 format cutter.
Intec director of product development Mark Baker-Homes said: "The launch of the new flatbed range of cutters represents an exciting new phase, in terms of the development of our cutters with a significantly improved user experience through the more responsive and immersive 5 inch touch panel screens."
Heading up the compact manually fed range is the FB1150, which has a 760×1,060mm B1, 1,000W vacuum bed size; next is the 475x670mm, 750W FB750 and the range is rounded off buy the FB550, which has a B3 350x520mm, 400W vacuum bed.
All three new machines can handle paper, boards, synthetics, vinyls and kiss cut applications with substrates from 0.5mm to 1.2mm. They have a cutting speed of up 600mm per second, which Intec said translates to a typical SRA3 sheet taking between 30 and 45 seconds per sheet, depending on complexity.
Both the FB550 and FB750 feature a high-resolution optical IR sensor for registration and have barcode readers for automatic set-up. Their bigger sibling uses a high speed Vision3 CCD camera and uses QR codes for set-ups, all of which, according to Intec, makes for faster job retrieval and a 300% faster job registration.
Baker-Homes said: "The 7th generation Vision3 ARMS sensor provides almost instant job recognition and lightning fast registration and alignment, enabling any user to cut jobs, which places the Intec cutters at the top of their class."
All three come with dual tool functionality, with a blade holder, creasing tool and pen tool supplied as standard. They all run Intec's cutting software Colorcut Pro 3, which has a direct plug in with Adobe Illustrator and CorelDraw on both Macs and PCs.
The cutters can also be configured with Intec's optional ColorCut Pro Server Station for standalone operation.
Prices for the range start at around £3,000 for the FB550, £5,500 for the FB750 and the FB1150 is available from around £7,000.