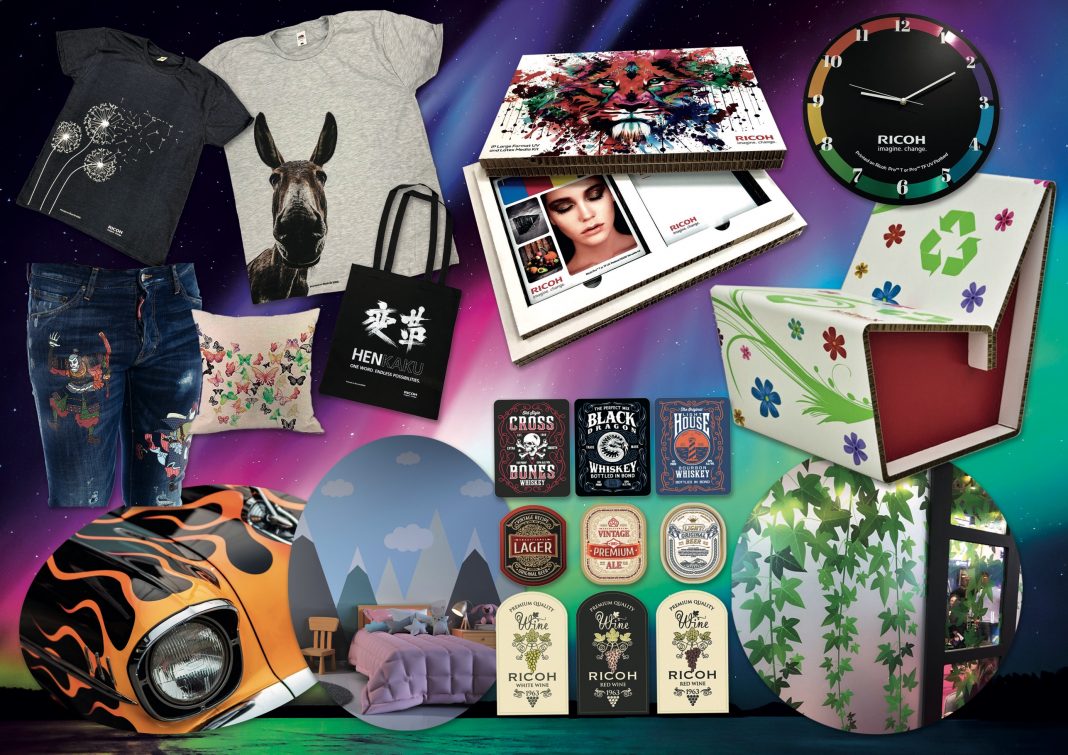 PRINT SERVICE PROVIDERS TO PURSUE NEW OPPORTUNITIES DURING RICOH'S HENKAKU LIVE GOES INDUSTRIAL VIRTUAL EVENTS
Commercial printing operations will investigate ways to reimagine a new future and build business resilience at Ricoh's HENKAKU Live Goes Industrial. The Sign and Graphics and industrial print focused iteration of Ricoh's successful HENKAKU Live webinar series will take place across EMEA from November to January 2021.
It will explore the new opportunities presented by print applications widely expected to flourish.
They include social distancing signage, protective equipment, short run packaging, interior and industrial décor. This also includes Direct to Garment (DTG) production, which has a compound annual growth rate of 10.5% to 2024.
Crucial for commercial printers is the ability to adapt and tap into growth markets as they emerge. HENKAKU Live Goes Industrial will address ways to do that with an overview of the latest additions to Ricoh's fast growing industrial solutions portfolio that support application flexibility. This includes:
Ricoh Pro™ L5100e Series of extended gamut latex large format printers (including Orange and Green) that allow the accurate reproduction of a wide range of Pantone and brand colours. As well as running extended gamut inks, print operations can also run double CMYK for increased productivity, and CMYK and white for transparent materials, metallics and dark substrates.
Ricoh Pro™ TF6251 hybrid flatbed UV printer that supports print production on roll fed media – thanks to a roll to roll option – as well as rigid media. The all in one, compact, highly flexible system delivers a wide range of rigid and flexible applications for Sign and Graphics, industrial, Graphic Arts and interior decor.
Ricoh Ri 2000 DTG flagship printer that delivers heightened productivity, best in class operation and ease of use. The system supports the local production of promotional and personalised textile goods.
The webinars will demonstrate how the Ricoh Business Booster self-help online resource programme can guide Ricoh production printing clients on their journey into new industrial printing possibilities.

"Ricoh has developed a comprehensive, innovative portfolio of industrial printing systems designed to be seamlessly introduced into busy production environments," says Eef de Ridder, Vice President, Commercial and Industrial Printing Group, Ricoh Europe. "These versatile devices produce an astonishingly diverse range of applications to help operations expand their production horizons. Investing in them can create a vital new source of revenue for imaginative Print Service Providers. As new restrictions come into force across Europe, the HENKAKU Live goes Industrial programme of virtual events is the perfect way for users to connect to these opportunities."
For further information or to book a place visit.