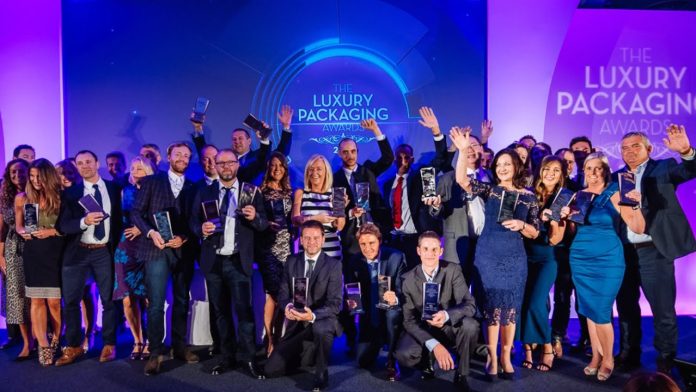 Packaging News can reveal the shortlist for this year's Luxury Packaging Awards.
This year's event was due to take place this month, but due to Covid-19 restrictions Packaging News will now present the winners virtually in December. Keep up to date on all of our announcements on the PN website.
The judges for 2020 had the tricky task of assessing the contenders remotely. As always we are grateful for our panel who gave up a considerable amount of their time going through the entries: Scott Birtwistle, managing director at Pusteria 1880; Chris Bonnington, food packaging specialist at Harrods; Louise Gedge, NPD area leader – luxury at William Grant & Sons; Mike Rose, director of brands packaging at Edrington; and Tracy Sutton, founder at Root.
The winners will also be unveiled in the January/February issue of Packaging News.
The 2020 shortlist
Luxury Cosmetics/Personal Care Pack
Castle Colour Packaging – Lacura Pink Glay & Golden Mask Multi Mast
GPA Luxury – Cultus Artem
Pollard Boxes – ghd Helios Collection
Quadpack – Regula Light Glass
Spark, Brighter Thinking – Boots No7 Skincare Stars 'The Star of the Show' Christmas Gift Set
TricorBraun – Sei Bella
Luxury Drinks – Primary Pack
Allied Glass Containers – Rosebank Whisky
Amorim Top Series – Vale D. Maria
Crown Packaging – Seelip Spice 94
Stoelzle Flaconnage – 4 x 50
The Craft Irish Whiskey Co. – The Devil's Keep
TricorBraun – Distillerie 3 LACS
Luxury Drinks Secondary Pack
Edrington Distillers/Innerworkings – Macallan Gifting Range
GPA Luxury – Redbreast 27-Year-Old
IPL Packaging – Arran 21 Year Old Single Malt
IPL Packaging – Tullibardine 15 YO whisky
GPA Luxury – Glenfiddich Grand Cru
James Cropper Colourform/Pusterla 1880 – Maison Ruinart 'Second Skin'
Metsä Board – Arctic Blue Gin
Pollard Boxes – Royal Salute, The Treasured Blend
The Craft Irish Whiskey Co. – The Devil's Keep
Luxury Resource Efficient Pack
GPA Luxury– Swarovski Book of Dreams Volume III
James Cropper Colourform/Pusterla 1880 – Maison Ruinart 'Second Skin'
Luxury Seasonal Pack
GPA Luxury – GPA Luxury KITH x Estée Lauder Generational Beauty Kit
Hunter Luxury – Charlotte Tilbury's Bejwelled Chest of Beauty Treasures
Pollard Boxes – teapigs Advent Calendar
Staeger Clear Packaging – Hider Chocolate Orange Cashews
Special Edition Pack – Drinks
Appartement 103 – Hennessy VS Felipe Pantone Collector's Edition
Edrington Distillers/Innerworkings – The Macallan Concept No. 2
GPA Luxury – Bob Dylan's The Bootleg Series (Rare & Unreleased)
IPL – Glenmorangie Gifting Tin
IPL – Scotch Malt Whisky Society Tasting Pack
Sleever International – Signature Moët Imperial Limited Edition
WestRock MPS – Singleton 53 Year Old Paragon of Time
Special Edition – Other Goods
Eurobox Premium Metal Packaging – Jean Paul Gaultier Pin Up
GPA Luxury – IQOS VIP Pack
GPA Luxury – Swarovski Created Diamonds
Metsä Board – Korpikuusikon Hunaja/Korpikuusikko Honey Winter Edition
Spark, Brighter Thinking – Clint Eastwood: The Signature Film Collection (1964-2018)
Spark, Brighter Thinking – The Stanley Kubrick Limited Edition Film Collection
Technical Achievement
Dyson – Dysin 360 Heurist
GPA Luxury – Tanqueray No. Ten
Hunter Luxury – Jack Daniels Juke Box
Pollard Boxes – Front Opening Top Loading
Staeger Clear Packaging – Hider Chocolate Orange Cashews
Sustainable Supplier of the Year
Winner to be revealed online in December
Luxury Packaging Supplier
GPA Luxury
Hunter Luxury
IPL Packaging
Pollard Boxes