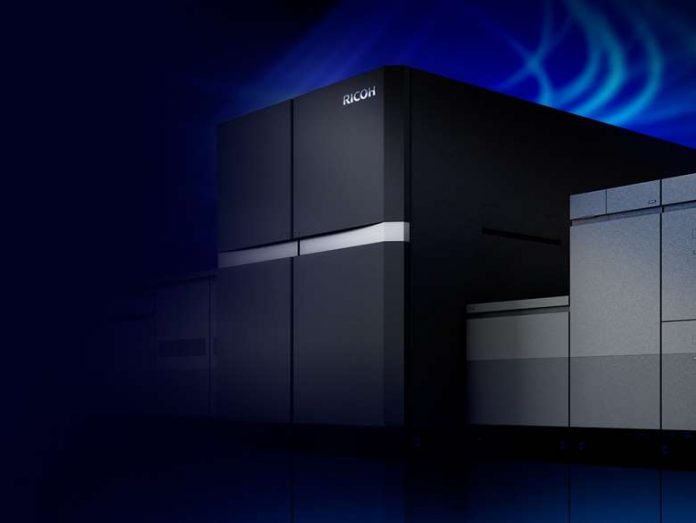 Ricoh has unveiled some of the pre-launch details about its new B2 sheetfed inkjet press.
Developed by Ricoh from the ground up, the manufacturer described the Ricoh Pro Z75 as a "game-changer" that will "help businesses reach new benchmarks for productivity, image quality and operating costs". It said the machine will deliver an expanded application range and will address increased demand for short-run jobs.
While specifications for the new press have not yet been released, Ricoh said the machine "will harness Ricoh's extremely efficient drying technology, auto-duplexing, reliable paper transport and a new DFE controller architecture, to bring class-leading levels of productivity and anticipated market-leading speeds".
Able to handle offset coated, uncoated and inkjet treated stocks, Ricoh said the press will achieve offset image quality through the manufacturer's own printhead, aqueous ink and dynamic drop size technology.
Ricoh said it had hoped to share some details about the press at Drupa 2020, which was cancelled earlier this month, "but we have continued to plan its introduction against the backdrop of very challenging times, globally".
Tim Carter, commercial print sales director at Ricoh UK, told Printweek: "Sheetfed flexibility and competitive price point make the Pro Z75 press attractive to broad commercial print audiences with applications that include; commercial print, direct mail, books, manuals, specialty publishing and packaging. There is a strong emphasis on simplified operations, using automation to reduce the need for highly skilled labour required to operate the system, to reduce costs.
"Inkjet is the dominant emerging technology within the printing industry. Combining the application and media flexibility of toner technology with the productivity of continuous feed & offset technologies, all at a competitive cost level. The expanding inkjet market is creating new applications and business opportunities."
Speaking about how the press fits into Ricoh's product portfolio, Gavin Jordan-Smith, senior vice president of Ricoh's Commercial & Industrial Printing Group, said: "It's not really just a technology fit, it's a fit based on the applications and where a print service provider, irrespective of size, is going in terms of what kind of applications they want to go into, expanding applications and revenue sources.
"Where this press fits is its ability to help a print service provider to expand into new revenues, take advantage of optimised workflows and really bring something very innovated inside the market so that they can invest in things that they want to do for their future."
He added: "The B2 press enables you to have a six-up, 8.5×11 [inch] sheet, so you're getting greater productivity than a typical four-up sheet.
"Furthermore, because it's using aqueous inkjets and it's using the great drying technology that we patented, we're able to actually dry the sheet instantly, allowing any print service provider with offset finishing equipment to take advantage of what they' already invested in, in order for it to quickly turn around and end up in the shipping department."
Ricoh said more details on the press, including launch timings, "will be made available in the coming months".
On pricing, Carter said: "As we go through the last phases of product development, complete system costs will be finalised and included in TCOP estimates for prospective clients. Final price depends on the individual client needs. We expect to release commercial pricing when the product is launched. We are confident that the Ricoh Pro Z75 will prove to be a very compelling commercial and technical solution for clients."