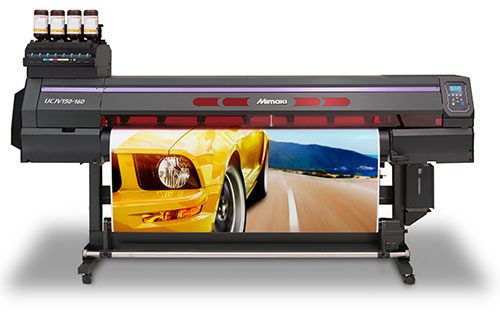 Leading the Future of Sign Graphics through UV Innovation
The UCJV Series is a versatile inkjet printer family, having a combined function of both printing and cutting mounted with UV-curable ink.
The UCJV150-160 is an excellent model focused to UV-LED printing technology and Print & Cut function with high cost-performance. It can quickly meet various demands of customers.
The UCJV300-160 is a high-spec model equipped with the 5 layers print function in addition to UV-LED print and Print & Cut.
It is a versatile model widely supporting job by short delivery time to advertisement sign with leading design.

– Print speeds up to 25.8m2/h with the UCJV300-160 and Print speeds up to 13.4m2/h with the UCJV150-160
– Maximum resolution of 1200dpi
– 5 layers print (with the UCJV300-160 only)
– On-demand print utilizing UV characteristics: Quick access to next processing and sign applying due to UV ink property and wide range of applications
– Newly developed environmentally friendly UV ink, LUS-170, and flexible UV ink, LUS-200, with stretch ability up to 200%
– Productive cutting functions. A new function, [ID Cut] will highly improve the work efficiency
– Upgraded RIP software; RasterLink6Plus
Create…
Outdoor Signage, Posters, Illumination signboard (with the UCJV300-160 only), Banners & flags, Swing P.O.P. (PET film), Labels, Wallpaper