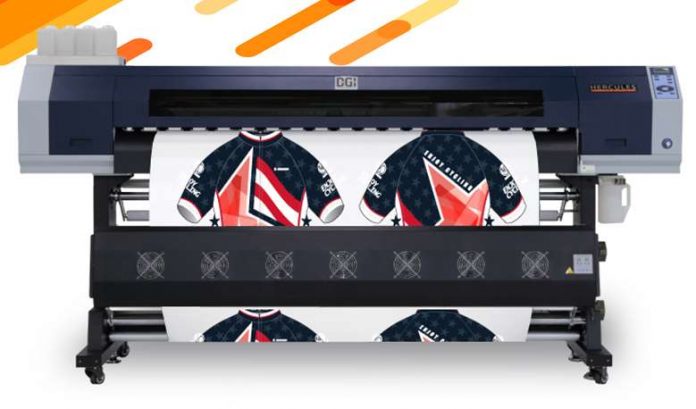 Sabur Digital has launched a new entry-level DGI dye-sublimation device that offers a sub £20k access point to 1.9m-wide textile printing.

The South Korean-manufacturer's Hercules dye sub was shipped to master reseller Sabur's Barnsley showroom just before lockdown.
The 1.9m-wide, four-colour printer runs twin, staggered Epson 4720 printheads offering 2.5pl variable droplet size and a maximum resolution of 720×1,800dpi.
It has a top speed of 97sqm/hr, two pass at 720x600dpi and 51sqm/hr at "production quality" four pass 720×1,200dpi. At its highest 720×1,800dpi resolution if offers 34sqm/hr.
The roll-to-roll device has a fully automatic feed and take-up system and can handle rolls up to 200 linear metres. It runs DGI F173 high-density inks via a 2.5 litre semi cartridge ink system for unattended operation.
It has list price of £17,500 including the latest Ergosoft V16 DGI edition RIP, 12-month warranty, training, delivery and installation.
"It's essentially everything you need out of the box, except for the heat press, which we can also supply," said digital development director Aaron Burton.
The company has already sold three Hercules, including one installed during lockdown. In fact, according to Burton, while a number of the firm's staff have been furloughed, it had been "surprisingly busy" during the period of restricted activities, fielding enquiries from a number of sectors for a variety of applications including face masks.
"We've taken machine orders thoughout lockdown, which we weren't anticipating. So, the installation team, when they return next week, will have a packed diary."
Sabur Digital's portfolio of digital printing equipment ranges across sectors such as textiles, UV and graphics, with machinery from DGI, Mimaki and Roland.
Last year DGI expanded its textile portfolio with two machines, the Poseidon, a 1.6m-wide mid-level dye-sub printer and the 1.9m-wide Apollon, a 16-printhead direct-to-textile system.