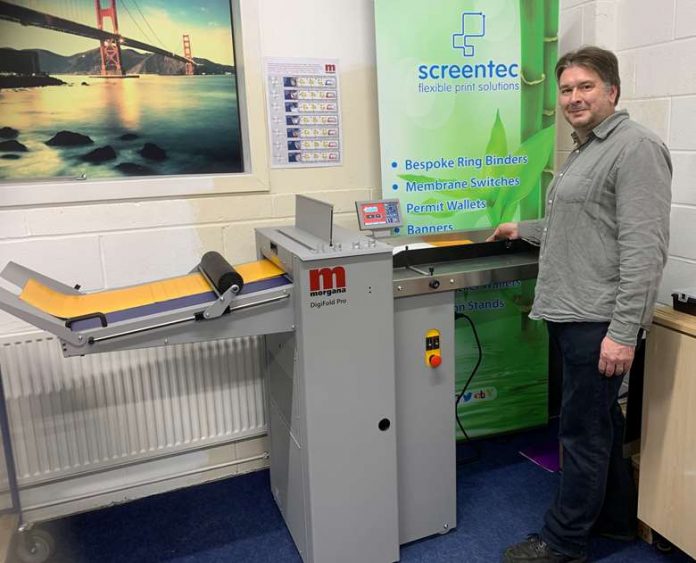 Screentec Flexible Print Solutions has updated its bindery after taking on a DigiFold Pro creasing and folding machine from Morgana Systems.

The machine, which has a list price of £20,990, was installed at the Ferndale, South Wales-based firm's premises in November and has replaced an eight-year-old Morgana DigiFold.
Screentec small format digital manager Jonathan Hainsworth said the outgoing machine had been "the perfect workhorse" for all of that time.
"The unit handles the finishing of some 75% to 80% of our work so reliably – it's been an incredible machine. We've had to replace one circuit board in that time, and that was due to a power surge at our previous factory, which took out several of our machines at one time."
He added: "Other than that, there have been a few minor things – worn parts, for example, that we were able to order from Morgana and fit ourselves – which is a big plus.
"With other manufacturers' equipment you need to put in a service call for a technician to fit just about everything, and that can mean as much as two or even three days lost production at busy times.
"That is far from ideal for today's fast turnaround print demands. However, with some critical parts now beginning to show signs of wear, the time was right for the new machine."
The DigiFold Pro is an automated creasing/folding machine that can handle digitally printed, heavy weight or cross-grained stock. It can fold up to 6,000sph and can handle substrates of up to 700x385mm, or 900x385mm with the optional 'long sheet' extension table. Perforation is also a standard feature of the machine.
Additionally, the device features Morgana's new PosiFeed feeding system. With this the drum stops as the vacuum pulls the sheet down before the drum begins to feed, enabling the feeder to be piled higher and feed difficult stocks.
The machine's seven-inch SmartScreen control panel is one of the newer features of the Pro range that Screentec liked.
"It makes the machine that much easier to set-up and run," said Hainsworth.
"What might have been a five-step-check-and-repeat process on the older unit has become a three-step-and-go process on the new machine. It really is very easy and fast to switch between jobs."
He called the device "an ideal addition to our production facilities".
Formerly a traditional screen printer, Screentec today operates Xerox digital kit and handles a wide range of general commercial print, supplying private and public organisations of all sizes throughout the UK.
Hainsworth said the company had been in demand throughout the whole lockdown period.
"We have particularly needed to print work for local councils and for food agencies. Although we initially thought the furlough option might be useful, we received some substantial work orders within days of the first lockdown, and have been busy ever since."