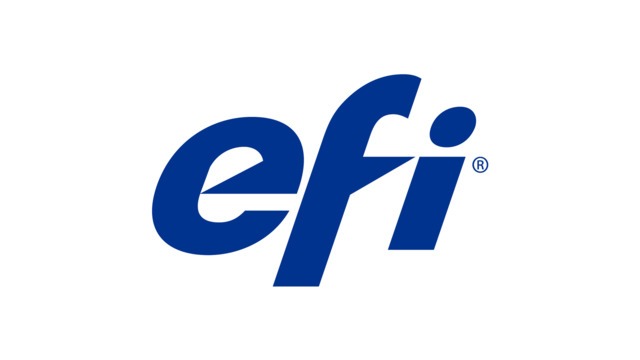 Durham Box is the first packaging manufacturer in the U.K. to upgrade its EFI Nozomi C18000 single-pass inkjet digital corrugated printer with white UV LED ink from Electronics For Imaging, Inc. The upgrade to print with white ink gives the County Durham, England-based corrugated packaging business the power to expand its customer reach as well as provide its customers a competitive edge – thanks to the ability to print a broader range of high-end packaging, point-of-sale (POS) display graphics and free-standing display unit (FSDU) designs.
EFI Nozomi C18000 printers are used at leading corrugated packaging and display businesses worldwide, and more than a third of those users print with the white ink available for the printer. Using EFI Nozomi white ink on corrugated boxes extends the color gamut Durham Box can achieve and gives the company the ability to accurately represent its clients' brand colors on brown kraft board. The white ink also allows for accurate printing of photographic images, including vivid designs, while maintaining the eco-friendly look of the brown board surface. Plus, Durham Box can achieve a higher-value appearance for many jobs using white ink as a base under color designs, as the white ink transforms the matte appearance of CMYK inks on uncoated boards into a highly attractive gloss.
"Having the ability to print with white ink will give our customers an option that until now has not been available through this technology," said Durham Box POS Business Development Director Andy Smith. "This will allow Durham Box to work with some major brands creating that total display and packaging solution. Of course, being the first in the U.K. to offer white ink confirms Durham Box's intention to be a major provider of 3D/POS/display and packaging across all market sectors."
Superior sustainability
The Western Michigan University (WMU) Pilot Plant recently provided an OCC (old corrugated containers) certification for EFI Nozomi white ink, verifying its recyclability and repulpability. This new certification follows the WMU Pilot Plant's initial OCC certification provided for the EFI Nozomi C18000 printer's CMYK four-color process ink set. The certification speaks to the ability of Nozomi-printed corrugated board being able to safely, efficiently and effectively enter recycling streams.
EFI Nozomi inks are the first and only single-pass digital corrugated printer inks to achieve the certification, a key validation developed by modeling wax coating replacement protocols of the Fibre Box Association, a group that represents approximately 95% of all U.S. corrugators. The ability to recycle digitally printed corrugated board remains an important topic as corrugators and boxmakers adopt single-pass inkjet to implement highly efficient supply chains that reflect their customers' need for customization and shorter order quantities.
The Nozomi C18000 has also earned high marks for its energy use. Last year, the Fogra Research Institute for Media Technologies assessed the printer according to the ISO 20690 energy standard, and determined it to be the leading single-pass corrugated production device in terms of power consumption efficiency.
Giving customers an edge in the retail world
"Since purchasing the Nozomi last year, the immediate focus was to enhance our packaging offering to existing and potential new clients, offering a fast turnaround, high quality digital solution, especially for customers in e-commerce and display," said Smith. "This in turn has delivered significant growth for Durham Box.
"Our customers' success is very important to us and we wanted to offer them the best technology on the market," he added. "Getting noticed is critical in the competitive world of retail, and thus, printing a white ink base really enhances the brand identity. White on craft board FSDUs certainly delivers that 'wow' factor. And now, this is something we can deliver to our customers."
Durham Box's ultra-high-speed single-pass inkjet printer prints at up to 246 linear feet (75 linear meters) per minute; it can produce up to 10,000 35×35-inch (890×890-millimeter) boards per hour two-up. Its low-odor, UV LED inks are GREENGUARD certified, contain no hazardous volatile organic compounds and do not require vapor recovery.
The EFI Nozomi C18000 is part of a complete ecosystem for corrugated manufacturing available from EFI, with leading edge Genuine EFI Inks, EFI Fiery® digital front end technology and a complete EFI Corrugated Packaging Suite business and production management workflow. For more information about direct-to-board, single-pass digital corrugated production printing using EFI Nozomi technology, visit nozomi.efi.com.