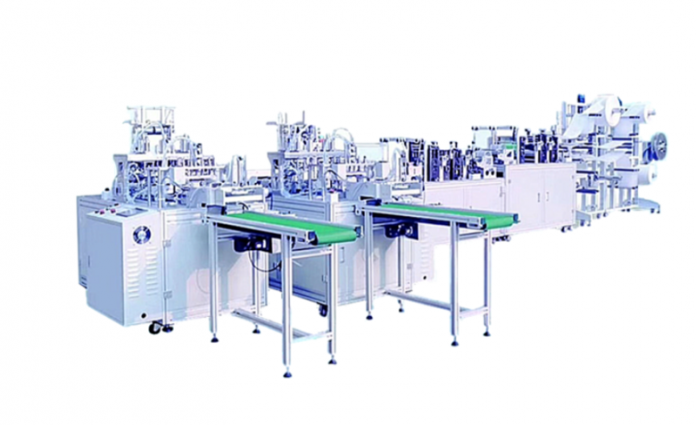 Intamac Packaging Systems is bringing a new machine for producing medical masks to the UK market.

The Hampshire distributor is a sister company of Engelmann & Buckham, and its core business is the supply of packaging lines for food, drink, pharma and cosmetics.
The new mask-making machine – the IPS KZ N95 – came about because a Chinese manufacturing partner and maker of packaging systems found itself unable to source sufficient masks for its large workforce in the wake of the coronavirus crisis. As a result it decided to make its own system to produce them.
"They are a well-respected global manufacturer and when they did manage to get back to work their staff needed three or four masks a day, but there was a massive shortages of those masks," said Intamac division manager Tom Poston.
"They bought some blueprints and made a mask-making machine. Initially they were inundated with orders from the Chinese government and are now able to sell it to the rest of the world."
The IPS KZ N95 can make the N95 surgical respirator masks, as well as non-surgical masks suitable for daily use.
It can produce 2,700 of the more complicated N95 mask per hour.
Three- to six-rolls of fabric are automatically aligned and fed into the machine for contour shaping and cutting. The earband is welded and cut using ultrasound
"In a way it's similar to food packaging where multiple layers provide different levels of ingress for different food groups," Poston said.
"If a customer buying it is fairly mechanically proficient they should have no issue running this."
He said he was trying to contact the Department of Health about the new machine.
The IPS KZ N95 costs around €290,000 (£265,305) ex-works, and the lead time is 90-120 days.
"This is a bit left of field for us, but given what's happening with Covid-19 and having personal links to the NHS, it's really lit a fire under us," Poston added.
The equipment has all the necessary CE approvals and the masks are produced to the relevant international standards.
Poston said the machine could be attractive to large print and packaging groups.
Separately, packaging and paper maker Mondi has converted a production line at its Gronau plant in Germany to manufacture soft, elastic straps which are now being used for face masks used by medical professionals and consumers around the world.
The plant usually makes materials used in hygiene products. It has adapted one of its manufacturing lines to produce a three-layer, laminated strap that binds a stretchable plastic film between layers of soft, nonwoven material. Mondi supplies the straps to its mask-making customers on a reel.
This elastic material replaces a rubberised band and increases the operational speed of the mask-making machines in comparison to rubber, which is slower, Mondi said.
"Mondi Gronau is working to provide straps that will fit more than one billion nonwoven face masks. As there is increasing demand for such types of face masks, we are building up our capability to meet this demand. By producing this soft elastic strap, we are able to produce more volume to meet growing demand," says Dr. Michael Trinkaus, director of R&D and application engineering for Mondi's Personal Care Components division.