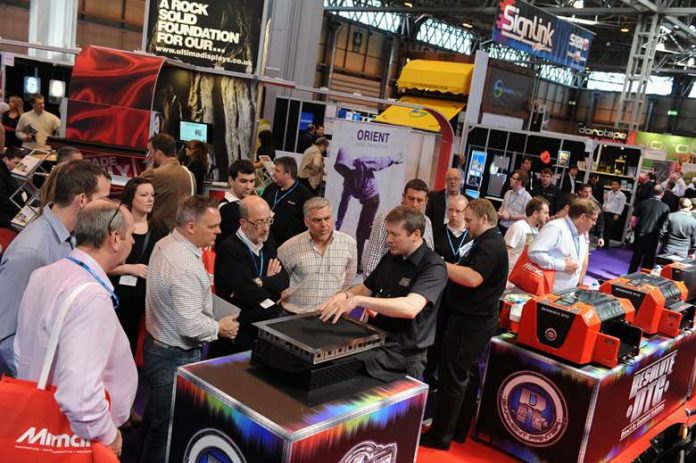 Next month's Sign & Digital UK (SDUK) 2020 has become the latest graphic arts event to fall victim to the coronavirus outbreak, with organiser Faversham House cancelling this year's show.
The wide-format show had been scheduled to take place at the Birmingham NEC from 28 to 30 April 2020, but the event has now been suspended until March 2021.
In a statement, Faversham House chief executive Amanda Barnes said: "We have been closely monitoring the coronavirus (Covid-19) outbreak and the related government guidelines. After careful consideration, having spoken with many people involved in our event, we have decided to suspend SDUK 2020.
"The health, safety and wellbeing of our SDUK community is our priority."
Barnes highlighted government predictions that the outbreak will continue to escalate over the coming weeks, which she said, if they prove accurate, would significantly impact visitor footfall and exhibitor attendance and make it "unlikely we will be able to deliver the great event the industry looks forward to".
This year's event was expected to attract more than 5,000 visitors.
She added that they wanted to act quickly to minimise "unnecessary costs and business uncertainty" for exhibitors.
"One of our principal company values is we care: we love what we do, and we do what's right and we feel moving SDUK is the right thing to do in the current circumstances. "
Faversham House has already secured the dates for the 2021 event with the NEC, and next year's event set to take place from the 2 to 4 March 2021 in halls 17 and 18.
The cancellation of this year's SDUK event follows Fespa's decision last week to postpone this month's Global Expo in Madrid, which was due to take place from 24 to 27 March.
Fespa is currently seeking to reschedule the event for a later date, with precise timing and venue still to be determined based on venue availability.
This week's London Book Fair, which was due to open tomorrow at Olympia, has also be cancelled, while Messe Düsseldorf has also cancelled events in March and early April due to the coronavirus situation, but it said there are currently "no intentions" to postpone Interpack or Drupa.
According to national news reports, prime minister Boris Johnson is set to chair an emergency Cobra meeting where moving the UK moving to the 'delay' phase of the fight against coronavirus will be discussed. This could result in the banning of large-scale events, school closures and official encouragement of home working, where possible.